Grand Celebration of World Falun Dafa Day in Taipei
May 07, 2015 | By Minghui correspondent Zheng Yuyan in Taipei, Taiwan
(Minghui.org) A thousand people performing the tranquil Falun Dafa exercises drew the attention of locals and tourists from around the world, during a World Falun Dafa Day celebration in front of Sun Yat-sen Memorial Hall on May 3, 2015.
The event marked the upcoming May 13 birthday of Mr. Li Hongzhi, the founder of Falun Dafa, and the 23rd anniversary of Falun Dafa's introduction to the public in Changchun, China.
A long line of display boards provided a more in-depth look at the positive impact Falun Dafa has had on individuals and communities worldwide.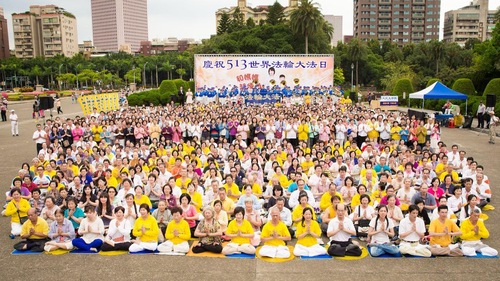 About 1,000 Falun Dafa practitioners from the cities of Taipei and New Taipei respectfully wish Mr. Li Hongzhi a happy birthday.
Celebration Draws Crowd of Spectators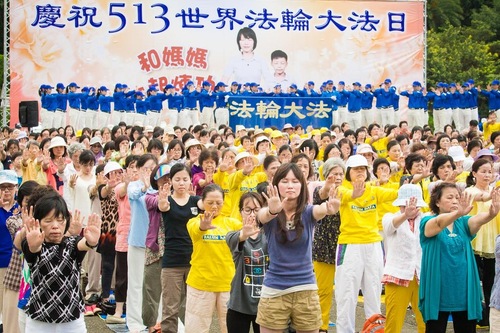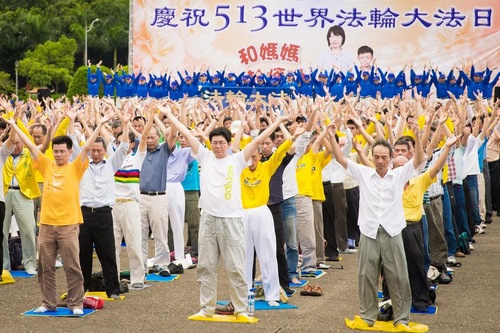 1,000 practitioners do the exercises to celebrate World Falun Dafa Day.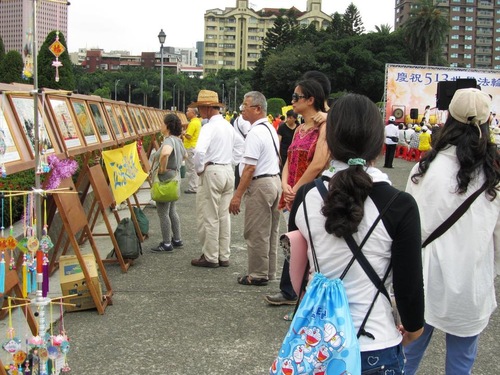 Tourists view the photo exhibition.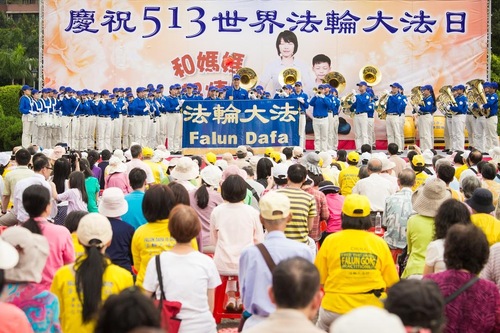 The Divine Land Marching Band performs.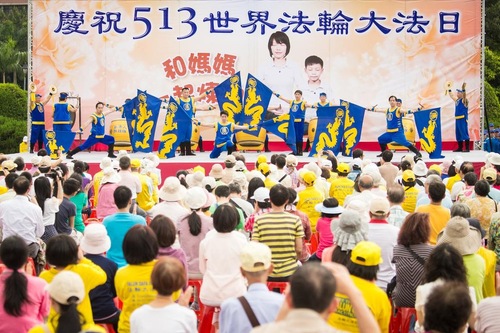 NTD Television flag and drum team performs.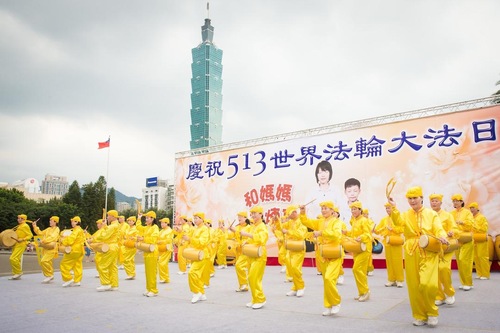 Waist drum performance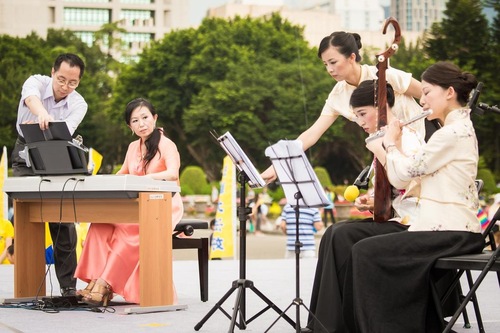 Musical ensemble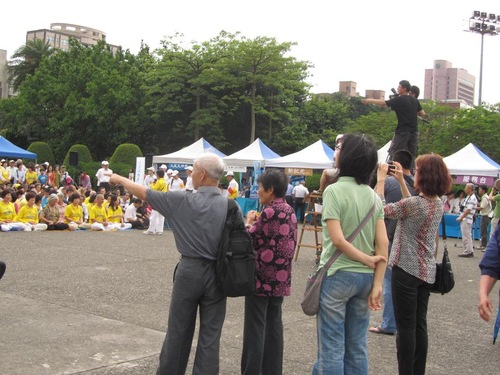 Chinese tourists watch the Falun Dafa exercise demonstration.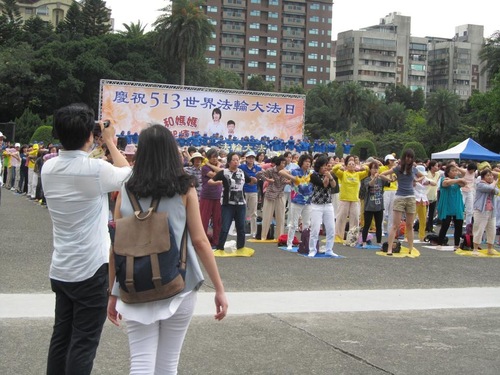 Tourists take photos of the Falun Dafa exercises.
The afternoon performances began with the majestic music of the Divine Land Marching Band, followed by a spirited performance by the NTD Television flag team.
Young practitioners sang and danced to wish Mr. Li Hongzhi a happy birthday, and the golden-suited waist drum team conveyed deep joy and gratitude.
The celebration ended with the marching band and all practitioners shouting, "Happy Birthday, Master!"
Expressing Gratitude, Spreading the Message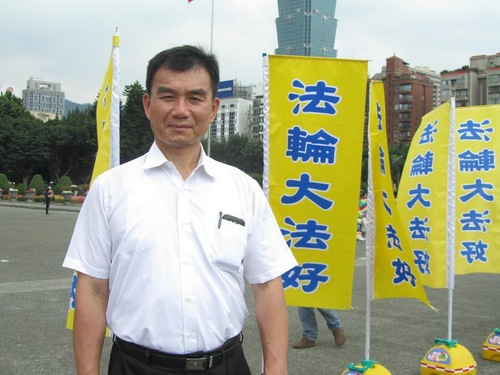 Falun Dafa practitioner Mr. Tsai Shou-Jen
"We thank Master Li for teaching us such an invaluable practice," said Mr. Tsai Shou-Jen, a practitioner who organized the event. "Every year, we look forward to the arrival of World Falun Dafa Day so that we can do something to express our tremendous gratitude."
"Yesterday a security guard told me that we should have activities here more often so that the Chinese tourists who come here can learn about the persecution of Falun Dafa!" said Mr. Tsai.
Studying Mandarin to Read the Original Zhuan Falun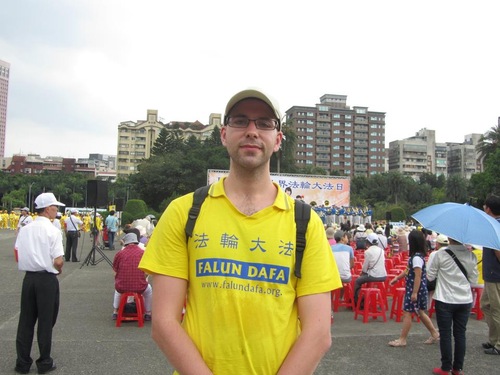 Nikolai Tschudin from Switzerland can read Zhuan Falun in Chinese well. He studies Mandarin in Taiwan.
Mr. Nikolai Tschudin first came across Falun Dafa in January 2006 in Switzerland. He met a practitioner who told him about the practice and the persecution. He went online and learned the exercises from a video.
"The first time I finished reading the book Zhuan Falun, the way I saw the world was completely changed," said Nikolai.
He immediately quit smoking and drinking. He felt that the teachings gave him more self-control. He also became more open-minded, relaxed, and healthy. He wanted to read the Chinese version of the book, and came to Taiwan to study Mandarin for a year.
Finding True Happiness
Engineer Chiang Tze-yang finds true happiness in Falun Dafa.
Mr. Chiang Tze-yang's high school teacher recommended Falun Dafa to him, and he became a practitioner six years ago. "In the process of practicing altruism, I realized that it is a more valuable lifestyle," he shared. "I found my way in the practice, and learned the true meaning of life."
The changes that Tze-yang experienced drew his mother's attention. She later became a practitioner. "The relationship between my mother and I improved dramatically," said Tze-yang. He hoped his participation in the event would help more people discover and benefit from the practice.
Growing Up with Falun Dafa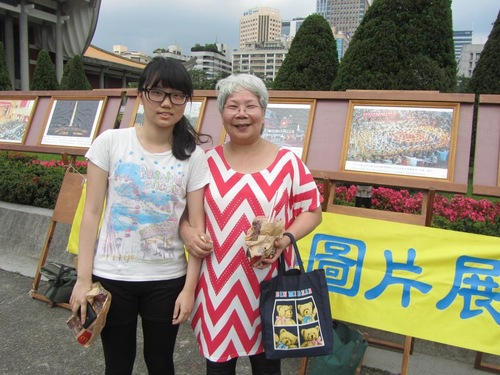 College sophomore Ms. Wang Wei-ting accompanies her aunt, Ms. Lin Shu-qin, at the celebration.
Ms. Wang Wei-ting is a college sophomore who has been practicing Falun Dafa for over a decade. She feels lucky to have grown up with the teachings because it guided her in everything she did.
"It gives me a pure heart and prevents me from going astray. Following the principles of Truthfulness-Compassion-Forbearance makes me well-liked by people around me," she said.
Ms. Wang comes to the celebration every year because she wants to let tourists from around the world "see and feel how wonderful the practice is."