Edmonton Canada: Elected Officials Recognize Falun Dafa Month
(Minghui.org) Elected officials from different levels of government in Edmonton issued proclamations and letters congratulating the arrival of Falun Dafa Month.
May 13 this year will be the 23rd anniversary of Falun Dafa's introduction to the public. To mark this occasion, Falun Dafa practitioners around the world are holding festivities and celebration activities throughout May to mark this wondrous time.
In Edmonton, Canada, Falun Gong practitioners held a celebration at Wilbert McIntyre Gazebo, near the Strathcona Farmer's Market on May 2, 2015.
To mark this occasion, municipal and federal elected officials issued letters and proclamations, in recognition of Falun Dafa.
The Edmonton City Council, led by Mayor Don Iveson, issued a proclamation addressed to the Falun Dafa Association of Canada, in recognition of Falun Dafa Month.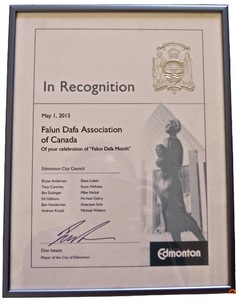 Hon. Brent Rathgeber, Member of Parliament for Edmonton-St. Albert, issued a letter congratulating the Falun Dafa Association of Edmonton on the anniversary of Falun Dafa's introduction to the public.
"Falun Gong practitioners promote the cultivation of mind and body and encompass the universal principles of truthfulness, compassion and forbearance. However, the Falun Gong are persecuted ruthlessly. In China, freedom of belief is non-existent, and the Falun Gong are subject to arbitrary arrest, torture, lack of medical attention, and most disturbing, live organ harvesting," wrote Mr. Rathgeber, who is the chair of Parliamentary Friends of Falun Gong.
"I am inspired by the passion, the sacrifice and the struggle exemplified by the practitioners of Falun Gong."
Conservative MP Hon. Mike Lake, who represents Edmonton-Mill Woods-Beaumont, also congratulated Falun Dafa practitioners on the anniversary.
"Thank you for your teaching on truthfulness, benevolence and forbearance that make such a positive contribution to our country. I wish you a successful celebration," he wrote.
In her greeting letter, NDP MP Hon. Linda Duncan, who represents Edmonton-Strathcona, praised Falun Gong practitioners for their courage.
"Your bravery and courage have proven insurmountable and, in the face of adversity, you have continued to stand up for your beliefs and the promotion of human rights," she wrote.