Falun Dafa Events in New York City Seen Through the Eyes of Spectators
May 24, 2015 | By He Yu and Tang Xiuming in New York City
(Minghui.org) Over 8,000 Falun Dafa practitioners gathered in New York City in celebration of May 13 World Falun Dafa Day. Falun Dafa Day is the anniversary of the practice's introduction to the public in 1992. The events included group exercises, rallies, a parade, cultural performances, and an experience sharing conference at Barclays Center in Brooklyn.
The public events were witnessed by literally thousands of people, and some of their comments are presented here. Among the themes they expressed were the "power of love and compassion," "a battle between good and evil," and "hope for China".
A Force for Positive Change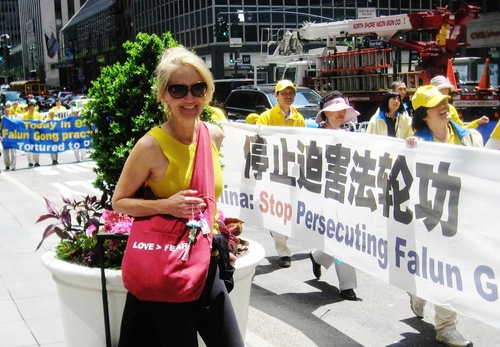 Marilyn Aspen made an effort to watch the Falun Dafa parade in Manhattan. "I'm here today to witness history, to witness [Falun Gong practitioners] walk peacefully through the streets of New York and demonstrate who they are," she said as she stood on a corner on 42nd Street in Manhattan, waiting for the parade to start.
"The effort of this group, the Falun Gong, the people who have sacrificed, is important to help transition the world. That energy is powerful and it's growing--it's been growing for a while," said Marilyn Aspen, a planning consultant in New York City, at the starting point of the parade on 42nd Street on May 15.
She talked about the persecution in China, where the government is harvesting organs from living Falun Gong practitioners.
"I have a lot of faith in the victory of truth and love. The movement is so important. History today—Falun Gong demonstrated on 42nd Street in New York City, peaceful and very good energy," said Ms. Aspen, adding that compassion has the power to change people.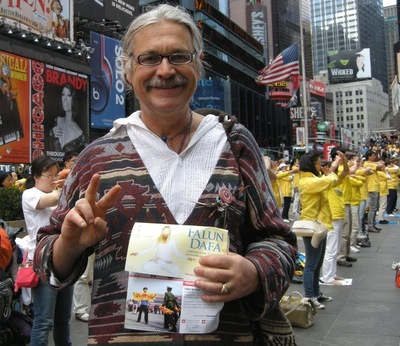 Frank Craven, a writer in New York, encountered Falun Gong at Times Square
Frank Craven, a writer in New York, watched Falun Dafa practitioners meditate in Times Square on May 13. He noted that the principles of Truthfulness-Compassion-Forbearance would become a very powerful force in the world.
He complimented practitioners on their powers of concentration and self-discipline as reflected in their ability to do a tranquil meditation in Times Square.
Beyond "Me, Me, Me"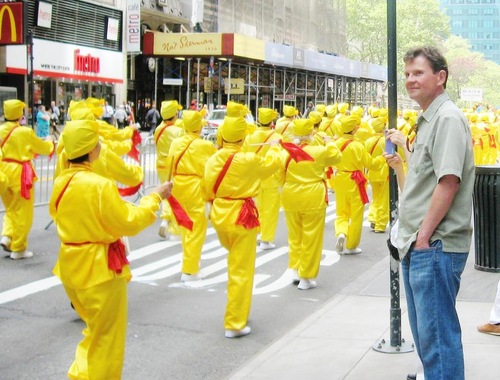 John Koncoli, a philanthropist who grew up in New York
"You know what really impressed me about this parade? It is the smiles, the love, the energy, and the peacefulness of the way they're presenting themselves. Especially in a place like New York," said John Koncoli, as he watched Falun Gong practitioners parading by in Manhattan on May 15. He grew up in New York and has worked as an advocate for people with disabilities in Silicon Valley.
He commented that the world today has become so materialistic that people just pursue their own interests, have an endless desire to consume, and consider everything based on "me, me, me."
"And when you think about 'me', you're never going to be able to satisfy 'me', and you can never get enough," he said.
Former ballet dancer Lucia Tristao encountered practitioners doing the exercises in Central Park on May 13: "I would like to improve according to Truthfulness-Compassion-Forbearance. I think the whole world would be a lot better if we had those three things."
A Battle Between Good and Evil
"Human beings need spiritual belief. Communism promotes materialism, not morality and humanity," said a senior Chinese lawyer who did not wish to disclose his name. He was another spectator at the Manhattan parade.
He said that Falun Gong is the hope of China, "The whole world will help Falun Gong. The communist totalitarian control in China will disappear. The Communist Party has been around for several dozen years. Yet human civilization has lasted several thousand years. The Party cannot maintain its violent control for long."
"I support Falun Dafa 100%!" said Danny who works at Pfizer, whose office building is on the parade route. "People shouldn't be persecuted for their belief... It's only a matter of time before righteousness prevails."
"Love, the good, and compassion will win," shared Ms. Aspen. "This is a battle of forbearance. That's one of the concepts in Falun Gong. It's a battle of staying steady, clear, and centered; and that's what they do."