Washington DC Practitioners Express Their Gratitude on World Falun Dafa Day
May 21, 2015 | By Minghui correspondent Li Xiaofei
(Minghui.org) Falun Gong practitioners in the Greater Washington DC Area gathered on the lawn to the south of the White House on May 9 and celebrated the 16th World Falun Dafa Day and the 23rd anniversary of Falun Dafa's public introduction.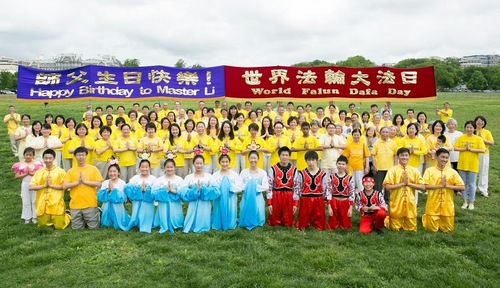 Falun Gong practitioners on the lawn to the south of the White House
The practitioners shared the same wish to showcase the beauty of Falun Dafa and express their gratitude to Mr. Li Hongzhi, founder of the practice.
Business Development Manager: Big Changes During First Week
Gary Yendoo from Virginia is a business development manager at a bank. He started practicing Falun Gong in 2006. He had tried several types of qigong earlier to try to gain better health.
Northern Virginia Falun Gong practitioner Gary Yendoo
"I later tried Falun Gong. During the first week, I experienced big changes. I realized that this practice is very powerful. So I stopped studying other practices and decided to practice Falun Gong only," Mr. Yendoo shared.
He experienced more changes later. "I became kinder and friendlier," he added.
Attorney: Falun Gong Helps Me Be Tolerant and Selfless
Attorney Jamil Lawrence is also from Virginia. He joined the event with his three children. He said that his biggest change upon practicing Falun Gong since 2000 was becoming kinder and more selfless.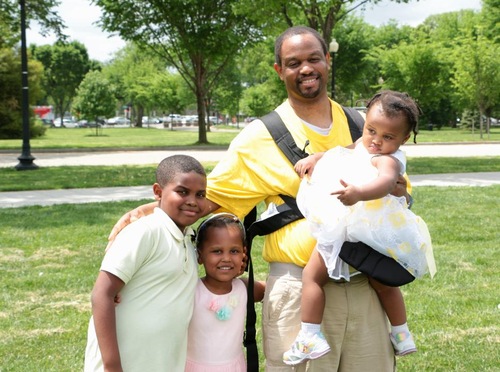 Jamil Lawrence practices law in Virginia. He was attending the event with his three children.
His family is in harmony as a result of his practicing Falun Gong. He said that he joined the event with his children because he wanted to express his gratitude to Mr. Li Hongzhi.
"I'm very grateful that he has imparted such a good practice to us," he concluded.
Chairwoman of Local Chamber of Commerce: My Practice Helps Me Balance Work and Family
Shao Xin, chairwoman of the Asian American Chamber of Commerce, credited Falun Gong for her balance between work and family.
She started practicing Falun Gong when she was studying in Atlanta. She said that the practice helped her maintain inner peace, "I won't be frustrated or anxious even if I have too many things to deal with."
Balancing work and a family with three children is a daily challenge for her. But practicing Falun Gong has helped her expand her capacity to handle many things well.
"Thank you, Master, for teaching us such a great practice and enabling our mind and body elevation," she added.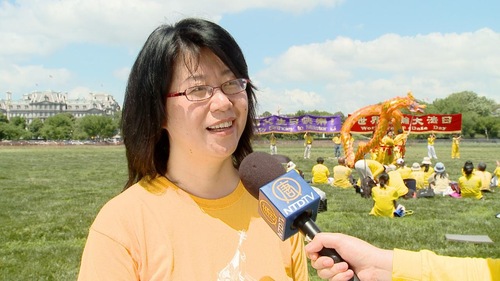 Cindy Shao, chairwoman of the Asian American Chamber of Commerce
Researcher: Finding Where My Heart Belongs
Li Xiaoxu from Maryland works as a medical researcher in the U.S. Army. He got to know Falun Gong in 1997, when he obtained a copy of Zhuan Falun, the main Falun Gong book.
"Falun Gong brought big changes to my life. I experienced elevation of my mind nature. I have learned to remain kind when interacting with friends and colleagues," he added.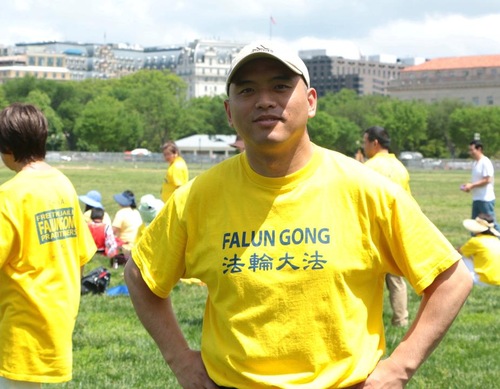 Dr. Lin Xiaoxu
"I felt that I had found a home for my soul, after I started practicing Falun Gong. I realized that life has more to it. My faith in Falun Gong is the source of my strength. It won't change because what others say or the persecution," he added.