World Falun Dafa Day Celebrations in Europe
May 20, 2015 | By Falun Gong practitioners
(Minghui.org) European Falun Dafa practitioners joined those from other continents to celebrate World Falun Dafa Day on May 13, 2015. Below are some of the events that took place in Ukraine, Poland, Germany, and the Netherlands.
Ukraine
Practitioners in Dnipropetrovsk, Ukraine's fourth largest city, celebrated World Falun Dafa Day by demonstrating the exercises and traditional Chinese dance on May 13, 2015. They also displayed posters informing passersby about Falun Dafa. Parents with their children were given short stories—written by young practitioners—so that they could understand the benefits from practicing the principles of Truthfulness-Compassion-Forbearance.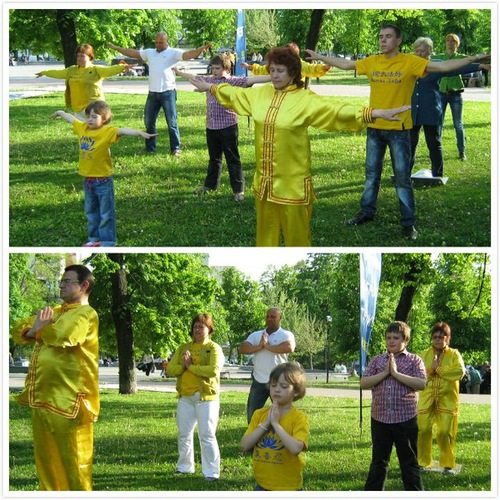 Ukrainian practitioners demonstrating the Falun Dafa exercises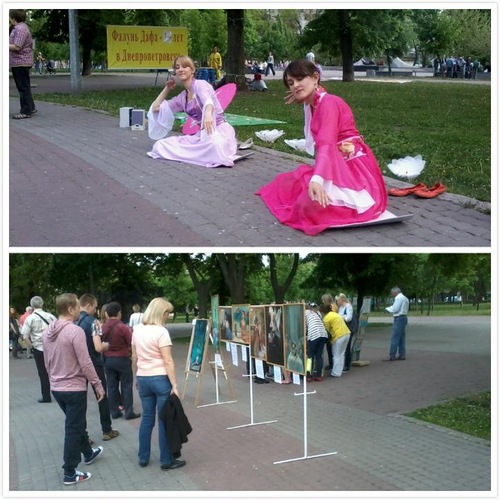 Dance and poster display during the celebration
The city of Kramatorsk in eastern Ukraine was at war for several months last year. After the fighting was over, practitioners resumed doing the qigong exercises and telling people about Falun Dafa on weekends. They celebrated World Falun Dafa Day by demonstrating the exercises and collecting signatures for support to end the persecution on May 10.
A lady in her 90s stayed in front of the booth for a long time chatting with practitioners. After hearing about the brutal persecution in China, the lady talked about how her family were also victims of Communist Party brutality. Practitioners told her about the organ harvesting from living Falun Dafa practitioners in China, and gave her a hand-made lotus flower as well as some pamphlets. The lady signed the petitions to support ending the persecution.
Besides these two cities, practitioners in other Ukrainian cities, including Kharkiv, Odessa, and Ivano-Frankivsk, also celebrated this special occasion.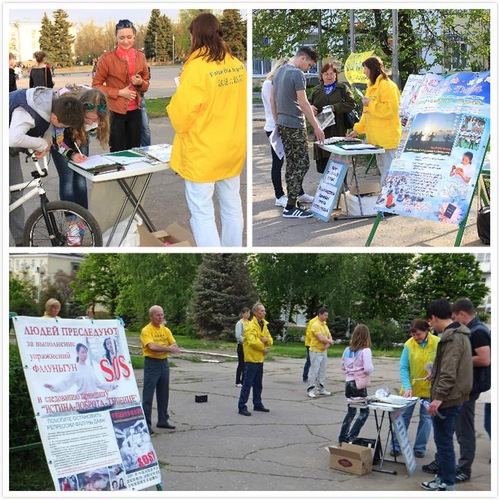 Passersby stopping to learn more information and sign petitions to help stop the persecution
Poland
Polish practitioners gathered at the Warsaw Old Town on May 13 to celebrate World Falun Dafa Day. Because this date coincided with the birthday of Mr. Li Hongzhi, the founder of Falun Gong, they also wished Mr. Li a happy birthday.

Polish practitioners celebrating World Falun Dafa Day on May 13
The peaceful exercises and banners drew a large number of spectators. They took informational materials and signed petitions calling for an end to the brutal persecution in China.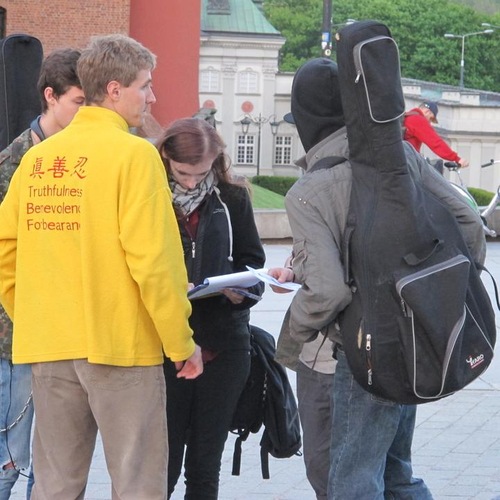 Pedestrians signing petitions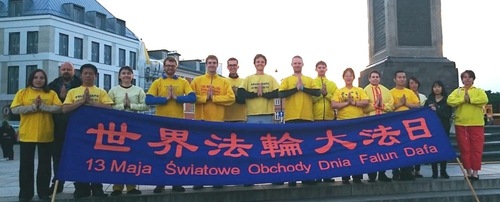 Practitioners wishing Mr. Li Hongzhi a happy birthday
Germany
Practitioners from Bavaria, Germany, and Salzburg, Austria, gathered at the city center in Munich on May 16, to celebrate World Falun Dafa Day. Impressed by the calm and gentle exercises, many pedestrians stopped by to learn more information. Upon hearing about the severe suppression in China, many signed petitions to support practitioners.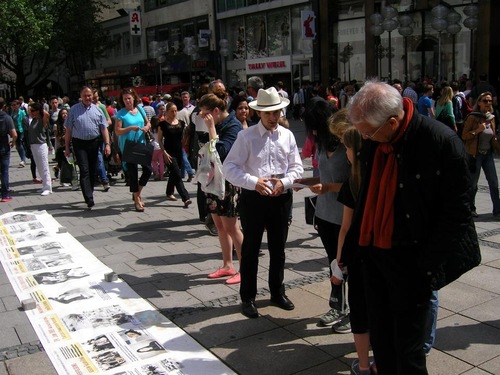 People reading posters to learn about Falun Dafa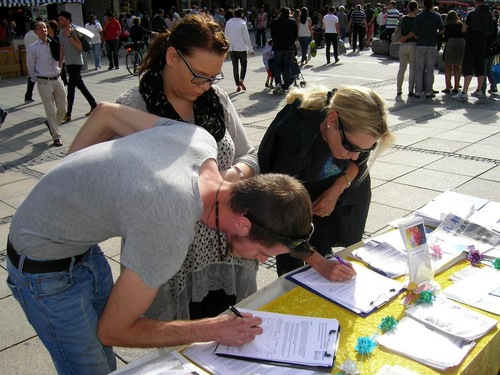 Passersby signing petitions to stop the persecution in China
Chinese tourists and residents were also interested in the qigong exercises. They took pictures, read materials, and some quit the Chinese Communist Party organizations.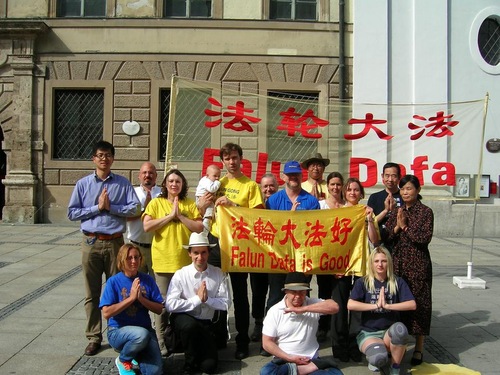 World Falun Dafa Day celebration by practitioners from Bavaria, Germany, and Salzburg, Austria
Netherlands
Dutch practitioners went to the Hague and celebrated World Falun Dafa Day in front of the International Court of Justice, the primary judicial branch of the United Nations based in the Peace Palace. Through displaying posters and collecting signatures, they raised awareness of the brutal persecution in China.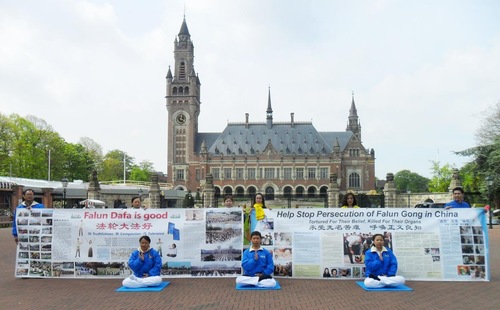 Exercise demonstration and poster display in front of the Peace Palace
According to falundafa.org, Falun Gong teachings have been translated in more than 30 languages and it is being practiced in over 100 countries.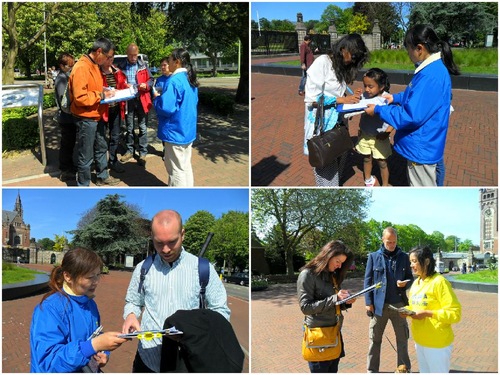 Tourists and residents signing petitions to stop the suppression in China