Practitioners Doing the Falun Dafa Exercises Radiate Tranquility, New York Takes Note
May 16, 2015 | By Minghui correspondents Zhang Yun, Xia Chunqing, and Hua Qing
(Minghui.org) Doing the exercises outside together in the morning is a tradition for Falun Dafa practitioners. As over 8,000 of them from around the world gathered in New York City to celebrate World Falun Dafa Day on Wednesday, they brought the tradition with them. In major public parks, including Gantry Park, Bowling Green Park, and Central Park, they did the exercises together in small groups.
Pedestrians, locals, and tourists alike took note of the peace and tranquility reflected in the faces of those doing the exercises, something rare in the regular hustle and bustle of New York.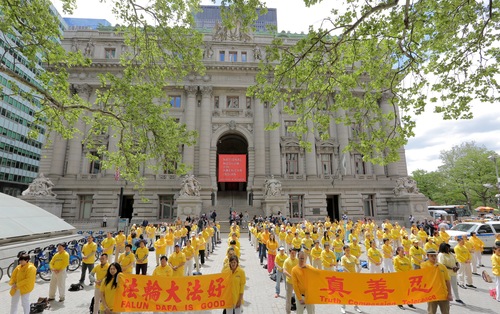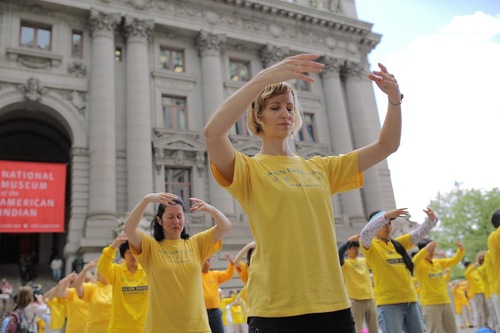 Falun Dafa practitioners do the exercises together in Bowling Green Park in New York on May 13, 2015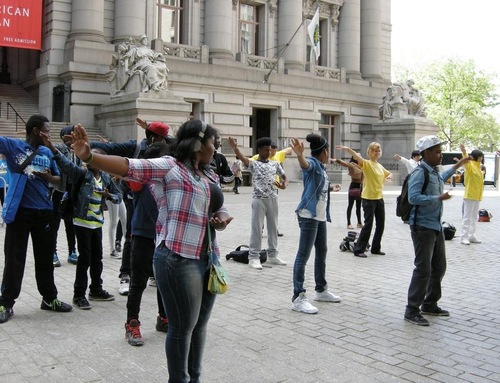 Passersby join the Falun Dafa group exercises in Bowling Green Park, NYC.
Pleasant Encounters in Central Park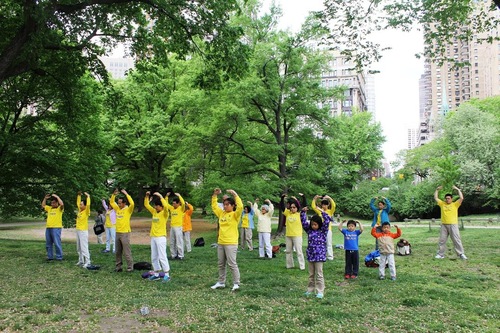 Practitioners doing the exercises in Central Park on Wednesday.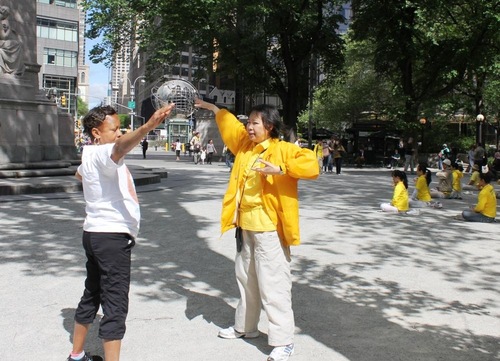 A tourist learns the Falun Dafa exercises from a practitioner.
Don Creedon, a New York playwright, said that the group exercises looked "great:" "It [meditation] helps you understand and become aware of what's happening with you. Sometimes the problem is that we think the problem is outside of us. The problem is me, the ideas I have about me."
Speaking of the persecution in China, Mr. Creedon said, "I do believe that the Chinese government seems to be very, very controlling. It wants people to think and behave a certain way." He added that the peaceful resistance to the persecution is important.
Former ballet dancer Lucia Tristao encountered practitioners doing the exercises as she walked her dog in Central Park.
"I would like to improve according to Truthfulness-Compassion-Forbearance," she said. She wanted more information on Falun Dafa, commenting, "I think the whole world would be a lot better if we had those three things."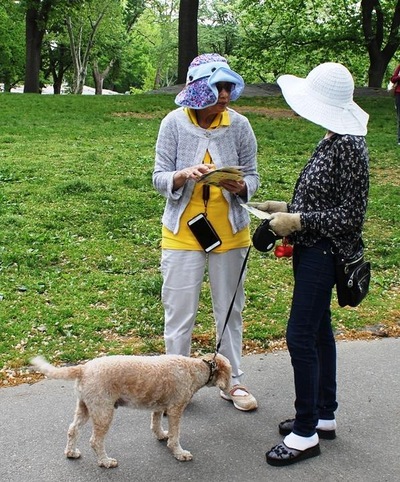 Lucia Tristao (right) speaks to a Falun Dafa practitioner to learn more about the practice.
"As I was walking, I saw everybody with the same color T-shirt meditating," commented retired teacher Dinah Gravel. "It's a good effort. I know a lot of people are pausing, looking, and trying to figure out what's going on. Plus, having people nearby handing out information and talking about it, I think it's a good way to raise awareness in a peaceful way."
Mr. Ricaroo N. Castilla (right) was visiting New York with his wife and son. They spotted practitioners doing the exercises at Columbus Circle at one of the entrances to Central Park. He said, "It's a wonderful surprise to see this very organized group of people doing deep meditation. It's fantastic. I have never seen anything like this before."
Fortunate Encounters in Bowling Green Park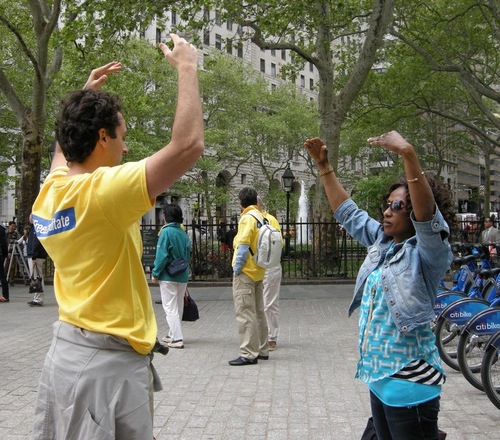 Ms. Hadiatou, who works near Bowling Green Park, encounters Falun Dafa and learns the exercises on World Falun Dafa Day.
"I immediately had the urge to try out the exercises," said Ms. Hadiatou, who works near Bowling Green Park. "I am feeling great. I want to learn all the exercises."
When she learned that May 13 was World Falun Dafa Day, she said, "I congratulate you and myself! I encountered Falun Dafa and learned the exercises on this day. I believe this practice will spread far and wide. I hope I can become a part of it."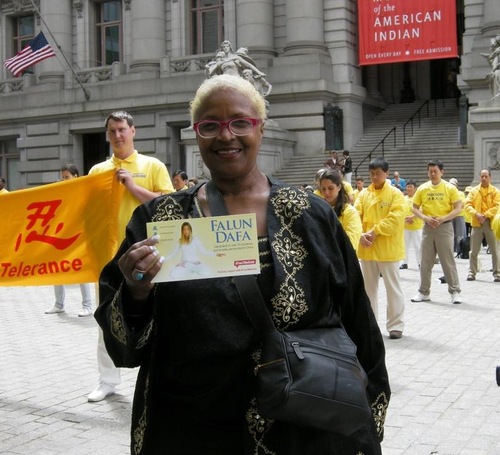 Wanda Imasven from New York is excited to have found Falun Dafa.
Wanda Imasven from New York shared her excitement, "I have finally found Falun Dafa! I have heard of it, seen it on TV, and read about it in the news. But I didn't know how I could learn it. I saw people doing the exercises, and my eyes lit up. 'Wow!' I said to myself, 'I have found what I have been looking for.'"
When she was told that May 13 was World Falun Dafa Day, she said she was very fortunate to have learned the exercises on this special day.
Tranquility in Times Square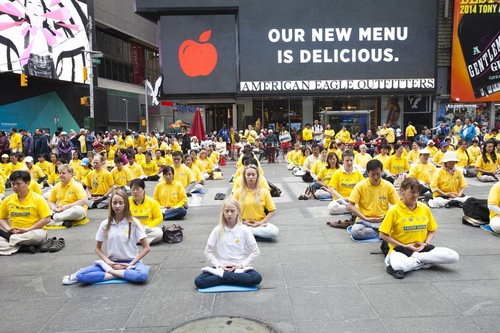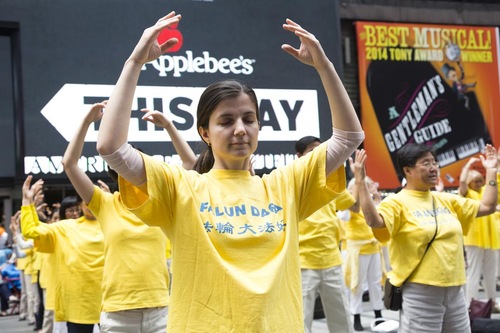 Falun Dafa practitioners do the exercises in Times Square on May 13, 2015.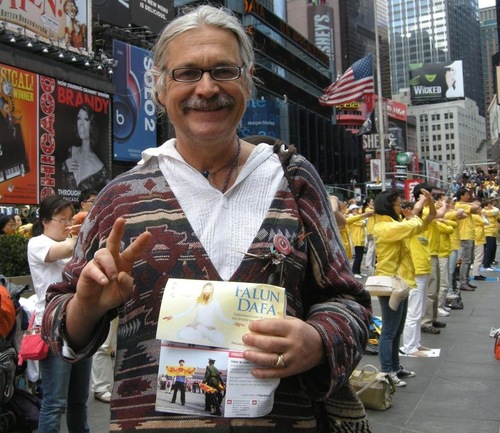 Mr. Frank Craven, a writer in New York
Frank Craven, a writer in New York, watched Falun Dafa practitioners meditate in Times Square on May 13. He said he appreciated and supported the group and noted that the principles of Truthfulness-Compassion-Forbearance would become a very powerful force in the world.
He complimented practitioners on their powers of concentration and self-discipline as reflected in their ability to do a tranquil meditation in Times Square. He said it was manifestation of their realms and self-control.
Related article in Chinese language:http://www.minghui.org/mh/articles/2015/5/14/中央公园祥和炼功--吸引纽约客-309502.html