Cloisonné Art: Master's Infinite Grace and Falun Emblem
May 16, 2015 | By Xin Ping, a practitioner from China
(Minghui.org)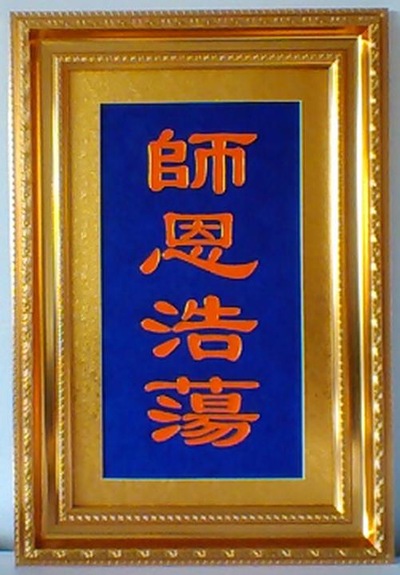 Master's Infinite GraceSize: 20 in by 13 in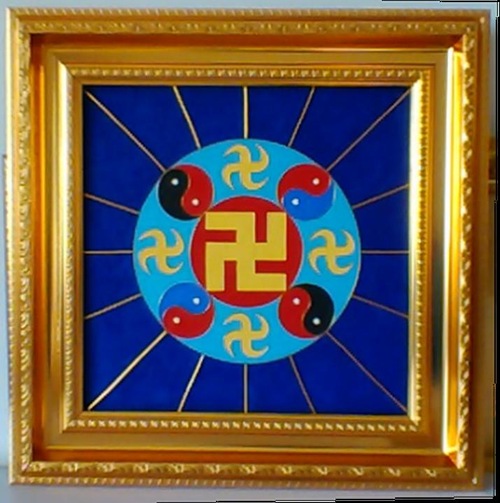 Falun EmblemSize: 13 in by 13 in
Cloisonné is a style of enamel decoration. While the pieces above reference some of the traditional cloisonné process, they are not, strictly speaking, cloisonné.
These pieces are made on wooden boards, using metal threads and colored sand. The traditional filigree technique from cloisonné is preserved, but glue is used to adhere the filigree to the boards and water glue to adhere the glaze.
The use of metal threads and colored sand results in bright colors and reflective surfaces. The color in the metal threads and the sand never fades.
There are two main steps to making these cloisonné-style pieces:
1. Filigree: Coat the board with glue and adhere the metal threads to the board. Use tweezers and scissors to create a pattern. The lines should be smooth. Let the glue dry.
2. Mosaic natural sand paint - Glaze: Mix the natural sand paint with water glue. If the mixture is too thick, add a little water. Use a blade to apply the paint in the grooves. Gently shake it to make it even. The pattern adheres to the board after the paint is dry.