Rallies Across the US Commemorate April 25 Peaceful Demonstration
April 30, 2015 | By Minghui correspondents
(Minghui.org) From New York to San Francisco, Falun Gong practitioners in the US joined other nations in holding events in major cities over the weekend, to commemorate the peaceful demonstration in Beijing on April 25, 1999.
About 2,000 practitioners attended the march on April 25, in Flushing, New York. One participant, Lu Dong, explained the significance of the activity: "The April 25 peaceful protest was a compassionate response to injustice... at a time when people no longer believed in goodness, after years of terror from the communist regime."
Ms. Liu, a graduate student who attended the Chicago rally, was only 12 when police arrested her mother and her in 1999 for their belief. "Once when visiting my mother in detention, with her hands cuffed and feet chained, I was allowed only one minute to speak with her. So I encouraged her: 'Remember what we have learned from the [Falun Gong] teachings? Please don't drop your conscience.'"
Tang Boqiao, a democracy advocate, said at the gathering in San Francisco, "Falun Gong practitioners have earned worldwide support because of their perseverance. From them we have learned how to safeguard mankind's bottom line. That is our hope, and our future."
March in Chicago
Chicago practitioners held a march in Chinatown on April 25. Chicago's Chinatown is one of the earliest Chinese settlements in the US. "Realizing the brutality that the Chinese Communist Party (CCP) has brought to people, including the persecution of Falun Gong, 200 million Chinese people have announced their withdrawal from the CCP and its affiliated organizations. We are holding the event here in Chinatown to mark this milestone and to call on more people to join the momentum," said Liu Yi, contact person for the Chicago Falun Dafa Association.
Led by the Tang Drum group, the march started from Wentworth Avenue and continued on the two main streets of Chinatown, Cermak Road and Archer Avenue, before returning to Wentworth. Practitioners carried banners proclaiming the importance of quitting the CCP and celebrating the 200 million who have renounced their membership in the CCP and its two youth organizations.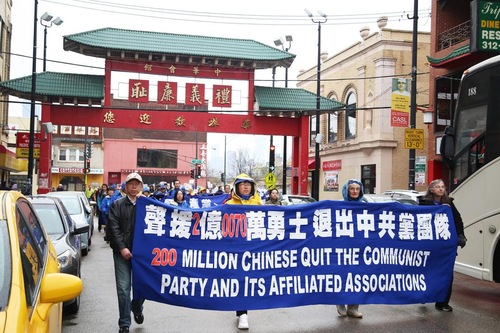 March in Chicago Chinatown on April 25, 2015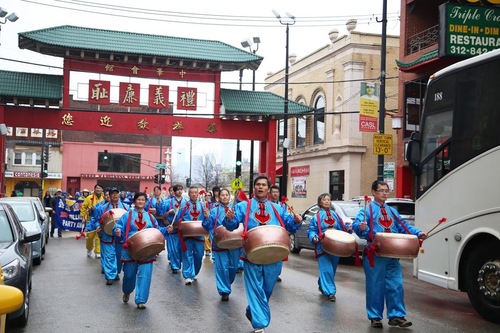 Tang Drum group led the Chicago march on April 25, 2015
Wu, a student living in Chinatown, was glad to see the march and talk with a practitioner. "We know how bad the Party is and it is hopeless. Could you help me quit the CCP?" Wu asked.
A family of five from New Jersey were happy to see the march and took a group picture with practitioners. "We are all Chinese and it is good to see that so many people have separated themselves from the Party," said one in their group. They were aware of the brutal persecution suffered by Falun Gong practitioners, and hoped that the suppression would end soon.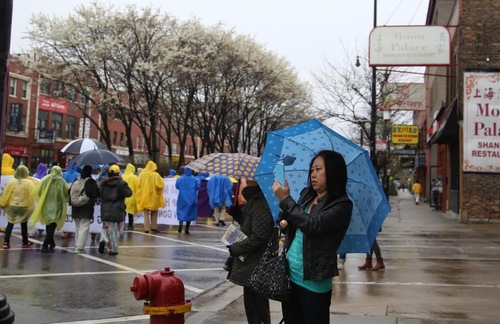 A Chinese woman stopped to watch the march and take pictures
Two Chicago residents, Amber and Brittany, were visiting Chinatown when they saw the march. "We are sorry to hear that Falun Gong practitioners are treated so badly in China," said Amber.
Ms. Jiang, a practitioner volunteer who often distributes Falun Gong materials in Chinatown, said she has noted changes in the Chinese community. "When I first came here in 2009 and handed out informational materials, a large number of Chinese people were heavily influenced by the CCP. They refused to accept materials or even dumped them on the ground, while swearing at me."
The situation is now much better, Ms. Jiang said. With help from her and other volunteers, approximately 100 Chinese quit the CCP organizations every day. On the day of the march, 16 people asked practitioners to help them quit the Party.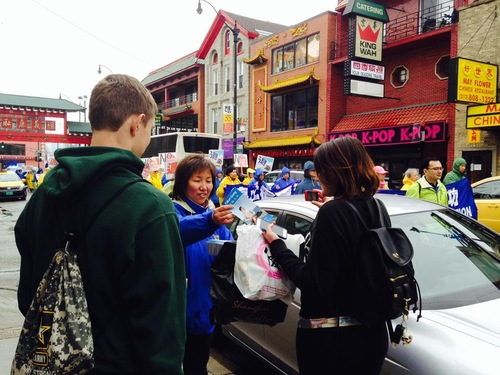 A practitioner hands Falun Gong information to bystanders.
Rally in Chicago: The CCP Is Doomed
After the march, a rally was held in front the Chinese Consulate in Chicago.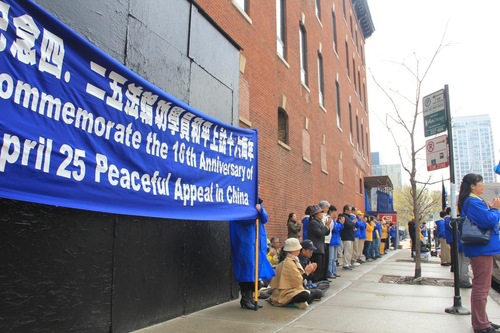 Rally in front of the Chinese Consulate on April 25, 2015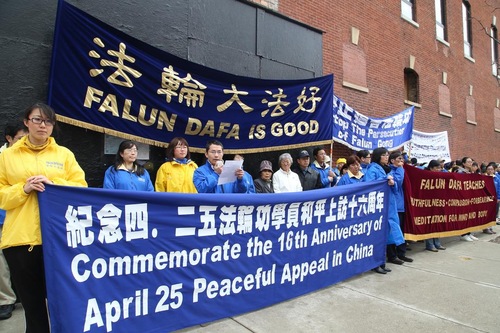 Huang Kui, a graduate of Tsinghua University, speaking at the rally.
Huang Kui, a graduate from renowned Tsinghua University, recalled his experience on April 25, 1999, when 10,000 Falun Gong practitioners gathered peacefully in Beijing to request the government to redress injustices against Falun Gong.
"We were standing along the sidewalk, quietly, with no shouting of slogans or holding banners. We were waiting there hoping that the Beijing Appeals Office or some high officials would talk with us, and hear our voice." After hearing that the practitioners arrested in Tianjin would be released, all of the practitioners quietly left the scene. Consistent with Falun Gong teachings, upon leaving, they picked up the trash and even the cigarette butts left by police officers, said Huang.
But the Chinese communist regime showed no mercy. Jiang Zemin announced a ban on Falun Gong on July 20 and launched the nationwide persecution, throwing millions of practitioners and their family members into tragedy.
Among them was Liu Zhimei, a student that Huang had met at Tsinghua. After being expelled from college for her belief, Liu was sentenced to 12 years of imprisonment. Several days before she was released in 2008, guards injected her with nerve-damaging drugs, driving her to a mental collapse.
After living in prolonged pain and humiliation, Ms. Liu's misery ended when she died earlier this year.
Liu Yi said that April 25, 1999, was a special day: "After decades of totalitarian rule by the CCP, a regime that has killed tens of millions of people unrelated to wars, this is day when compassion prevails." She said this day was memorable because it gives people hope.
Echoing the words of Liu Yi, Mr. Huang said that the movement of quitting the CCP was inevitable. "Chinese communism has done too many bad things, and it is doomed to collapse."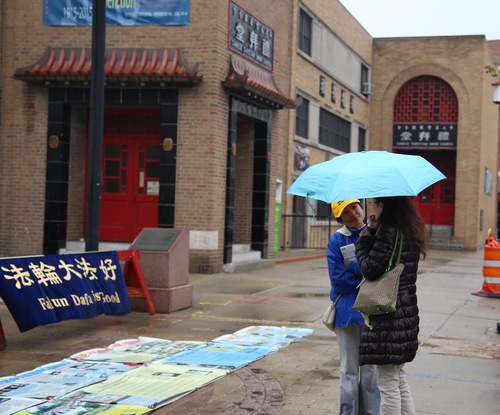 A Chinese woman listening to a practitioner talking about Falun Gong and the persecution
Rally in San Francisco: Anyone Associated with Chinese Communism Faces Real Danger
Ma Youzhi, coordinator of the events in San Francisco, said that he was happy to see that two million people have chosen a better life, outside the influence of the CCP.
"On the other hand, I feel sad because a large number of Chinese are still misled by the communist propaganda." He hopes they will rethink this issue because, "as history phases out the CCP regime, anyone associated with it could face real danger."
Rally in San Francisco on April 25, 2015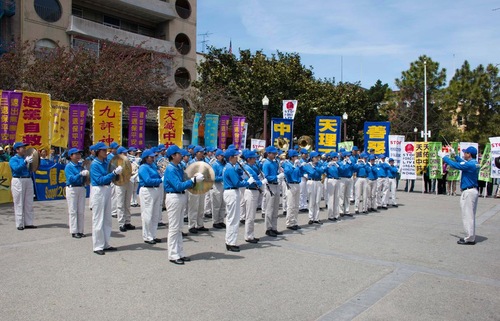 The Divine Land Marching Band performing at the San Francisco rally
Wang Yunbo, who came to the US six months ago, said that he was a college junior in 1999. "Because of my belief, my education was suspended, and I was arrested, followed by 8 years of detention." Although he is free now, more than 20 other practitioners he personally knows in Lanzhou City are still under detention.
"Some people don't understand why we practitioners spend so much efforts on exposing the CCP's brutality," Wang said. "Actually, we are not doing this for ourselves. Through the past 16 years of severe suppression, we Falun Gong practitioners do not seek revenge. But if none of us does the right thing to stop the CCP, it will continue to harm more people. And any of us who vowed to devote ourselves to the regime will have to pay the consequences."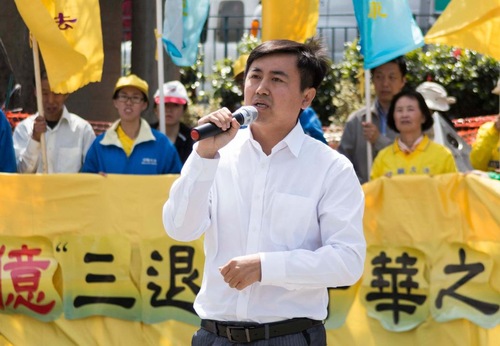 Practitioner Wang Yunbo speaking at the rally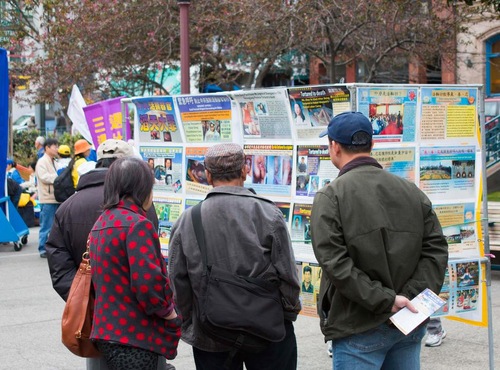 Chinese residents reading posters about Falun Gong and the persecution
Ms. Tao, a practitioner who came to the US four months ago, observed that the environment in US was drastically different from that in China.
"Back in China, I could be arrested or jailed simply for telling others about Falun Gong or the persecution." But here she is able to do so freely and practice her belief without fear.
Communist theories contradict traditional values, she explained, and that's why the Party persecutes Falun Gong and its principles of Truthfulness-Compassion-Forbearance. "If one remains apathetic on such an important matter and lets his or her conscience slip, the future could be at risk," said Ms. Tao.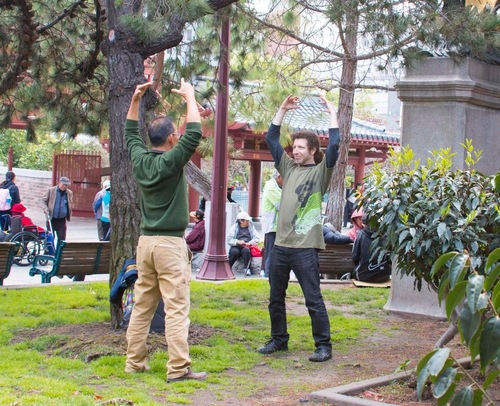 A man learns the Falun Gong exercises at the San Francisco event

--Related articles in Chinese:
http://www.minghui.org/mh/articles/2015/4/27/芝加哥中国城游行-声援两亿华人三退(图)-308120.html
http://www.minghui.org/mh/articles/2015/4/27/美中法轮功学员纪念四--8226-二五和平上访十六周年(图)-308121.html