Hong Kong and Macau Celebrate 200 Million Chinese People Quitting the Communist Party
April 30, 2015 | By Minghui correspondent Huang Yusheng in Hong Kong and a Falun Gong practitioner in Macau
(Minghui.org) Falun Gong practitioners in Hong Kong and Macau, the only two places in China where Falun Gong can be practiced freely and publicly, held marches and rallies last weekend, in conjunction with worldwide activities commemorating the peaceful protest by 10,000 Falun Gong practitioners in Beijing on April 25, 1999, and celebrating the milestone of 200 million people withdrawing from the Chinese Communist Party (CCP) since 2004.
Many Chinese tourists from mainland China saw, for the first time, a grand and peaceful parade of Falun Gong practitioners. They were amazed, and many were inspired and encouraged. Many people proactively renounced their memberships in the CCP organizations right then and there.
One Falun Gong practitioner said that she helped 360 Chinese people renounce their Party memberships during a three-hour march on Hong Kong Island on April 25.
Grand March on Hong Kong Island
About 800 Falun Gong practitioners held two marches, in Kowloon and Hong Kong Island, on two consecutive days, April 25-26, 2015.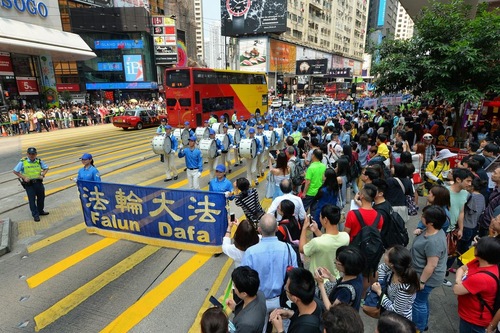 Divine Land Marching Band marches through business center on Hong Kong Island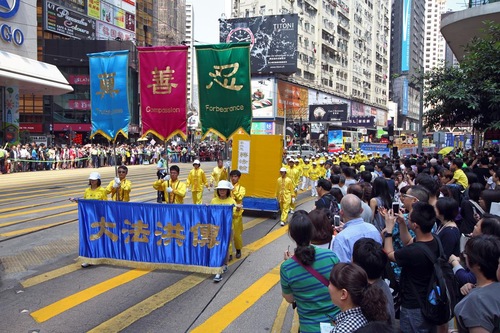 Practitioners hold large banners reading "Wide Spread of Falun Dafa," and "Truthfulness-Compassion-Forbearance" during a parade held on Hong Kong Island.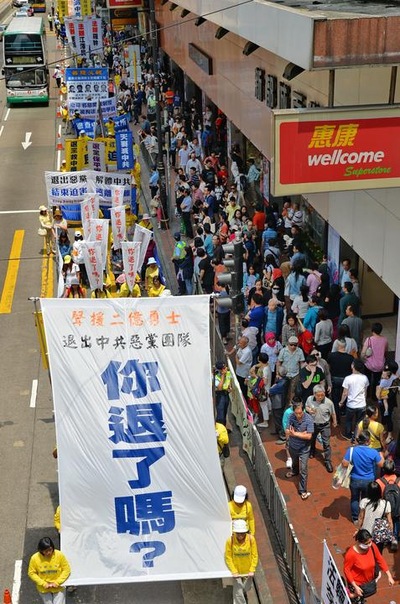 Practitioners hold a banner reading, "Have You Quit [the CCP organizations]?"
Chinese Tourist: Many High-ranking Officials Quit the Party
Mr. Chen, a private business owner, was excited to see the Falun Gong parade in Hong Kong. It was the first time he had seen such an event, even though he had been to Hong Kong many times before.
He praised the procession as being very orderly, energetic, and magnificent.
Mr. Chen told the reporter that several staff members in his enterprise were Falun Gong practitioners, and that he once protected them when local police came to harass them.
"We all know that Falun Gong practitioners are good people," Mr. Chen said, "We like to hire Falun Gong practitioners in our enterprise. How can they arrest and detain them?"
Unfortunately a few practitioners were arrested later, but Mr. Chen said that the situation in mainland China had greatly changed. Many people feel sympathy for Falun Gong, and the number of people practicing Falun Gong has steadily increased. He said that some of his son's classmates were Falun Gong practitioners, and they taught other classmates to do the exercises at a recent gathering. "I heard that dozens of them were doing the exercises together," Mr. Chen said.
Mr. Chen said he had heard about the 200 million withdrawals from the CCP organizations, and submitted his resignation from the Party with the help of a Falun Gong friend years prior. Many people around him have also quit the Party.
"Who doesn't curse the Communist Party nowadays? Many high-ranking officials have quit, too," he said.
Mr. Chen said that his sister, who is a provincial-level official, recently renounced her membership in the Communist Youth League she had once joined, as she was not satisfied with the CCP's leadership. Some private enterprise bosses have also quit the Party.
Mr. Chen observed that these bosses were not satisfied with the CCP, and know that the CCP, like a boat, is about to sink. They intend to transfer their funds outside of China, and many of their families members have immigrated outside of China.
Young Man: I'm Inspired After Watching the Parade
Mr. Yang, from Guangdong Province, China, saw the Falun Gong parade in Hong Kong for the first time.
"The atmosphere in Hong Kong and mainland China is different," he commented, "The atmosphere here excites me, but I can't see it in the mainland."
Mr. Yang said that he knew little about Falun Gong before, but this time he experienced what the practice is really like, and hopes to learn more about it in the future.
Another young man from Chongqing was also amazed by the grand march. "Very righteous and courageous," he said with admiration, "I'm inspired and empowered, and I believe that there is a hope for China."
Rally in Macau
Some young people who visited Macau shared the same sentiment as the young people who visited Hong Kong.
One young man from Jiangsu Province, who had no idea what Falun Gong was really about, after discussing the practice with practitioners, now understands the peaceful protest of 10,000 Falun Gong practitioners in Beijing on April 25th, 16 years ago. He also renounced his membership in the Young Pioneers right then and there.
Mr. Zeng from Guangdong Province had learned about Falun Gong, and understood the CCP for what it is, but hadn't withdrawn from the Party. He talked with a practitioner who told him that his statement to quit the CCP would break the vow he had made when he joined, where he promised to devote his entire life to communism, and that the CCP's crimes and wrongdoing would not affect him. He immediately agreed to quit the Party.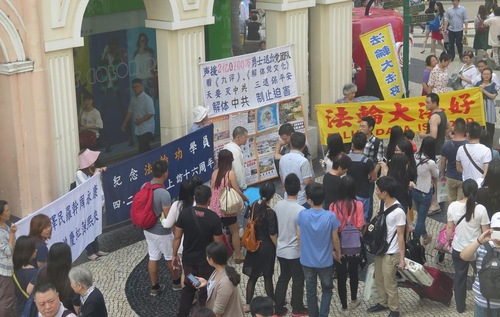 Practitioners in Macau hold activity commemorating the 16th anniversary of the April 25 peaceful protest in Beijing.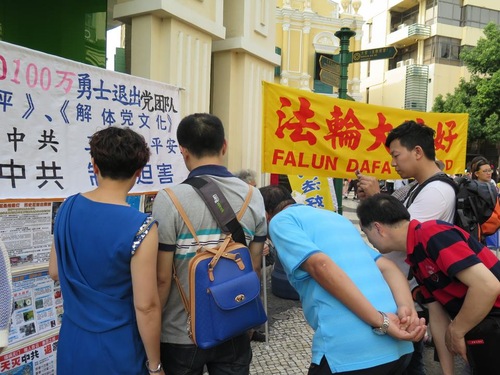 Chinese tourists read the information on display boards in Macau.
This event took place in the city center, on pedestrian street Rosary Church in Macau on April 25, 2015. Falun Gong practitioners held huge banners with photos and messages informing the Chinese tourists of the news which they cannot see in China.