Anniversary of April 25: Rally in Taiwan Celebrates Faith and Freedom
April 24, 2015 | By Minghui correspondent Liu Wenxin
(Minghui.org) Over 3,000 Falun Gong practitioners held a rally in front of the Presidential Building to commemorate the 16th anniversary of "April 25th," and celebrate over 200 million Chinese breaking free from communist chains by renouncing their Party memberships.
On April 25, 1999, 10,000 practitioners quietly demonstrated outside of Zhongnanhai, compound of the State Council and the Party central office, for their rights to practice Falun Gong, and release of the wrongly-jailed practitioners in nearby Tianjin. They peacefully dispersed after meeting with the then-Chinese Premier, who addressed their concerns.
Over the years, practitioners' quiet strength has been shared by more Chinese, who choose to quit the Party organizations to rid themselves of its mind control, and attain spiritual independence. The number has reached a major milestone, 200 million, a few days before the 16th anniversary of "April 25th."
Speakers at the rally paid tribute to Falun Gong practitioners' persistent, peaceful resistance to the persecution during the past 16 years, and congratulated the 200 million's choice of freedom.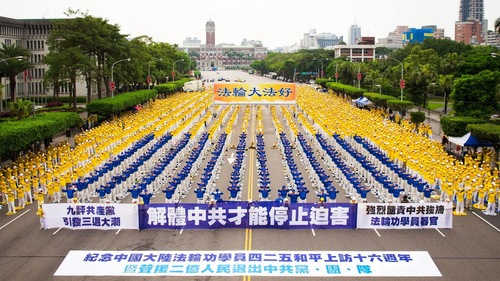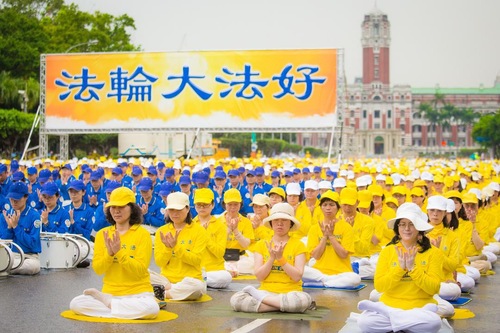 About 3,000 Falun Gong practitioners attended the group exercises in Taipei on April 19, 2015. The sign reads, "Falun Dafa is good."
"Only When the Party Is Peacefully Dissolved Can Mankind Have a Bright Future"
Recalling the peaceful demonstration of 10,000 practitioners in Beijing on April 25, 1999, Zhang Jinhua, director of the Falun Dafa (Falun Gong) Association in Taiwan said, "Falun Gong practitioners risked their lives to stand up for justice. It was the first large-scale peaceful demonstration after the Tiananmen Square massacre. Practitioners took part because they believed in goodness and conscience."
Witnesses, including police officers, were impressed by the calm and good manners of practitioners, according to Ms. Zhang. Many of them were moved and began to practice Falun Gong, too.
Ms. Zhang described the more than 200 million Chinese who have quit the Party organizations as a "conscience awakening" movement.
"While Falun Gong practitioners have been detained, tortured, and even become victims of live organ harvest during the past 16 years, people have an opportunity to think about what the Party really is," she said. "As a result, many have decided to quit the Party, and no longer side with a regime that harms people. Only when the Party is peacefully dissolved can mankind have a bright future."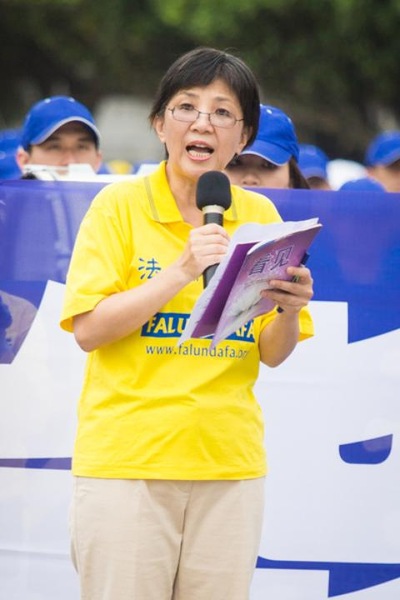 Falun Dafa Association director Zhang Jinhua
Human Rights Lawyer: Communism Has No Place in China's Future
Theresa Chu, spokesperson for the Falun Gong Human Rights Lawyers Working Group, congratulated the 200 million Chinese people, "It takes courage to make such a decision, and we are glad to see it happen." She said the the Party has been proven harmful for the society, and has no place in China's future.
Taiwan has the largest number of Falun Gong practitioners outside of Mainland China. "At Taipei 101 and other major touring site across Taiwan, and even in Hong Kong, you may have seen practitioner volunteers telling you facts about how the Party has defamed and persecuted in China."
Chu also called for more support from the public in focusing on this matter. "Here in Taiwan we respect kindness and support righteousness. This is our strength. We are also in a unique position because of geographic and demographic reasons. Let's make the best use of it and do well during this historic moment."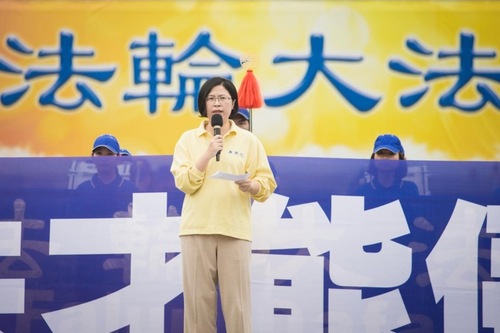 Theresa Chu, spokesperson for the Falun Gong Human Rights Lawyers Working Group
Taipei City Councillor: CCP Must Stop Persecuting Falun Gong
Chang Mao-nan, a Taipei Council member, said that the actions of Falun Gong practitioners in Mainland China were not to interfere with government affairs; rather, they are exercising their freedom of belief, one of the founding principles of human society. They do so also because they hope more people can benefit from this meditation practice, which improves mind and body.
"For these reasons, our voice here in Taiwan is clear. The CCP (Chinese Communist Party) must stop persecuting Falun Gong and release all detained practitioners."
Regarding the recent attacks by the pro-communism organization, the Concentric Patriotism Association, Chang commented, "They [the attacks] violate the law, and need to stop."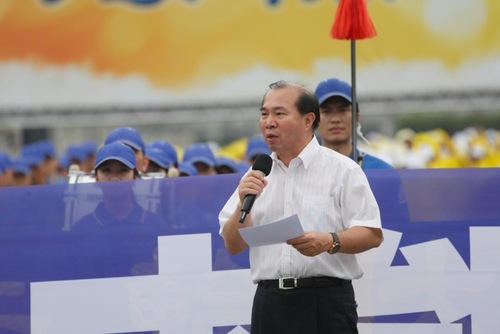 Chang Mao-nan, a Taipei Council member
Yuan Hongbing, writer and Chinese dissident, said that the CCP has damaged China in several ways, including introducing Marxism and destroying traditional culture. He praised the movement of quitting the CCP, "It is a spiritual awakening, and is the only path toward a better future."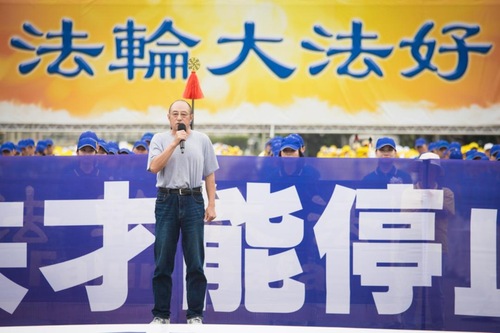 Mr. Yuan Hongbing, writer and Chinese dissident
Ms. Liao from Taoyuan City, near Taipei, said that she and other practitioner volunteers have been making phone calls to China. "We tell everyday citizens, as well as law enforcement officers and lawyers, how brutal the persecution is, and why no one should remain a member of the Party while it sinks." She said that about 2,200 lawyers had broken free from the CCP organizations in the past few months.