An Additional 224 Bazhong Residents Petition for Ms. Peng Huaying's Release
April 23, 2015 | By a Minghui correspondent from Sichuan Province, China
(Minghui.org) After Falun Gong practitioner Ms. Peng Huaying's most recent arrest and imprisonment in September 2014, people from Bazhong City, Sichuan Province have been working together to secure her release.
Recently, 224 more people have either pressed their fingerprints to or signed their names on a petition calling for Ms. Peng's release. A total of 650 people have petitioned for her release, which includes the previous 426 signatures.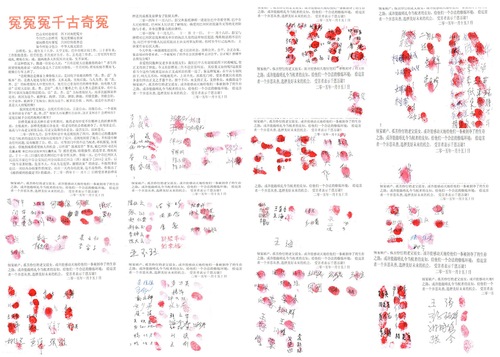 224 people request Ms. Peng's release by providing their fingerprints and signing a petition
Upon learning about Ms. Peng's imprisonment, a village resident from her hometown looked for a Falun Gong practitioner because he wanted to sign a petition asking for her release.
He said, "Ms. Peng's family are good people. The Chinese Communist Party (CCP) is doing nothing but persecuting good people. It should receive retribution. Falun Gong is good and I support Falun Gong."
After signing the petition, an employee who is in charge of collecting parking fees talked to a driver, "What Falun Gong says is true. The CCP is really bad." The driver agreed, "The CCP will surely collapse if it does not stop its persecution of Falun Gong practitioners."
A woman who was given a flyer about the persecution of Falun Gong said, "Ms. Peng used to be bedridden and was able to get out of bed after she practiced Falun Gong. However, the CCP persecutes her. It really does not make any sense!"
An employee of the Statistics Bureau for more than 30 years, Ms. Peng has won the "Worker of the Year" award numerous times.
Parties involved in persecuting Ms. Peng:
Jiang Junhui (蒋军辉), secretary of the Bazhong District Political and Legal Affairs Committee: +86-827-2133573, +86-13881689133
Zhang Dezhi (张德志), deputy secretary of the Bazhong District Political and Legal Affairs Committee: +86-827-2132552, +86-18908293608
Yue Yingbing (岳映兵), director of the Bazhou District Police Department: +86-827-5223661, +86-15928389139
Earlier report:426 People Petition for Release of Statistics Bureau Section Chief