Melbourne, Australia: People Condemn Organ Harvesting After Watching Documentary
April 15, 2015 | By Minghui correspondent Xia Chunqing
(Minghui.org) Four days after the Australian TV network SBS broadcast "Human Harvest: China's Organ Trafficking," a 25-minute documentary on China's practice of killing prisoners of conscience for their organs, Melbourne practitioners gathered in front of the State Library in Victoria on April 11-12, 2015, to tell people about Falun Gong and the persecution in China.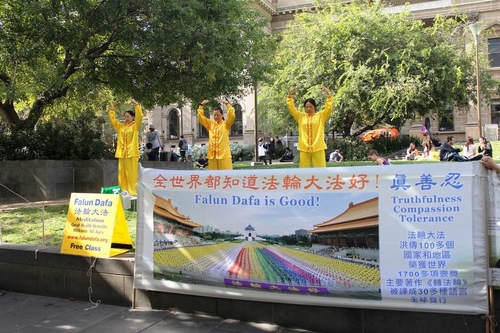 Practitioners demonstrating the Falun Gong exercises at the State Library
Many people had watched the program and expressed concern over this terrible human rights violation. Steven Dykun, a nutritionist and a small business owner, said the program was very good because "It shows the evidence—the doctor told us what happened, and it is really convincing."
He considered it a "wrong move" if the Australian government tries to build a good relationship with China because "China is trying to export their dictatorship to the world."
"After seeing the program, I want to boycott Chinese products." commented Dykun. He said he would tell his friends about the documentary and give them the link to it.
Education management professional Anna de Amicis signed a petition to support practitioners. Speaking of the live organ harvesting, "One should not do it [killing people] for money. That only happened in the Holocaust when Hitler did it to the Jews and it was terrible," she said.
Although Ms. de Amicis had seen practitioners many times in the past, this was the first time she heard about live organ harvesting. "Thank you for letting us know what's going on."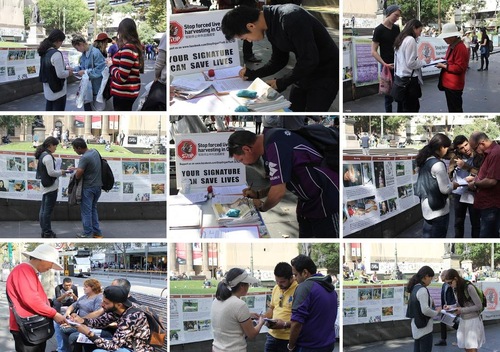 Supporters signing petitions
Sam Lekamge, a Ph.D. student from Sri Lanka studying at RMIT University, was astonished by pictures on posters presented by practitioners. "It is shocking to see this." He thanked the practitioners for telling him about this and said, "For any bad thing that happens in the world like this, as a government we should stand together against it."
Jeff Smith was working in the construction industry. He had seen practitioners in Sydney previously and knew about the persecution in China. He said people should have the right to follow their belief. "I believe in human rights and that no one has the right to stop what you believe." He said he would share this with his friends.
Samantha Nowell, a fashion communication expert from the United Kingdom, agreed with him. She said that more people need to be aware of such a tragedy and that she would share the information on social media.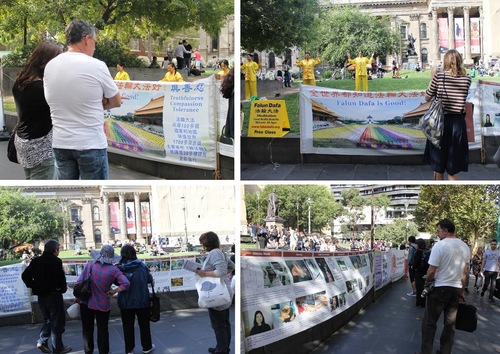 Tourists and local residents reading posters