Taipei: Beauty and Goodness Inspire Shen Yun Show-goers
April 12, 2015 | By Minghui correspondents Zheng Yuyan, Liu Wenxin, and Huang Yusheng
(Minghui.org) Shen Yun Performing Arts' tour in Taiwan culminated in the island's cultural and political center—Taipei—after gracing stages in major cities in southern and central Taiwan.
Many creative, business, and political leaders from across northern Taiwan remarked on the beauty and goodness embodied in the performances. They credited Shen Yun for its unique insights into an ancient civilization and the creativity to showcase goodness and kindness, rather abstract concepts, in dance and music.
Shen Yun performed eight shows in Taipei from April 3 to April 8 and three shows in the nearby port city of Keelung from March 31 to April 1.
Award-winning Screenwriter: "Perfect Fusion of East and West"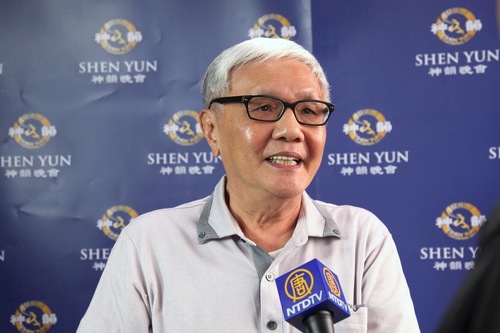 Mr. Lin Huang-kuen, principal executive board member of Taiwan Cultural & Creative Association
"The coordination between the entire stage design and performers was perfect. It's really amazing!" exclaimed Mr. Lin Huang-kuen, Golden Horse Award winner for Best Screenplay, after seeing Shen Yun at the Keelung Cultural Center.
"What is most commendable is the music. Western orchestral symphony is blended with traditional Chinese music so perfectly. It's indeed a perfect fusion of East and West," said Mr. Lin. "In terms of the traditional Chinese music in the show, the erhu, flute and other Chinese musical instruments played exceptionally well."
Mr. Lin highlighted erhu virtuoso Qi Xiaochun's performance, "The emotions expressed in her performance connected my heartstrings with hers. I was completely absorbed by the harmony in her music."
Renowned Painter: "Every Performer is the Best of the Best"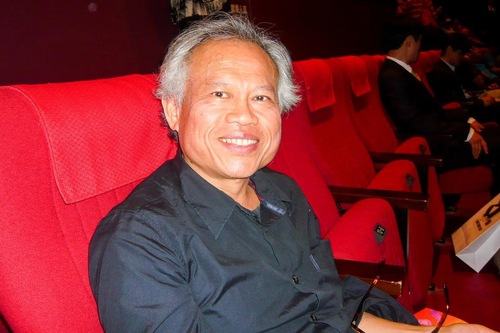 Mr. Chen Yung-Mo, a well-known painting artist whose works are highly acclaimed by international fine art auction houses
"Every performer is the best of the best," said Mr. Chen Yung-Mo, a well-known painting artist whose works are highly acclaimed by major fine art auction houses such as Sotheby's and Christie's.
"The difficult dancing movements were performed perfectly at ease. They must have gone through rigorous training. Seeing the show would be of much benefit to those who are learning dancing," Mr. Chen said of Shen Yun's dancers.
"The entire show is so pure that it can purify our souls. Performers' faces are full of compassion. It's indeed a show with sincerity, compassion and beauty. Shen Yun Performing Arts' contribution is not merely the artistic performance that we can see on the surface. It has more profound meanings," Mr. Chen stressed.
Miniature Artist: "Dedicated and Creative"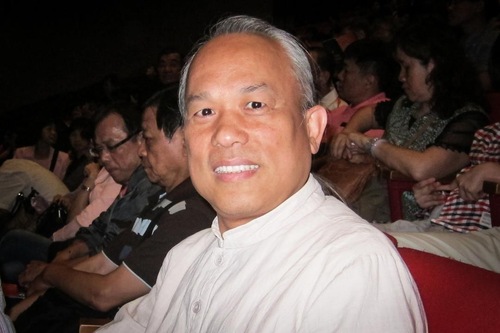 Mr. Chen Forng-Shean, director of Chen Forng-Shean Miniature Museum.
Renowned miniature artist, Chen Forng-Shean, attended the opening night in Taipei. "Shen Yun was refreshing to me!" he exclaimed. This was his second time seeing Shen Yun.
Mr. Chen appreciated Shen Yun's creativity, "Being in the art field requires innovation and consistent dedication because it is very broad. [Shen Yun] inspires artists by being dedicated and creative."
He elaborated Shen Yun's creativity, "Kindness is very abstract. Yet Shen Yun dancers can express kindness with their movements and help us understand the kindness in the stories and move us."
Photographer: "Shen Yun's Energy is Stronger than One Million Suns"
"One sun can nurture everything on earth. But the energy of Shen Yun's performance is stronger than that of one million suns," said Chiang Shih-Hsing, a professional photographer, after seeing the show in Taipei.
"The performance was astonishing," he said, "Audience members who are able to see it live on stage are like specially chosen people. They receive care and protection from the divine beings immediately."
Biochemistry Icon: Shen Yun Offers Unique Insights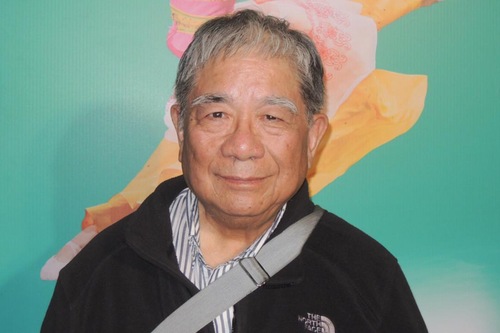 Sunney I. Chan, William C. Rose Award winner for biochemistry
"Shen Yun is not merely a dance performance. The stories in it have deep meanings," said Sunney I. Chan, William C. Rose Award winner for biochemistry.
"The true purpose of art is to bring the spiritual values of a culture to the audience and the entire society. Shen Yun is restoring those cultural meanings. At the same time, they are telling people that the spiritual values of a civilization are very important," he said.
Mayor of Taipei: "Full of Sincerity, Compassion, and Beauty"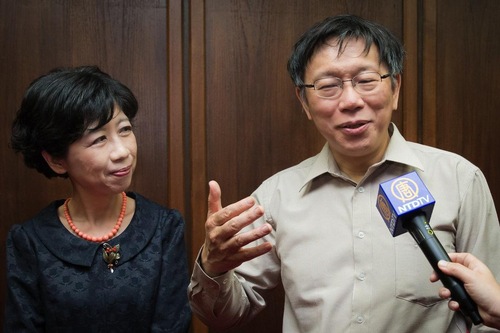 Ko Wen-Je, Mayor of Taipei, and wife Chen Pei-Chi
"Excellent," exclaimed Mayor Ko Wen-Je after seeing Shen Yun perform on April 4.
"The dances, animated digital backdrop, costumes, colors and the design of the show are truly exquisite and fancy. From the beginning to the end, the program is very compact. It's an international class artistic show," Mr. Ko said.
"The performance is full of sincerity, compassion and beauty, and it also showcases stories about the principles of truthfulness, compassion and tolerance. I think it's great to do so. If possible, (we should) take the bright road of life, and use the power of compassion," he said.
Deep and Universal Spirituality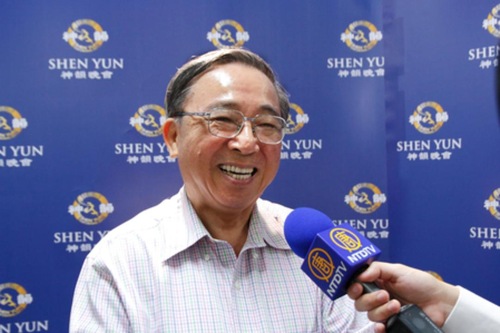 Mr. Li Hung-Hsi, law professor at National Taiwan University
"It left me deeply impressed and touched… The production was great!" said Mr. Li Hung-His, a law professor at National Taiwan University.
"There was the praise for faith, which they demonstrated through dance and music. The beauty of [Shen Yun] is a clean kind."
Mr. Li also mentioned that the principles of Truthfulness-Compassion-Forbearance depicted in the performance were "universal and commonly recognized in the world." He believed that they will bring happiness to the entire humanity.
Executive: "Love Beyond Boundaries of Nations"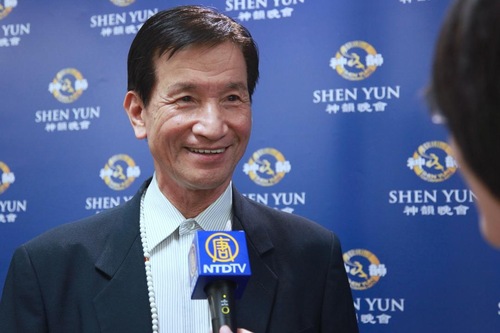 Mr. Wu Cheng-Hung, president of MasterMind Consultants Co.
Mr. Wu Cheng-Hung, the president of a consulting company, was touched and inspired by the spirituality of Shen Yun after seeing it on April 3.
"I think what Shen Yun demonstrates is a kind of great love that is beyond the boundaries of nations…She is calling the entire humankind to be compassionate and bring benefits to all beings," he said.
Mr. Wu would recommend his friends and family to experience Shen Yun, because "[Shen Yun] is not something that can be easily understood by listening to the words from others."
Chinese Medicine Practitioner: Reviving Treasure of Humanity
"Shen Yun allows people to truly experience the five thousand years of Chinese civilization and history," said Dr. Li, a practitioner of Chinese medicine. He flew from China with his mother to see the performance.
"After seeing Shen Yun today, I felt the deep meaning of forbearance. The Taoist and Buddhist schools are both manifestations of beauty and compassion. This is what should be revived by our humanity today. Then the society will truly be a peaceful and beautiful one," he continued.
"I really hope that [Shen Yun] can perform in China as soon as possible," Dr. Li added.