Australian MP Encourages Practitioners to Keep Telling People about Falun Gong and Exposing the Persecution
April 01, 2015 | By Minghui correspondent Mu Wenqing in Perth, Australia
(Minghui.org) Two Members of Parliament came to the local Falun Gong booths to encourage practitioners at two agricultural events in Western Australia. They praised the practitioners' efforts to call for an immediate end to the persecution of Falun Gong in China, and encouraged them to continue with their efforts to raise awareness of the ongoing persecution.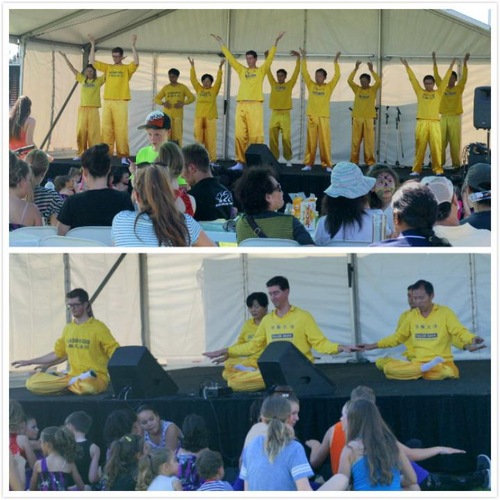 Practitioners demonstrate the five exercises on stage.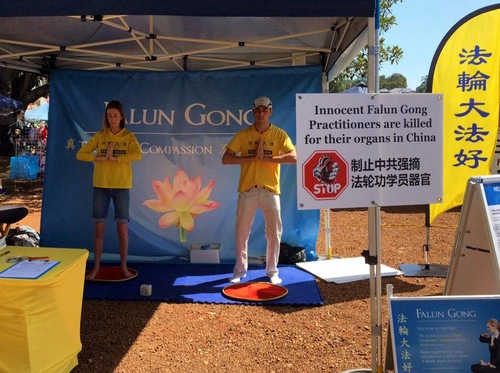 Practitioners demonstrate the exercises at their booth.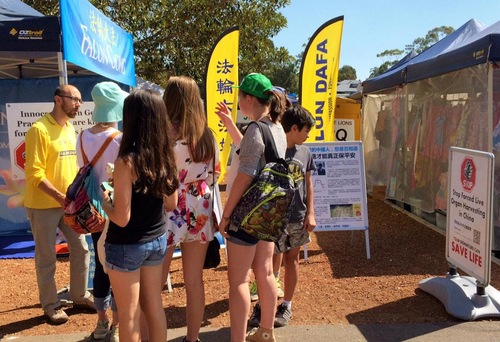 A group of high school students learn about Falun Gong and the persecution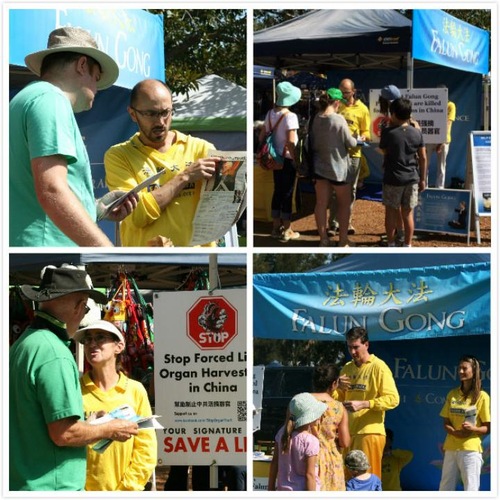 Practitioners speaking to people about Falun Gong and the persecution
MP: Continue to Spread the Truth
MP Ken Wyatt has a booth at the Kalamunda Show every year. On March 28, 2015 the practitioners talked to him about the persecution and organ harvesting from living practitioners in Chinese prisons. Mr. Wyatt thanked the practitioners afterwards. He encouraged them to continue to do well with their efforts and to let everyone in the community know about it.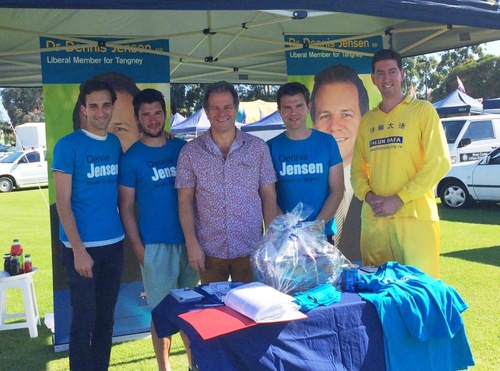 MP Dennis Jensen (middle), his assistants and a Falun Gong practitioner
MP Dennis Jensen had a booth at the Willetton Rotary Community Fair this year. His assistants saw that Falun Gong practitioners were petitioning for an immediate end to the persecution in China on March 29, and came to their booth.
The practitioners updated Mr. Jensen on the current situation in China and the persecution. He thanked the practitioners and wanted to learn more about Falun Gong.
People Eager to Learn Falun Gong
Ms. Margery Solomon heard about the forced organ harvesting for the first time. "I hope we can stop it. It's horrible!" she said. She couldn't believe that people are being subjected to such brutal persecution for cultivating the principles of Truthfulness-Compassion-Forbearance. After she heard how wonderful it is to practice Falun Gong, she said that she would download the video lectures (given by its founder Mr. Li Hongzhi) after she returned home and listen to them.
Visitor Monique Berger echoed Ms. Solomon by saying that she would download the online materials, and learn to practice Falun Gong. She said that she did not realize there was such a profound inner meaning, other than practicing Falun Gong to achieve health benefits.
Shawn Forbes used to practice yoga. After he learned that Falun Gong makes cultivating one's mind a priority, he wanted to learn it right away. He said, "I'm so inspired, I can't wait to learn it, and I'm determined to do it."