Romania: Petition Signatures Collected to Support Stopping the Persecution of Falun Gong
(Minghui.org) Falun Gong practitioners from Bucharest, Romania, held a signature collection campaign at AFI Mall Cotroceni on March 1, 2015, exposing the persecution in China to the public and calling for help to stop it.
People from all walks of life, including taxi drivers, police officers, homeless people, singers, and businessmen, stopped and signed the petition, condemning the brutality of the persecution.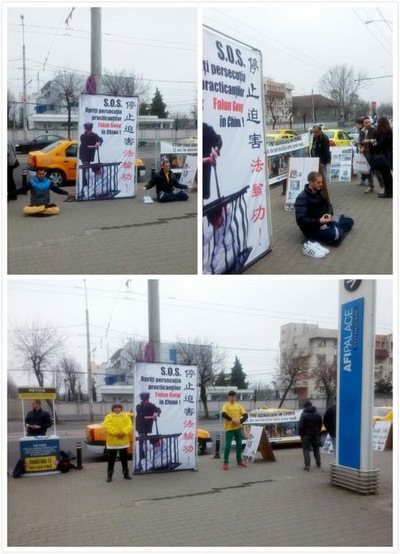 Practitioners demonstrate the exercises during the signature collection.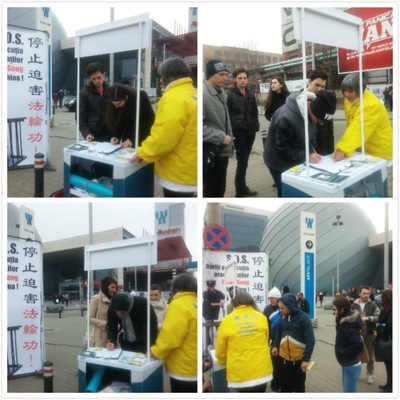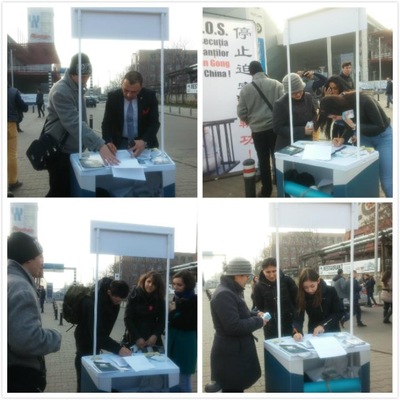 People from all walks of life sign the petition.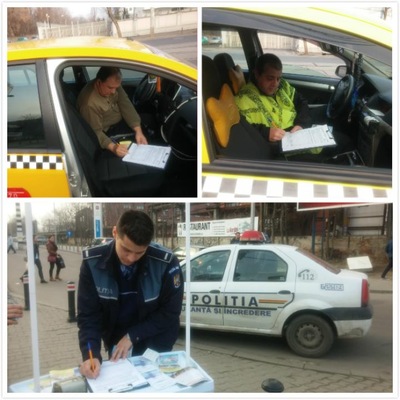 A taxi driver and police patrol officer sign the petition.
AFI Mall Cotroceni is a busy shopping location in the nation's capital. Many people passed by the practitioners' booth, and asked what was going on. After learning about the persecution, many expressed support for the practitioners' peaceful resistance.
One 40-year-old gentleman and his friends watched a re-enactment of the tortures used by the Chinese Communist Party on Falun Gong practitioners. He said to a practitioner that he knew the evilness of the Communist Party. "When Ceaușescu (the former communist leader of Romania) was in power, we didn't have freedom either. People would be persecuted, if they practiced martial arts," he said.
A few taxi drivers at the mall entrance signed the petition and asked for more materials for their friends.
Practitioners collected more than ten pages of signatures during the 4-hour event.