Western Australia: Falun Gong Performance and Signature Drive Warmly Received at Multi-cultural Festivals
March 05, 2015 | By Minghui correspondent Mu Wenqing in Perth, Australia
(Minghui.org) The Hyde Park Community Fair in Perth, Australia, and Multicultural Night Under the Stars in Bunbury, were held on February 28 – March 2, 2015. Many visitors to the annual multi-cultural events were impressed by peaceful exercise demonstrations as they passed by the Falun Gong practitioners' booths.
Visitors also noticed display boards near the booths asking for signatures on a petition calling for an end to the Chinese Communist regime's organ harvesting from living Falun Gong practitioners in China. Many people were appalled after learning of the atrocity, and condemned the regime's brutality and signed the petition to support the practitioners' efforts.
The events were held in Bunbury, the second largest city in Western Australia, and in Hyde Park, Perth.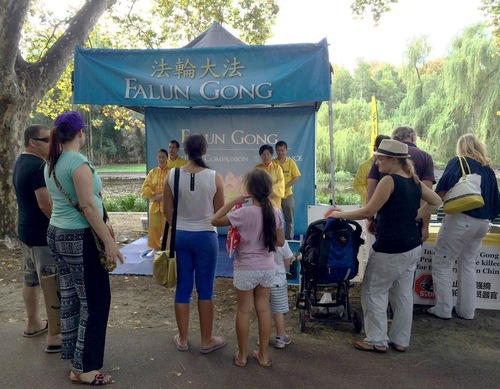 At the Hyde Park Community Fair, visitors watch practitioners' exercise demonstration and sign a petition calling for an end to the Chinese communist regime's crime of harvesting organs from living Falun Gong practitioners.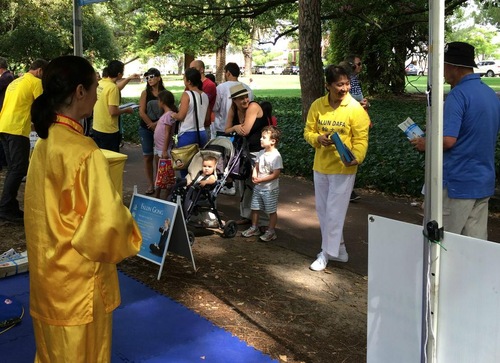 A practitioner talks to visitors about Falun Gong and hands out informational materials.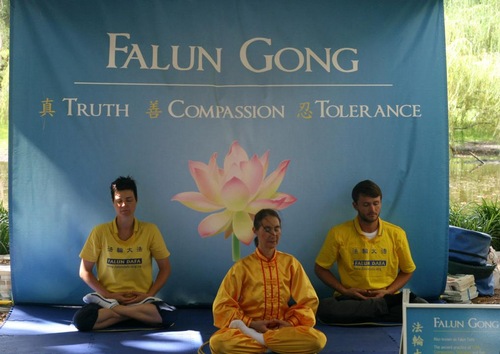 Practitioners demonstrate Falun Gong exercises at their booth in Hyde Park.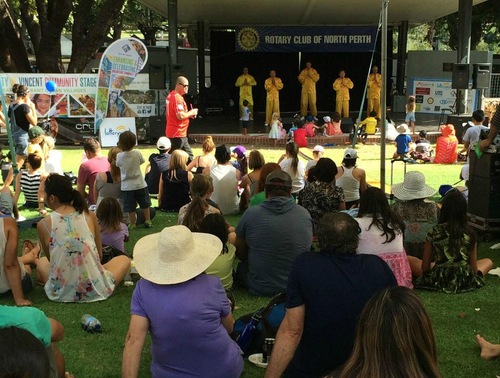 Practitioners demonstrate the Falun Gong exercises on the main stage in Hyde Park.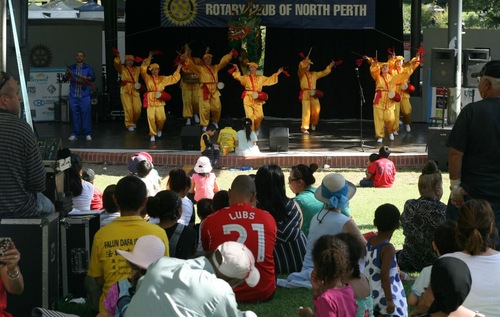 Practitioners present a waist-drum performance in Hyde Park.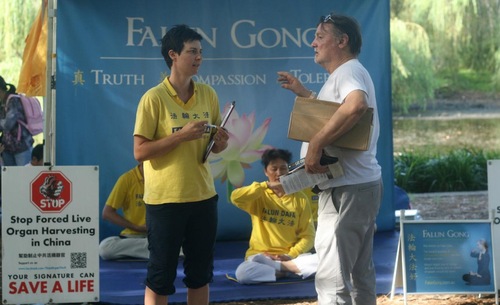 A practitioner talks to a visitor about the persecution of Falun Gong in Hyde Park.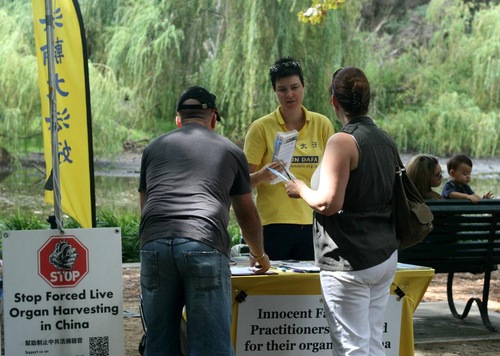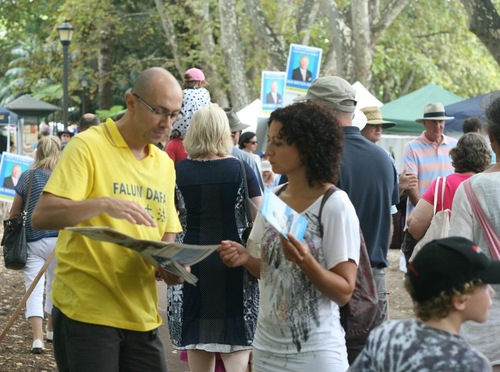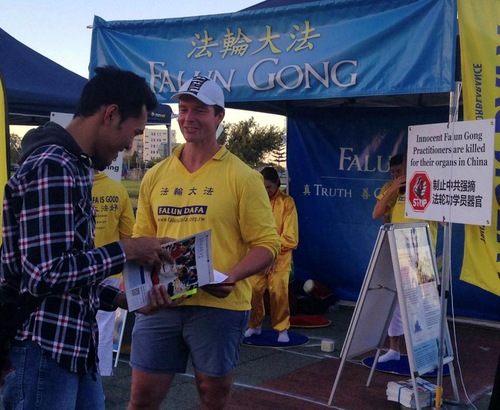 In Bunbury, practitioners talk to visitors about the persecution of Falun Gong and collect signatures for a petition calling for an end to the live organ harvesting in China
Positive Support
Ronda Ould, a citizen in Bunbury and his friend Mary Strobl, heard about the live organ harvesting for the first time. They signed the petition, and wrote "STOP" on the petition form to express their strong wish to end such atrocities. They took some informational materials and commended the practitioners for doing a great job. They promised to read the materials and help spread the word.
Through their granddaughter's interpretation of what a practitioner said, an elderly couple from Sweden learned that the live organ harvesting is a state-sanctioned crime committed by the Chinese regime. They signed the petition, and wrote "From Sweden" to show their support.
Jaimi Davies and her mother have previously learned about Falun Gong. They signed the petition and expressed interest in learning the Falun Gong exercises. Jaimi asked where to learn and where to buy Falun Gong books. They took down the contact information from a practitioner and thanked him.
"I Will Definitely Learn Falun Gong"
A number of Chinese people also came to the park where they learned about the movement of quitting the Chinese Communist Party (CCP) from Falun Gong practitioners.
Several of the Chinese visitors renounced their membership in the Party and its affiliated organizations, as soon as they learned the facts about the CCP brutality, and understood the significance of breaking free from the Party.
A Chinese woman in her sixties told a practitioner, "I'm fully aware of what you've told me, because my family was persecuted by the CCP. I was previously an accountant, and I excelled at my work, but my employer never promoted me or put me in an important position because of my family's background."
She also expressed her wish to learn Falun Gong. "I'll definitely learn to practice Falun Gong," she said. "I'll come to find you after I return from a trip back to China." She took down the website address of www.falundafa.org and the practitioner's contact info before leaving.
A young man happily agreed to quit the CCP organizations right away after he realized that no one who has followed the Communist Party will have a good end. He also took more informational materials and DVDs before leaving.