Shen Yun's Artistic Achievements and Positive Energy Resonate in Taiwan
March 19, 2015 | By Minghui correspondents Su Rong and Sun Bai
(Minghui.org) Shen Yun Performing Arts shows in Taiwan from March 4 to March 15 were highly sought-after events. A rising trend in Taiwan, this annual celebration of traditional Chinese culture drew audience members from mainland China, Singapore, and Hong Kong, as well.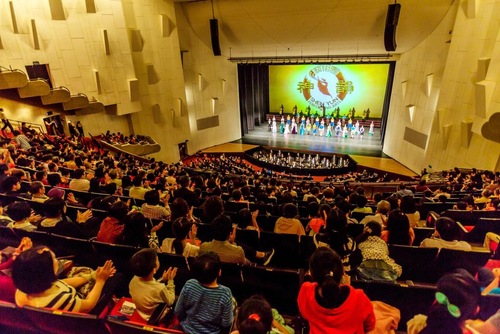 Matinee performance on March 15 at the Tainan Municipal Cultural Center
TV Hostess: "A Visual Great Art"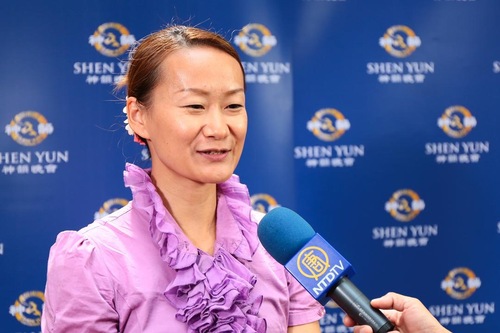 Hostess of an online television station, Shiu Huei-Ru
"Shen Yun is not an ordinary dance performance or drama. It is a visual 'great art'," remarked Shiu Huei-Ru, hostess of an online TV station in Taiwan, after attending the performance on March 9. Ms. Shiu plays the Chinese instrument guzheng, also known as the zither, and has received training in Chinese classical dance.
"Shen Yun performers are so skilled that they seem to defy gravity. They flip and fly at will. Shen Yun has incorporated the visual scenes of movies into the choreography and has expanded the visual environment across multiple mediums. This combination will bring a new way of thinking for the arts," Ms. Shiu said.
She summed up the message of the performance: "No matter what you have done, as long as you choose kindness again, gods will still accept you. Shen Yun is spreading this compassionate energy all over the world. I admire that."
Chorus Director: "Shen Yun Has Achieved What Others Cannot"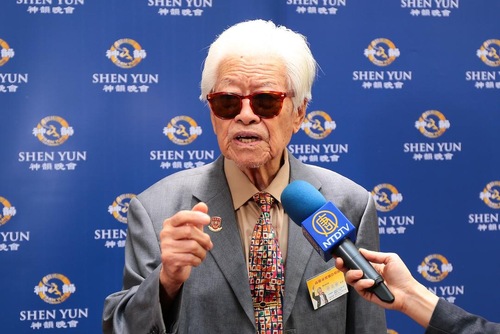 Mr. Lee Chung Jie, composer and chorus director
"No one can produce a show like this," exclaimed Mr. Lee Chung-Jie, the director of a chorus and composer of more than a thousand songs.
"The noble techniques and excellent basic skills are what modern art is lacking... Shen Yun can serve as a reference for many artists," he said.
"I would like to thank the producer of Shen Yun. I could not have imagined that one could incorporate art, technology, and values from history in one performance... Shen Yun is doing this for people of all countries, especially the Chinese people," Mr. Lee said.
He also noted, "Shen Yun is spiritually righteous and communicates with the divine. I can see it in the dances; I can hear it in the singing."
Renowned Painter: "Absolutely Stunning" and "Flawless"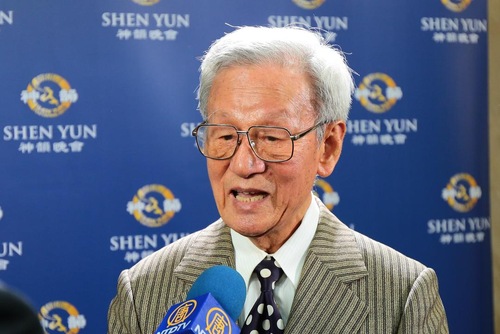 Dr. Lee Chun-Cheng, founding chairman of the Association of the Arts in Kaohsiung
"The two hours went by like an enchanting dream. I didn't feel like waking up so soon," said Dr. Lee Chun-Cheng, founding chairman of the Association of the Arts in Kaohsiung.
"Absolutely stunning! I have never been so touched by a performance. Shen Yun is a very remarkable troupe," he exclaimed.
"The majestic live music matched all the art elements on the stage flawlessly. It was amazing," said Mr. Lee. "The bright colors were presented in a harmonious way so that they were dazzling but not vulgar. They looked elegant and were unique to the Chinese culture. The overall presentation was just unbelievable."
Masterful and Deep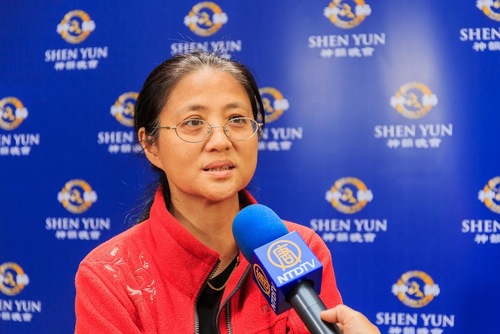 Music teacher Chen Yi-Ru
Music teacher Chen Yi-Ru was especially impressed by the performance of the erhu soloist. She said, "The composer and performer for the erhu performance have reached a peak. No one can exceed the soloist!"
Ms. Chen explained, "The melody, arrangement, strength, and meaning were displayed by her very deeply. I was very moved! Very exciting!"
Art director and painter Wu Fung-Ming praised the strong energy of the performance and the divine mission that Shen Yun artists carry. "Shen Yun delivers compassion and positive energy to the audience," he remarked.
"I am very sensitive since I'm an artist. Watching Shen Yun, I was enveloped by a strong energy of compassion. It was a feast for the heart," he said.
Mr. Wu was especially touched by the performance of one of the vocalists: "It was like a call from antiquity that was waking me up. It really touched and astonished me!"
Fills the Body and Mind with Positive Energy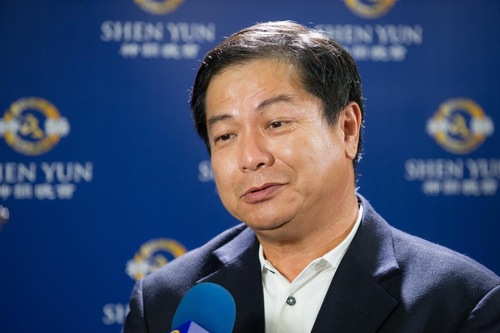 Lee Chi-Hong, on the board of directors of a local Taiwan enterprise
Mr. Lee Chi-Hong, on the board of directors of a local Taiwan enterprise, discussed how watching Shen Yun can benefit business and industries typically not associated with the arts.
"Shen Yun can broaden the mind. Especially for people in the technology field, they need the rich and profound cultural art of Shen Yun to refine their character and fill the body and mind with positive energy. It can improve the efficiency of their work," he said.
"Shen Yun's skilled and rich performance can refresh both the body and mind and replenish positive energy. This can help the industrial and business fields to flourish," he noted.
Mr. Lee concluded, "The stories about morality and the kind and evil sides of humankind can correct the bad atmosphere in society. They can provide the right direction and bring hope for this troubled world."
Shen Yun will continue to perform in Taiwan with shows in Taichung City on March 18-22. For more information on tickets and dates, please visit http://shenyun.com.