Vancouver: Exhibit at University of British Columbia Sparks Interest in Falun Dafa
March 17, 2015 | By Wang Mei, Minghui correspondent in Vancouver
(Minghui.org) During a recent 2-day "Journey of Falun Dafa Photo Exhibition" at the University of British Columbia (UBC), many showed an interest in learning the practice. At least 50 people signed up for an upcoming Falun Dafa exercise class.
Hosted by Falun Dafa practitioners at the university from February 24 to 25, 2015, the photo exhibition served as a hub for the faculty, students and staff to learn more about Falun Dafa. A lot of people viewed the photo exhibition, and took materials about the persecution and the forced organ harvesting from living Falun Dafa practitioners by the communist regime.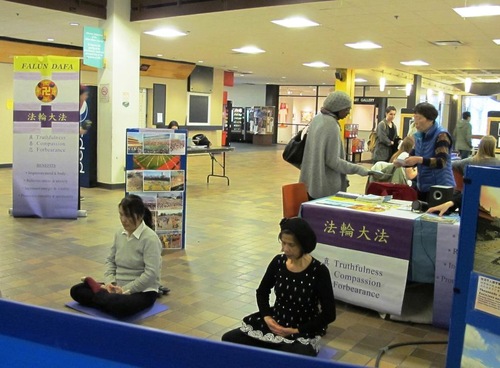 Falun Dafa exercise demonstration at the University of British Columbia
An Asian student talked to a practitioner about Falun Dafa for nearly one hour. He took materials on the persecution, and said he planned to read Zhuan Falun, the main book of Falun Dafa teachings. He gave his email address and asked to be notified of future events.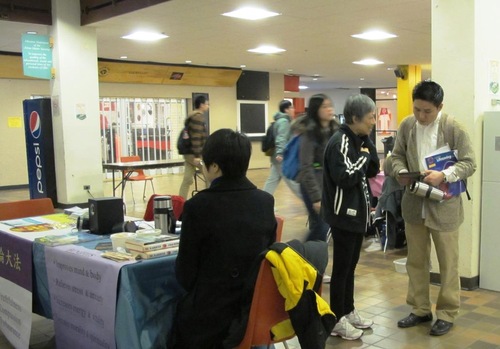 An Asian student talked to a practitioner for nearly one hour about the Falun Dafa.
Two international students from Iran came to the event at different times and both signed up for the upcoming free Falun Dafa exercise class. Another student who stopped to watch the exercise demonstration said she could feel a strong energy field. She said that she had been wanting to learn the exercises for a long time and was excited about joining the introductory class.
Freshman and an international student from Xinjiang China, Kevin, was happy to see a Falun Dafa event on campus. He had grown up in the care of his grandparents who had both practiced Falun Dafa. His grandpa died in the persecution and his grandma quit the practice in fear of round-the-clock police surveillance and harassment.
Kevin learned all four standing exercises at the event and planned to learn the sitting meditation at a local group practice site that weekend. He bought two Falun Dafa books and asked to be notified of future events.
Last semester, Falun Dafa practitioners of UBC organized "The Art of Zhen, Shan, Ren (Truth, Compassion, Tolerance) International Exhibition." Many teachers, students and staff members visited the art exhibition and expressed support for Falun Dafa.
The organizer of the events, Ms. Yu, said, "I have friends and schoolmates at UBC who are from different countries and many of them are from China. I hope they can learn more about Falun Dafa through these events. I especially hope these Chinese students and scholars will learn the truth about the persecution, take an upright stance, and have a bright future."