Supreme People's Court Rejects Compensation Claim for Wrongful Death of Mr. Li Zhiqin
March 14, 2015 | By a Minghui correspondent from Hebei Province, China
(Minghui.org) The Supreme People's Court has rejected a compensation claim for Mr. Li Zhiqin's wrongful death without a hearing or investigation. Previous attempts to lodge the claim with lower courts have also been denied.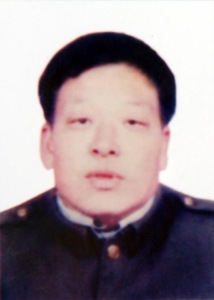 Mr. Li Zhiqin
Lawyers engaged by Mr. Li's family collected evidence showing that he was beaten to death within three hours of his 2007 arrest for refusing to give up his belief in Falun Gong, a spiritual practice being persecuted by the Chinese Communist Party since 1999.
There was also evidence that Ningjin County Police Department had repeatedly fabricated information to cover up the real cause of Mr Li's death.
These findings were submitted together with the appeal to the claims council office of the Supreme People's Court in early 2014 and the compensation claim was registered with the Supreme Court on August 28. The case was listed on the court's website, which stated that a panel of judges was appointed on September 1 and given 184 days to make a decision.
Mr. Li's family and lawyers then waited for the Supreme Court to hold a hearing, but several months went by with no news of a trial. In January this year, through inquiries, they learned that the case had been closed on September 28 last year, less than a month after it was registered.
The family was never officially notified, although when the lawyers made a formal request, the Supreme Court mailed a copy of the verdict to the lawyers.
According to the verdict, the Supreme Court did not find anything inappropriate with previous rulings made by the Hebei Province Superior Court and Xingtai Intermediate Court. It stated: "There are no grounds for your appeal and the Court's claims council will reject your claim."
Mr. Li, a resident of Ningjin County in Hebei Province, was taken away by force in September 2007 because he practiced Falun Gong. His family was informed of his death the very next day.
To seek justice for his wrongful death, Mr. Li's family and lawyers have filed compensation requests with the judiciary since 2012. Notably, their request submitted to Hebei Province Superior Court in September 2013 was rejected without a hearing, nor were any investigations into the case conducted.
Related Reports:
Hebei Province: Superior Court Rejects Wrongful Death Compensation Request Filed by Family of Deceased Practitioner Mr. Li Zhiqin
Compensation Claim for Deceased Practitioner Registered with China's Supreme Court