Australians Give Shen Yun Rave Reviews
March 14, 2015 | By Minghui correspondents Chen Xinning and Hua Qing
(Minghui.org) Shen Yun Performing Arts began its Asia Pacific tour in Australia with 27 shows in 6 cities from January 31- February 28. Leaders in the audience resonated with Shen Yun's commitment to revive authentic Chinese culture through beauty and high artistry.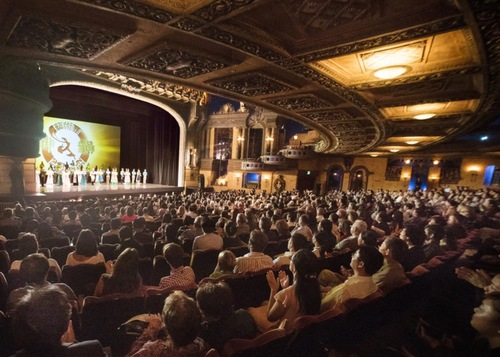 The opening performance at the Capitol Theatre in Sydney
Member of Parliament: Entertaining and Educational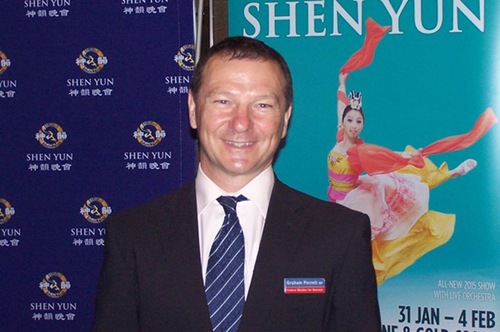 Mr. Graham Perrett, Member of Parliament
"It's certainly a spectacular event that's quite gripping, quite compelling, and good entertainment," said Graham Perrett, Member of Parliament for Moreton, after attending opening night at the Concert Hall in Brisbane.
"Incredible!" he said. "Great interplay between modern technology and those ancient dances. It's been very spectacular...Quite exquisite!"
He also enjoyed the unique orchestra that played original scores. "The music takes you on a journey as well. The music is probably the bit that complements the visuals perfectly," he said.
"Any good story is a timeless story and obviously that struggle to find a life that has purpose, a life that has dignity, a life that is noble, that is obviously a big part of the presentation tonight and I think it doesn't matter where you live in the world you can hear that message."
"I learned new things in every single dance I saw tonight. Entertaining, but also educational," he said.
Speaker of the South Australian House of Assembly: "Most Impressive Production"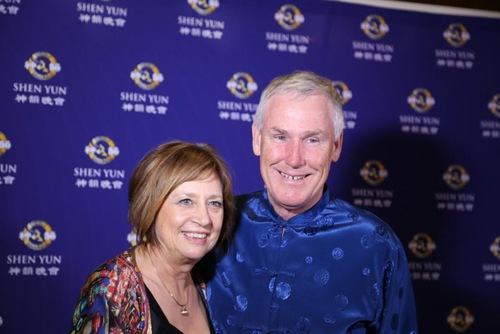 Mr. Michael Atkinson, Speaker of the South Australian House of Assembly
"I am delighted by it and enjoying it tremendously," said Michael Atkinson, Speaker of the South Australian House of Assembly, after attending the performance on February 20 in Adelaide.
"It is a most impressive production, and clearly there are centuries of cultural development behind it," he said. "I think the message is the richness of the culture over so many centuries, and of course the lovely old Chinese landscape before it was spoiled by modern communist controlled industrialization... It is important for Australians who aren't of Chinese origin to see China as it once was, and it can be again."
City Councillor: "Refreshing and Natural"
John Hugh, Parramatta City Councillor, said, "The meaning and values of traditional Chinese culture that Shen Yun presented reflect Truthfulness-Compassion-Tolerance and a kind of universal values. Spreading this kind of values helps to purify the hearts of people."
He described the show as "spectacular, beautiful, refreshing, and natural."
He also mentioned that he has been told by the Chinese consulate to not attend the performance or send greetings to the company. "I wrote greeting letters regardless. And I'm right here now," he said.
Musicians: "High-Caliber Musicians and Performers"
Voice professor Claudia Visca
Acclaimed voice professor Claudia Visca described her experience with Shen Yun as"absolutely wonderful" after attending the performance on February 17.
"I'm just so amazed at how these people can move, and how graceful they are, and what command they have over their bodies. It's a real joy," Ms. Visca said.
She appreciates all the artistic elements that Shen Yun has used, "It combines movements with music, and singing, and dance and all of the genres of the arts that one needs to have a great performance."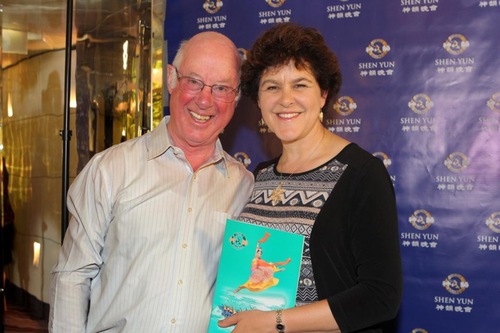 Conductor Douglas Heywood and wife Alexandra Cameron
"The energy, the color, the movement, the sound of the orchestra, it's such a relief from all the turmoil outside in the world," said conductor Douglas Heywood after attending the performance with his wife Alexandra Cameron.
"The orchestra is stunning, I love the orchestra," he said. "It's a really rich full sound in the orchestra. It would be a joy to conduct them."
Ms. Cameron enjoyed the orchestra's blending of East and West. She said, "I really appreciate the difference in the tonality, the harmonies that you can hear with the Chinese music, with some of the Western instruments as well," Ms. Cameron said.
Musician and teacher Denton Thomas valued the uniqueness and effectiveness of Shen Yun's orchestra after seeing the performance in Melbourne. He was glad to see it "with high-caliber musicians and performers."
"Exposing the audience to either sounds, or visually seeing the instruments being played and of course with a language that is idiomatic to those instruments is really critical," he said, "I think very effective in this setting."
Dance Professionals: "Moving, Powerful, and Uplifting"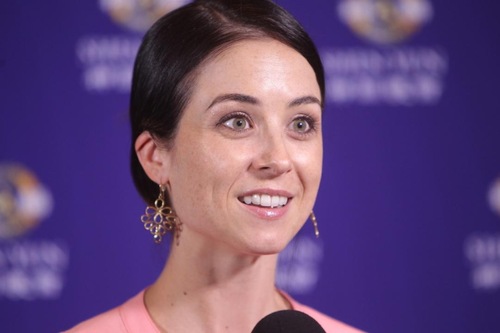 Kate Reilly, professional ballet trainer
"I enjoyed it even more than I thought I was going to," said professional ballet trainer Kate Reilly, who was impressed by the Shen Yun performers.
She discussed from the perspective and experience of a classical dancer, "They make it look incredibly easy, but I understand their training is extremely difficult, and the sacrifice they've made from their personal lives, in order to uplift the audience in this way is very, very special."
"Their performance was so strong that I felt at one with the performers. I can't really describe it, it was very powerful," Ms. Reilly said. "It's first class—so moving, powerful and uplifting."
Lisa Turner, former ballet dancer with the Sadler's Wells Royal Ballet Company, called the classical Chinese dance performed by Shen Yun as "absolutely beautiful."
"It's visually stunning. The dancers are so elegant. They literally look as though they glide across the stage. Very athletic, it's absolutely fabulous," she said.
"It was such an amazing experience. To see the discipline through the dancers and the cultural experience as well," said Peta Hungerford, founder and director of a dance school.
"It was just like a virtual experience … They took it to a whole other level, and it was quite a spiritual journey to be able to sit there and take it in and really connect and watch the dancers and see their souls," Ms. Hungerford said.
She was touched by the genuineness and dedication of the performers, "You can tell that they're very passionate about what they do, and that comes through with their movement and their dance. The whole visual spectacular was just a great experience."
"Divine" and "Magical"
"It's totally divine. I really felt the higher power of the performers coming from a higher place," exclaimed Tracy Bartram, a well-known entertainer and broadcaster, after watching the performance on February 27.
"There's something really magical about it. I feel better after seeing it. My energy's higher and my heart feels better, it's just gorgeous," Ms. Bartram said. "It's not just people getting up on stage and going through the routine, they're coming from their essence, and they're coming from their spirit."
She also commented on the possible effect that Shen Yun can have on China, "If this was to perform in China, can you imagine how healing it would be for the Chinese?"
"It's a really beautiful, calming, energetic celestial show," she described.
"I loved the show," said philanthropist Marc Besen, "It's very well done and very colorful and very full of excitement."
He was also amazed by Shen Yun's orchestra, "It's very good, excellent orchestra. Beautiful music, beautiful balance."
Peter Neilson, chief executive of Kids Cancer Project, enjoyed the performance with his family. "The talent and the skills of the dancers and all the performers were almost breathtaking. It really was, it told a lovely epic narrative," he said.
"I thought seeing the history told of the last few thousand years through the eyes of the Chinese people, that cultural perspective was absolutely delightful," he said.
Dr. Neilson, his wife, also appreciated the culture displayed in the show, "It really captured a lot of the history. And it really introduced me to … gave me a greater understanding of the depth of the Chinese culture. It was really lovely, like lifting a veil on the culture."
"For me, the stories were so simple, but so captivating—It sort of resonates," she said.
Shen Yun will continue to perform in Asia Pacific in Tainan, Taiwan on March 12-15. For more information on tickets and dates, please visit http://shenyun.com.