Australian Officials Welcome Shen Yun
February 07, 2015 | By Li Zheng
(Minghui.org) Shen Yun performances will be hosted in five of Australia's six most populous cities, in addition to the capital of Canberra, in this season's world tour. The performances will occur between January 30 and February 28 in Sydney, Melbourne, Brisbane, Adelaide, Surfers Paradise, and Canberra.
Twenty-four government officials throughout Australia, ranging from members of parliament (MPs), senators, mayors, and city council members have sent proclamation letters wishing the performances great success.
This is of particular interest to Chinese citizens, since Shen Yun is banned in mainland China because of its connection to Falun Gong. Such proclamations and official greetings are sought because they show Chinese citizens that Shen Yun is welcomed the world over, as is Falun Gong, despite the pervasive propaganda to the contrary that they have heard for so long back in China.
Among them was the Honorable Chris Bowen, MP and current Shadow Treasurer of Australia: "I welcome the Shen Yun Performing Arts to Australia for their nationwide tour in February. I hope Australians of all backgrounds have the opportunity to experience this rich and compelling performance of classical Chinese dance, which celebrates traditional Chinese culture, including influences of Buddhism, Taoism, and Confucianism. I wish them the best of luck in their performances and hope they enjoy their time in our beautiful country."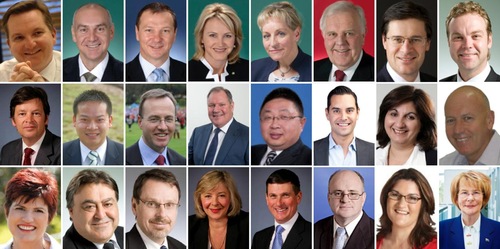 Twenty-four government officials from across Australia, including MPs, senators, mayors, and city council members, have sent welcomes and well wishes to Shen Yun.
Queensland
MPs Bernie Ripoll and Graham Perrett are both from the state of Queensland. As Parliamentary Secretary for Small Business, Mr. Ripoll wrote, "Firstly I would like to offer my warmest welcome to Shen Yun Performing Arts for your visit and performance on the Gold Coast and in Brisbane this year. The Falun Dafa Association of Australia are extremely proud to present the world's most renowned classical Chinese dance company and I trust they will make your time in Queensland very memorable.
"I would also like to acknowledge Shen Yun's contribution to the revival of the traditional Chinese culture and the promotion of Chinese and Western cultural exchange. I wish you all the very best for your performances in Queensland and Australia-wide."
Mr. Graham Perrett, MP, wrote, "The Shen Yun presentation contributes to the revival of traditional Chinese culture and the promotion of Chinese and Western cultural exchange and I proudly welcome all performers to our great cities of Brisbane and the Gold Coast."
New South Wales
Several MPs from New South Wales, where Sydney is located, wrote to express their greetings. Mr. Jonathan Richard O'Dea, MP, wrote, "I am pleased to extend my support and warm greetings to those attending the Shen Yun Performing Arts performances. It makes an important contribution to Chinese cultural heritage, with its values of freedom, moral courage, and compassion, which are important throughout our community."
Mr. Jamie Parker, MP, a Greens Party member, wrote, "It is with much pleasure that I welcome Shen Yun Performing Arts back to Sydney, giving our community this rare opportunity to witness classic Chinese dance and music at its best.
"Chinese culture is an integral part of our Nation, and Shen Yun's performances remind us of the stories, ideas, and spirit that have shaped Chinese communities everywhere.
"Congratulations to the organisers for their commitment to ensuring classical Chinese culture remains alive and vibrant for people of all backgrounds to appreciate."
John Hugh, a councilor from Sydney's suburban city Parramatta, was excited to welcome Shen Yun Performing Arts touring Australia again this year because "A Shen Yun performance is a great opportunity for not only local communities of Chinese culture heritage but also broader Australian communities to experience traditional Chinese culture through dance and music.
"Being of Chinese culture background myself, I am anxious to watch this performance for the 4th time in Sydney. The performance offers me the chance to celebrate and makes me proud being part of this ancient culture that is still enlightening the world today."
Victoria and South Australia
Mr. Luke Donnellan, MP, a Labor Party member, is the Victorian Minister for Roads and Road Safety and Minister for Ports. "It gives me great pleasure to welcome Shen Yun Performing Arts back to Melbourne in 2015," he wrote. "Shen Yun has continued to captivate audiences around the world, giving them a rare insight into the beauty and vibrancy of traditional Chinese culture. The talent of the Shen Yun performers is undoubtedly something to behold, and we are very fortunate to be given the opportunity to witness a Shen Yun performance once again."
Tung Ngo from South Australian Legislative Council for the Australian Labor Party wished his best for the performances: [I] "would like to congratulate you on your incredible work, showcasing 5000 years of traditional Chinese culture through dance, music and costumes. The Chinese community contributes so much to Australian culture and I applaud you for continuing to showcase traditional Chinese culture to the world."
West Australia
Although the Shen Yun Tour 2015 does not include West Australia, quite a few government officials wrote to praise the event, including MPs Ms. Melissa Parke and Ms. Alannah MacTiernan. Ms. Parke from the Labor Party wrote, "I am sure this beautiful production, with its distinctive artistic combination of music, colour and light, will again create significant interest in Chinese culture and will delight the many Australians who enjoy the diversity of high-quality performing arts companies, like Shen Yun, that visit our shores."
MS. MacTiernan wrote, "The beauty and quality of the performances of last year's tour was extraordinary. It was a true celebration of the richness of traditional Chinese culture.
"These performances intensify the relationship of the Australian and Chinese people. I look forward to another transformative experience."
Labor Senator for Western Australia in the Parliament of Australia Joe Bullock was pleased to welcome the Shen Yun performance as the Year of the Goat approaches. He was "confident that their performances will provide Australians of all backgrounds with a deeper appreciation of the wealth of Chinese culture and history and congratulate the Falun Dafa Association of Australia on facilitating the visit of this world-renowned Chinese dance company to our country.
"For Australia's growing community of Chinese-born citizens, and for my wife especially, performances of this nature are eagerly awaited and greatly appreciated. To both the performers and these audiences I extend my best wishes for a successful season and a prosperous New Year," Bullock wrote.
The following also wrote letters of support to Shen Yun:
The Honorable Barbara Perry, MP, NSWMr. Chris Hartcher, MP, NSWThe Honorable Robyn Parker, MP, NSWMr. Tony Issa, OAM MP, NSWMr. David Shoebridge, MLC NSWDr. John Kaye, MLC NSWLord Mayor Robert Doyle, City of MelbourneMrs. Inga Peulich, MLC VictoriaMr. Neil Angus, MP VictoriaCouncillor Andrew Wilson of Parramatta CityCouncillor Kim Marx of BrisbaneCouncillor Dawn Crichlow, OAM of Gold Coast City Council