Taiwan: "Journey of Falun Dafa Photo Exhibition" Conveys the Essence of Falun Dafa
(Minghui.org) Falun Gong practitioners from the greater Taipei area held the "Journey of Falun Dafa Photo Exhibition" at Freedom Square, a famous tourist spot, on February 1, 2015. More than 1,000 practitioners performed the group exercises near the exhibition.
The photos display the history and the spread of Falun Gong around the world, and demonstrate the acceptance of Falun Gong, and acknowledgement by governments and people in various countries. Practitioners also set up photo materials to expose the brutal persecution of Falun Gong in China.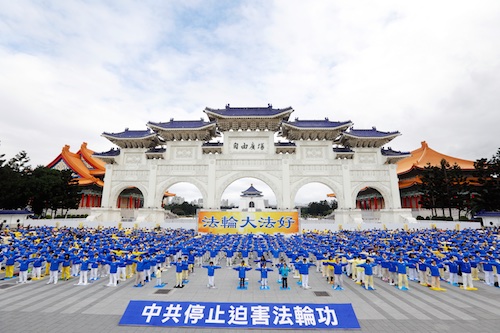 Group exercises at Freedom Square on February 1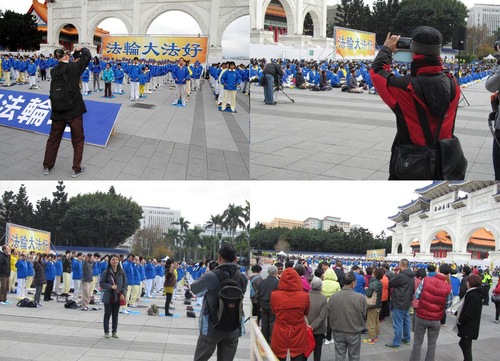 Tourists watch and take photos of the group exercise practice.
Groups of tourists, including many visitors from China, stopped by to watch the exercises, view the photos, and take photos and videos of the event. Some tour guides even led their clients to the exhibition, telling them that in this free country they can freely take pictures and talk to Falun Gong practitioners.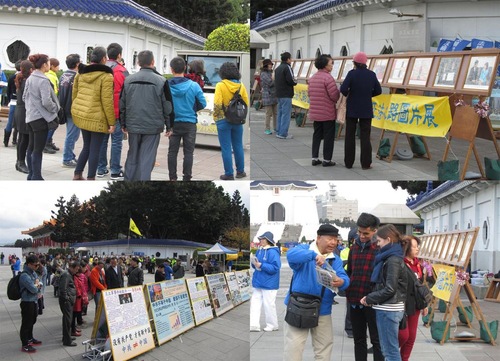 Tourists view the photos and other materials.
One Chinese gentleman viewed the photos for a long time, and stopped in front of a picture of Master Li Hongzhi, the founder of Falun Gong, correcting a practitioner's movement, in a park in Chicago. This gentleman told practitioner that he was there, and saw Master Li.
"It was a wonderful experience," he said. "We all know what Falun Gong really is," he pointed to two of his friends, "and we have already quit the communist party."
Mr. Wang, a tourist, condemned the persecution of Falun Gong. "The Communist Party will be punished for the evil crimes it has committed," he said, "The world needs peace and freedom. The belief in Buddhahood will bring peace to the world."
The exhibition also offered a great opportunity for Chinese tourists to quit the Chinese Communist Party and its affiliated organizations. Practitioners discussed with tourists the reasons and importance of withdrawing. Many of them expressed that they didn't want to side with the Communist Party.
Mr. Tsai, the event organizer, said that Freedom Square has a special meaning, "A few years ago, a Chinese Falun Gong practitioner, who escaped to Taiwan, joined an event here. When he saw the sign 'Freedom Square,' he cried. 'Freedom is so precious, but people in China don't have it,' he said, 'Any tyrants who suppress freedom should be exposed, and brought to justice.'"