Shen Yun Completes Nine Sold-Out Shows in San Diego, California
February 28, 2015 | By Minghui correspondent Li Ruoyun
(Minghui.org) Shen Yun Performing Arts completed its San Diego stop at the California Center for the Arts in California during February 18 and 24. Audiences lauded Shen Yun's entertaining presentation, which offered messages of hope, values, and positive energy.
According to the local presenter, three shows were added within a month prior to the performance dates. All nine shows were sold out; even seats with blocked views were made available to meet the demand.
Curtain call at the California Center for the Arts on February 21
Economist: Presenting "Everlasting Values"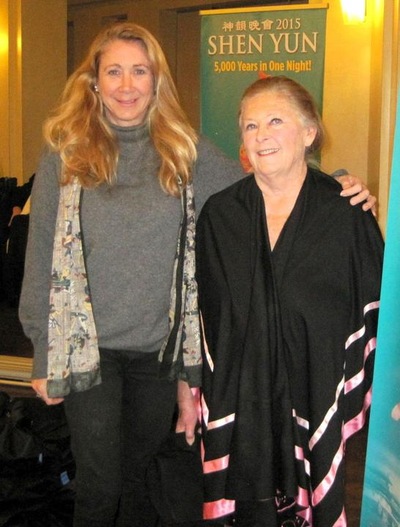 Economist Carol Frances and her daughter Allyn Van Alstyne
"It's breathtaking, absolutely astounding, and there are so many dimensions," said Dr. Carol Frances, the former chief economist of the American Council on Education.
She said the stories portrayed in the dance pieces and the accompanying vibrant, animated backdrops were exquisite. But it was not just Shen Yun's artistry that delighted Dr. Frances.
"It's so beautiful. But beyond the beauty, it's inspiring us to want to learn more of the Chinese history, the Chinese traditions," said Dr. Frances. "They're everlasting values, values that everyone could embrace."
"There are so many values from the East that the West could benefit from [in the performance]," said Ms. Allyn Van Alstyne, daughter of Ms. Frances.
"Respect, altruism, a long view of history, perfectionism and heightened achievement, and no separation between the physical and the metaphysical," she listed.
"When you learn something that stimulates, you want to go back and learn more," said Dr. Frances. "There's a lot to learn in addition to the messages. The dancers convey this strength, agility, [and] discipline."
New York Times Bestseller: Portraying Uplifting Stories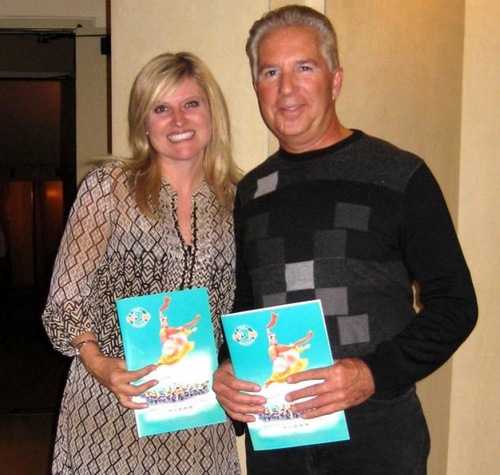 New York Times bestseller William Craig Reed and his friend Sara Blanchard
"I love it, because the stories were uplifting," said New York Times bestselling author William Craig Reed, after seeing Shen Yun's evening performance on February 22.
"What I like about Shen Yun was all the performances told a story, and the way they're blended together, the music along with the actual animation. I like the way they pulled you into the story. They made you feel like you're a part of it because of the dance. It was really well done," he explained.
Mr. Reed said he would recommend his friends to come to see Shen Yun. Sara Blanchard, who attended the performance with him, said she wanted to see Shen Yun again.
Vice President of Technology: "Innovative" and "Polished"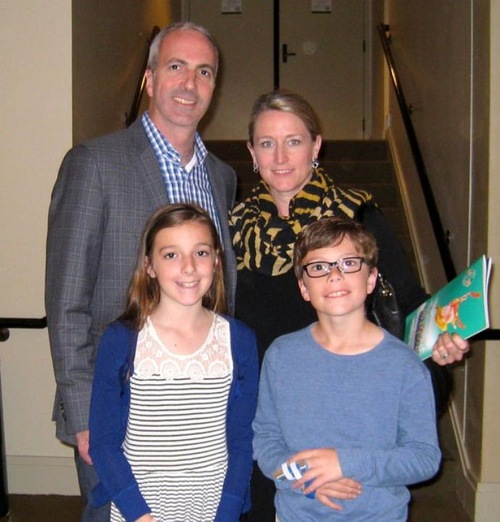 Steve Ciccarelli and family.
"That was innovative...I'm pleasantly surprised," exclaimed Steve Ciccarelli, Vice President of technology for Qualcomm, who attended the performance with his wife Renee and their two children.
His wife Renee enjoyed both the classical Chinese dance and different ethnic and folk dances in the show. "It's a wonderful show. It's beautiful," she said.
Mr. Ciccarelli agreed. "It's very polished."
Mrs. Ciccarelli also noticed that the children were captivated by the performance. "Every time I would look over at them, they were just staring," she said.
Travel Executive: "There is Beauty Everywhere"
Harry Colbert(left), retired manager of many travel offices
Harry Colbert, retired travel executive, described his feelings after seeing the performance, "I feel happy, I feel good, and I feel excitement. [I'm] learning a little bit more about the history."
"I learned that there is beauty everywhere..There is love and compassion...There is valor and there is strength..There is humanity," he explained.
He enjoyed this experience, "It's beautiful..I love the colors..The music is wonderful."
Magazine Arts Editor: "Water the Seeds of Compassion"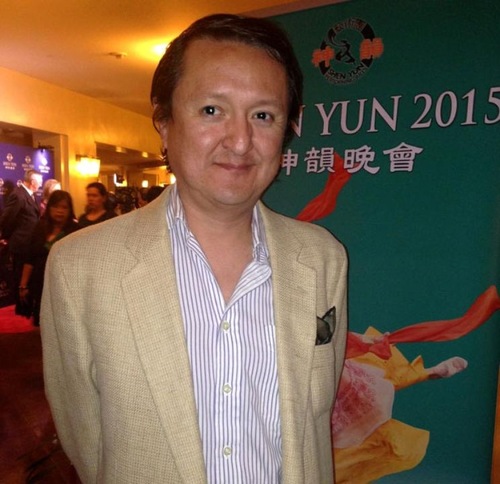 Edwin Rendon, arts editor of Giving Back Magazine
"It's very refreshing to come once a year and water the seeds of compassion with performances like this," said Edwin Rendon, arts editor of Giving Back Magazine after seeing the performance on February 21. This was his third year of attending Shen Yun performances.
"It's quite a delight to have it during Chinese New Year," he said. "You have all this great culture that is being displayed in front of you, where nature comes alive through all the dances and all the beautiful costumes. The music is superb, and it's a wonderful way to spend a February evening."
"I want to say congratulations to Shen Yun as a whole performing arts troupe, because I know you have now four outfits that are traveling the world doing this," he added.
He also expressed his sincere wish, "I have hope, which is the one great thing we have in life – to hope for something good. I hope that one day, they get to perform in China."
Immigration Officer: "Everything Is for You"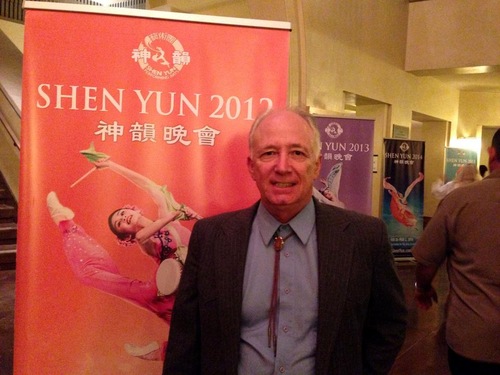 Dave Smith, retired immigration officer
"It's spectacular...The color, the lights, the music, the dancers, It just feels like that everything is for you," described Dave Smith, retired immigration officer, after attending a Shen Yun performance.
He was especially impressed by the music, "The orchestra is great...I'm watching the dancing and I forgot it's live music. I'm thinking it's taped. It's perfect. They're so good that you don't know it's a live orchestra. You know somebody can make a mistake. But [there were] no mistakes."
"It's a great idea. I think everybody needs to see this. I think the country needs to see this," he commented on Shen Yun's efforts of reviving Chinese civilization.
Shen Yun will continue to perform in the United States in Cincinnati, OH on February 27-28, Appleton, WI on March 3-4, and Las Vegas, NV on March 2-4. For more information on tickets and dates, please visit http://shenyun.com.