214 Sign Petition Calling for End of Persecution of Falun Gong
February 28, 2015 | By a Minghui correspondent in China
(Minghui.org) As the persecution of Falun Gong enters its 16th year, it shows no signs of abating. Many law-abiding citizens still remain incarcerated simply for refusing to give up their belief in Falun Gong.
A group of practitioners in Langfang City of Hebei Province and Beijing launched a signature drive last December. They called for kindhearted people to join them in condemning the persecution and seeking the release of all practitioners still detained across China.
At the time of this writing, 214 residents in Beijing and Langfang have signed their names on the petition – an act of courage as they are fully aware of likely retaliation from the communist regime.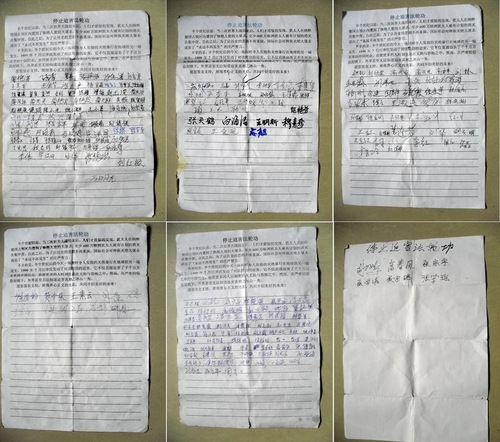 Supporters of Falun Gong sign petition
Thanks to Falun Gong practitioners' persistent efforts, many people have come to see that no one should ever be persecuted for their belief system, especially one that causes no harm to society. They know that practitioners are genuine and good people, and they are eager to sever ties with the Chinese Communist Party. More than 190 million Chinese have quit the CCP or its affiliated Youth League and Young Pioneers.
During the signature drive, practitioners encountered many people, especially law enforcement personnel and government officials, who no longer want to participate in the persecution.
A bureau-level official of the public security system criticized the CCP and said that the former CCP head, Jiang Zemin, was a big fool for persecuting Falun Gong. A government official asked the practitioner to put down his name on the petition and reiterated his support.
A woman shared the story of her father, who was the head of a local Political and Legal Affairs Bureau before retirement. He asked her to tell their practitioner-relatives to be careful while talking to people about Falun Gong. He also warned their family, "Do you know how cruel and vicious the CCP is?" The day he retired, he threw his personnel record file into a dumpster, as he felt bringing that kind of stuff home would bring bad luck.
A Falun Gong practitioner's relative signed on the petition without hesitation. In addition, she asked her employees and child to sign the petition as she did.
A middle aged man said after signing the petition, "I'll sign anything that supports Falun Gong."
A man asked his wife to sign the petition after he did. A young man who looked distant at first was also among those who rendered their support.
A practitioner ran into six of his good friends at a wedding. He immediately took out the petition and asked for their signature. His buddies signed without hesitation. In their words, they trust their Falun Gong friend.