Compassion on Valentine's Day: Norwegians Support Falun Gong
February 23, 2015 | By a Falun Gong practitioner in Norway
(Minghui.org) Many Norwegians voiced their support of Falun Gong by signing their names to a petition condemning the persecution of Falun Gong and forced organ harvesting, during a special celebration of love and compassion on Valentine's Day outside of the National Theater in downtown Oslo.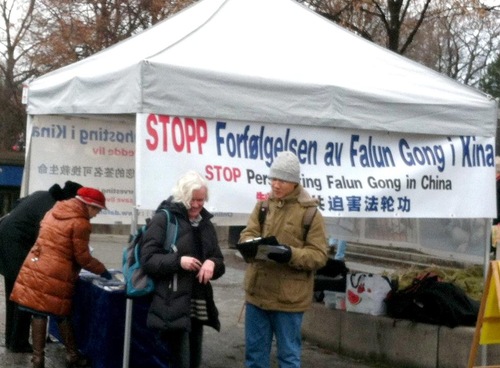 Information site outside of the National Theater in downtown Oslo, Norway
Support of Conscience
Linn Leigland is a reporter-in-training with an Oslo media agency. She signed her name to support Falun Gong, and said, "My wish is to become a media professional with conscience. I hope I can help the world become a better place with my pen, at least a little bit."
She said that she would do some research on Falun Gong, and write about the persecution to help raise awareness.
Bjørn and his wife are from Drammen, a city about 20 miles from Oslo. They came to attend an international ski competition. His wife gave a practitioner a warm hug, and said, "This [the persecution] is too brutal! How could this happen? What you are doing is very important."
Bjørn and his wife signed their names to support Falun Gong practitioners.
Another Bjørn, a retired state (provincial) level member of parliament, and middle school teacher, came from Bodø, a city about 750 miles north of Oslo. He said to the practitioners, "The persecution of Falun Gong is crazy. I signed my name last year."
He said that he was interested in Chinese traditional culture, especially the concept of respecting heaven and earth, and said he was interested in learning more about Falun Gong.
Goodwill in Pairs
Many young people celebrated Valentine's Day near the National Theater area. Some chose to support Falun Gong, and doubled their support by giving their significant others the same opportunity.
Tina, a Norwegian girl, returned to the petition site after lending her support. She brought her boyfriend, whose family moved to Norway to avoid persecution by the Vietnamese Communist Party. He gladly signed his name after Tina shared what she had just learned about the persecution in China.
Charlie gave his support while waiting for his girlfriend Eline. He brought her to the site and showed her the display boards. She signed her name, too.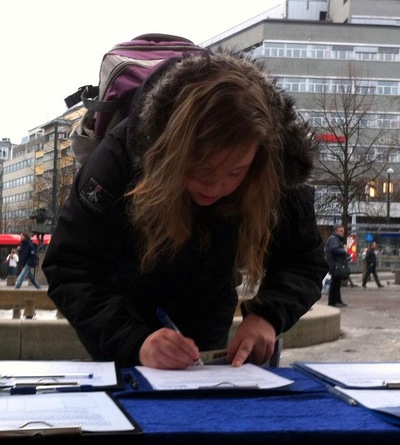 A girl signs her name to support Falun Gong outside of the National Theater in Oslo, Norway.
Connection to the Divine Inseverable by Atheism
Paul Surin, a researcher, told practitioners, "I know about Falun Gong. What you are doing here is important."
"Gods live in people's hearts. The Chinese Communist Party cannot sever the connection between humans and the divine!" he added.