New York Falun Gong Joins Community Celebration in Welcoming Year of the Goat
February 23, 2015 | By Minghui correspondent Cai Ju in New York
(Minghui.org) Flushing Chinatown in New York welcomed the Year of the Goat with a weekend parade on Saturday, February 21, 2015, the third day of the Lunar New Year. The East Coast was experiencing record-low temperatures, but the holiday spirit remained strong. Many spectators gathered on the street early in the morning to occupy good viewing spots.
The Falun Gong procession has emerged as one of the main attractions at this annual parade. The bright colors, uplifting music, and Chinese folk dance presentations offered spectators great photo opportunities.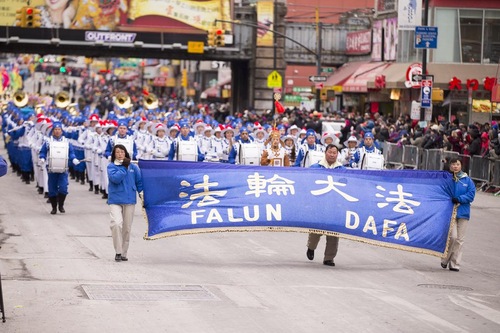 The Divine Land Marching Band led the Falun Gong procession.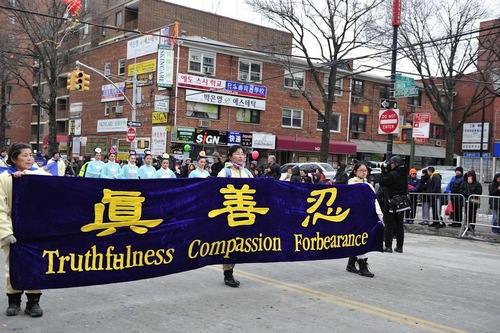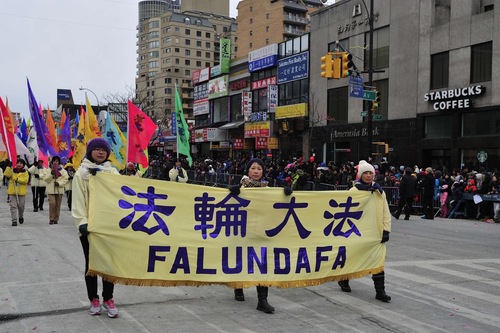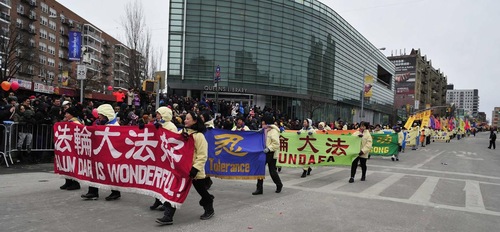 Falun Gong practitioners held bilingual banners during the parade.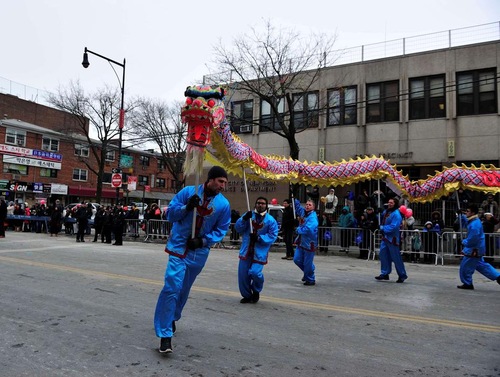 The dragon dance, performed by American practitioners, is an annual favorite for spectators in Flushing, New York.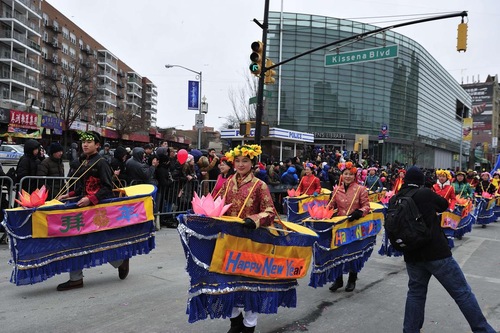 This procession performs "dry boat," a folk dance genre from China's Shanxi and Hebei provinces.
The dragon dance performed by American practitioners was well received. Spectators responded with whistles and applause when the practitioners offered New Year greetings in Chinese, "Happy New Year!" "Falun Dafa is great!" Falun Dafa is another name for Falun Gong.
"I'm very fortunate to have become a cultivator of Falun Gong. This gave me exposure to the authentic Chinese traditional culture. And the dragon dance is a part of it." said Ben Zgodny, a consultant on Wall Street and coordinator of the dance.
Catherine Liu, a Master's degree candidate at the Rensselaer Polytechnic Institute, joined the parade as a celestial maiden. She was happy to hear compliments such as "beautiful fairy ladies" from the crowd.
George Wei, who works at a local laboratory of the Department of Energy, pointed to the colorful Falun Gong flags, "This is a very diversified community with people from different ethnic and religious backgrounds. However, the principles of Truthfulness-Compassion-Forbearance are acknowledged by all."
The Divine Land Marching Band led this year's Falun Gong entry. Almost 200 band performers were dressed in ancient Tang Dynasty costumes, and played a rich selection of pieces, including "Falun Dafa Is Great," "Triumph," "Sacred Music of Buddha's Imminent Grace," "The Fa Rectifies Heaven and Earth," "Sending Gifts," and "The Falun Holy King."
One young man remarked, "I have seen Falun Gong entries in all major holiday parades ever since I moved to New York in 2009. Their processions are very ordered with uplifting spirits."
According to the Chinese Chamber of Commerce, the organizer of the parade, about 60 entries from the Chinese and Korean communities joined the parade with over 20 floats. The number of spectators was estimated at over 100,000.