Taiwan: Falun Dafa Workshop Draws College Students
February 11, 2015 | By Xia Jun
(Minghui.org) One of the top universities in Taiwan, National Chung Hsing University hosted its 12th Falun Dafa Workshop from February 2 to 6.
Approximately 120 students attended the workshop. One of the students, Li Shijie said he agreed with Falun Gong's principles of Truthfulness-Compassion-Forbearance. "I hope to follow the principles," he said. "It looks simple, but it requires a long time of practice. I think it's worth it."
Attendees at the workshop learnt the Falun Gong exercises, watched plays and Falun Gong lectures, and participated in other group activities and concerts.
A law student named Tsai Peijun organized the event. "We have benefited so much from Falun Dafa," she said. "Our health has improved, our character has improved. We are able to look at problems within ourselves and let go of attachments."
She said she was very happy to share the benefits of Falun Gong with other students.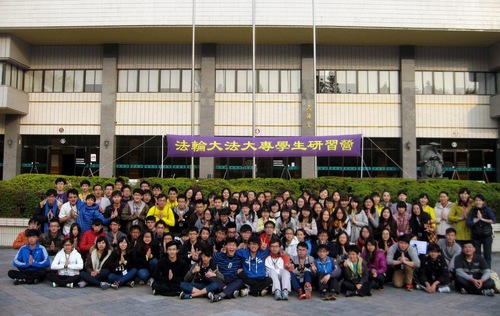 A group photograph of students who participated in the 12th Falun Dafa Workshop at National Chung Hsing University.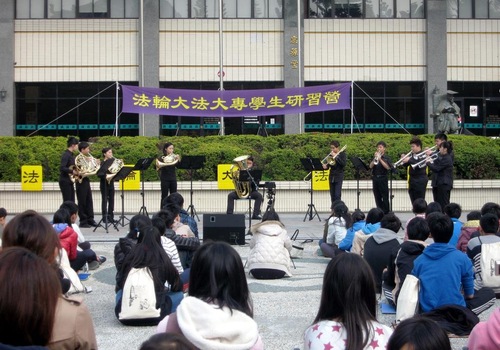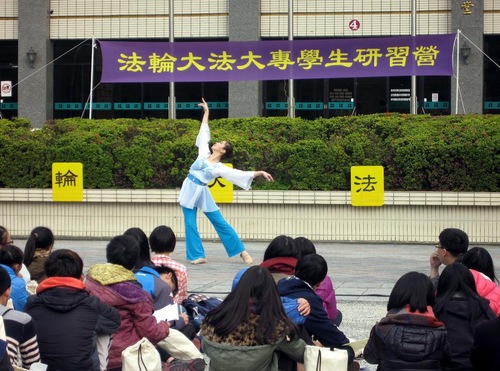 An outdoor concert held on February 6, 2015, as part of the Falun Gong workshop.
Tsai said she had noticed big changes in the students who participated in the four-day workshop.
"In the beginning, some students walked around, made phone calls, used bad words, or ran into conflicts between each other," she said. "As time went on, they gradually realized their conduct was inappropriate, and they reminded each other to correct themselves. I was very touched."
"This Applies to Everyone. We All Benefit from It"
A friend encouraged freshman Li Shijie to attend the workshop. "During these past few days we have heard many people talk about their personal experiences, and we did some role playing and the daily exercises," he said.
Li said the principles of Truthfulness-Compassion-Tolerance, as well as looking inward to improve, were indeed good. He said following the principles will gradually help one become a better person.
"When running into conflicts in the past, we tended to blame others," he said. "We would even make excuses for ourselves to make ourselves feel better."
By following the principles of Truthfulness-Compassion-Forbearance we can find our own problems and find a solution for the conflict, he said, adding, "This applies to everyone. We all benefited from it."
Li said he had heard about Falun Gong before. "But I didn't know much, especially how bad the persecution has been in Mainland China." He said he would tell more people about it.
"They Have Earned My Respect"
Yang Chuyu, a student in his senior year, said the workshop was different from other workshops because it is covered so many meaningful topics.
He said if one is truly able to act according to Truthfulness-Compassion-Forbearance outwardly he or she may look no different than others "but in essence their life will be more productive and will be filled with happiness. It is something I will give a try."
Yang became slightly emotional when speaking of the severe persecution of Falun Gong in China.
"It is too bad that a totalitarian regime could mistreat innocent people like that," he said, almost in tears.
He said the persecution was analogous to the Tiananmen Square massacre in 1989.
"We have seen photos and videos of Tiananmen, but some Chinese still claimed no one died during that incident. What a pitiful situation. The communist party is now using the same tactics on Falun Gong practitioners," he said.
"It is important for people to know about Falun Gong because it is great for improving both mind and body," he said, adding that he planned to tell his friends and family about the practice. He said Falun Gong practitioners had done very well and "they have earned my respect."
"This Is Something You Do Not Want to Miss!"
Junior high school student Wu Yuqiao's father registered him for the workshop. "I like it a lot," he said. "If they hold this again, I will not only register myself, but also invite my friends to come."
Wu said the principles of Falun Gong were very beneficial for individuals and society in general. "It is so good that we need to let more people know about it," he said.
A college student in his junior year, Huang Zhenjie learned Falun Gong from his family when he was young, but as he grew older he stopped practicing.
"If someone asks me about the workshop, I will tell him or her, 'This is something you do not want to miss!'" Huang said.
"I learned a lot from this workshop and I have decided to resume the practice," Huang said. "This will give me a new beginning, toward a bright future."