Falun Gong Practitioners Forcibly Cremated after Dying as a Result of Torture
February 10, 2015 | By a Minghui correspondent
(Minghui.org) Ms. Gao Xiufeng (高秀凤) from Heilongjiang Province was arrested on May 12, 2001 for making a banner with information about Falun Gong. She held a hunger strike to protest the detention and was subjected to forc-fed. She died when a guard inserted the feeding tube into her lung during a force-feeding session on May 19. She was 31.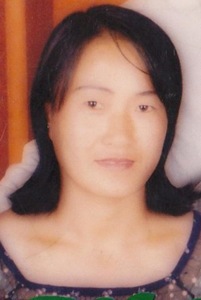 Ms. Gao Xiufeng
Police took her body for cremation that afternoon. The crematorium was guarded by armed police. Her husband was arrested and detained for three days. He was denied the opportunity to see her one last time.
The deputy head of Wuchang Police Department said to him, "If you tell others that your wife died from practicing Falun Gong, we will pay you 600,000 yuan." [1]
***
What the Chinese police did to Ms. Gao is reminiscent of the Nazis' treatment of innocent Jews. On this 70th anniversary of the liberation of Auschwitz this January 27, very few people still doubt that the Holocaust took place.
Overwhelming firsthand accounts from Auschwitz survivors point to an indisputable fact–the Nazis burned the bodies of their captives.
Like the Nazis, the Chinese Communist Party (CCP) has developed a systematic approach to hiding or destroying evidence of its genocide of Falun Gong practitioners.
According to reports compiled by Minghui.org, the CCP often uses the following tactics to cover up the reality that it kills law-abiding citizens for refusing to renounce their belief in Falun Gong:
• Destroying direct evidence
The remains of practitioners tortured to death are sometimes cremated without their families' knowledge. When the families do receive notice of their loved ones' passing, they often have to watch the bodies being taken away for cremation against their will. The police either coerce families into signing consent forms or simply forge the signatures themselves. In some cases, the police do not even bother to obtain consent.
• Removing peripheral evidence
After a practitioner's death due to torture, the authorities often transfer to different posts the individuals (perpetrators and enablers alike) involved in the torture, killing, and cremation of the deceased. Physical evidence, including documents, audio and video clips, medical records, and even the practitioner's photos and household registration card, is destroyed. Sometimes the authorities go so far as to arrest or kill eyewitnesses of the torture or killing.
• Prohibiting evidence collection
The authorities also use every means possible to prevent the families from gathering evidence of torture and killing. Families are prohibited from taking pictures and/or videotaping the bodies. They cannot hire their own medical examiners to perform independent autopsies, either.
• Blocking news of deaths
The authorities work hard to keep people from publicly mourning the deceased for fear of widespread dissemination of news of the practitioner's death due to torture. Family members, neighbors, coworkers, and friends are often threatened to remain silent.
As reported by Minghui.org, at least 446 Falun Gong practitioners' bodies were cremated either without their families' knowledge or against their families' will. Many of the families were threatened for trying to find out the causes of death and seeking justice for their loved ones. [2]
The youngest victim was 19-year-old Ms. Zhao Jing (赵静) from Jilin Province. She was beaten to death following her arrest in Beijing for petitioning the central government to stop persecuting Falun Gong. The police cremated her on the same day and didn't allow her father to photograph her body, which was covered with marks of beatings. [3]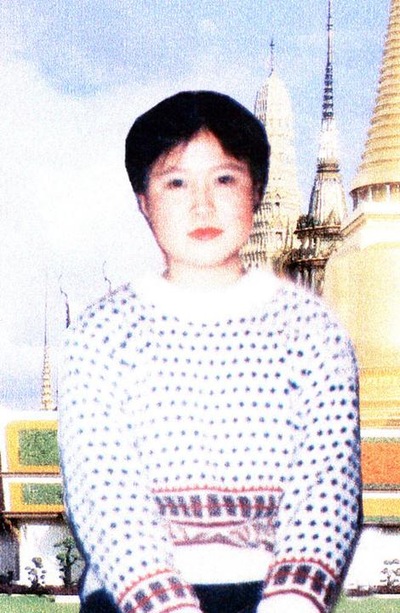 Ms. Zhao Jing
Among the 446 deceased practitioners, 26% (115) were ages 30-39 and 27% (122) were 40-49. The average age was 46. Men accounted for 54% of the victims.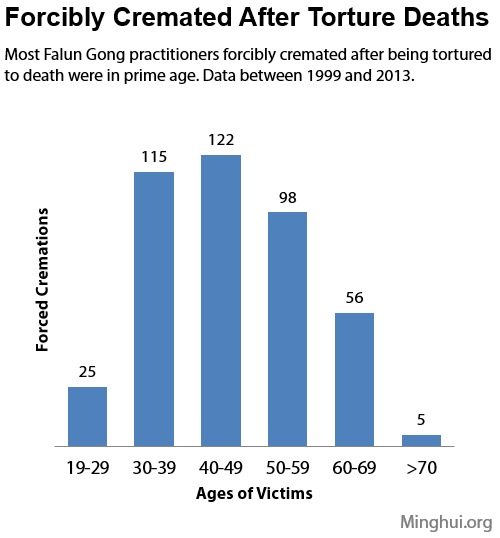 Liaoning, Heilongjiang, Sichuan, Shandong, and Jilin are the top five provinces with most practitioners forcibly cremated. Figure 2 shows the 15 provinces with double-digit forced cremations.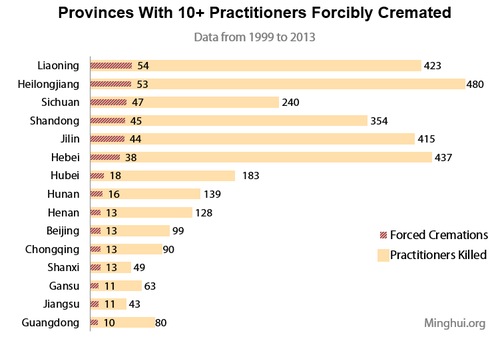 The following cases offer a glimpse into the tactics used by the Communist Party in its attempt to wipe out evidence that it kills innocent Falun Gong practitioners.
Body Cremated Without Family's Knowledge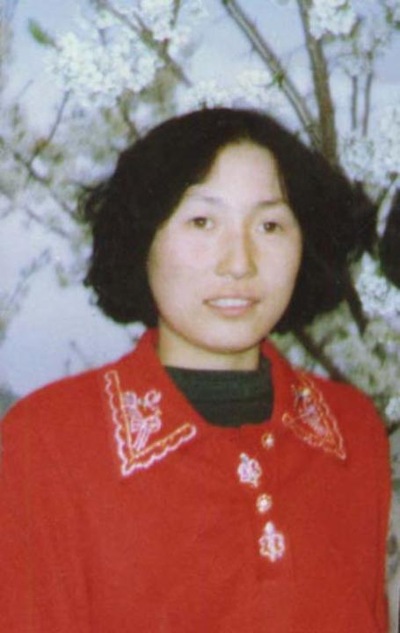 Ms. Zhi Guixiang
Ms. Zhi Guixiang (支桂香) from Jilin Province was interrogated and tortured to death on July 27, 2002. She was 31. The police secretly cremated her on July 31. When her parents inquired about her on August 13, they were told that their daughter had escaped. The elderly couple managed to find their daughter's cremation record two days later. When they confronted the police, one officer blurted out, "I don't care where you go to sue me. I'm not afraid. I was just carrying out orders from above." [2]
Body Seized in Front of Family
Mr. Shi Zhongyan (石忠岩) from Liaoning Province died three days after a force-feeding session in April 2003. He was 45.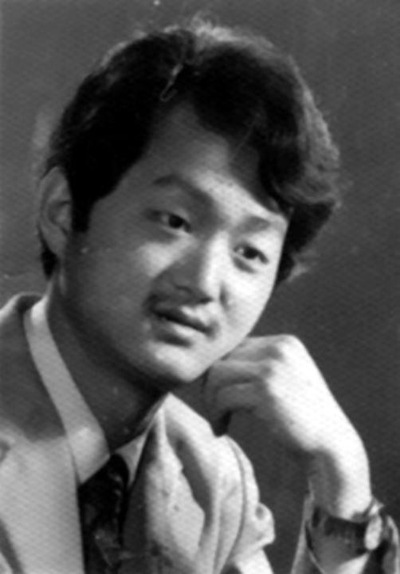 Mr. Shi Zhongyan
Shortly after Mr. Shi's death, police seized his body in front of his family and took it to the crematorium before dawn. The police told his family that if they wanted to see his body, they had to obtain approval from them first. Four days later, the police had his body cremated against the family's will, and not even his ashes were returned. [4]
"We'll Cremate His Body Whether You Sign or Not!"
Mr. Yu Huaicai (于怀才) was arrested on November 15, 2006, and sentenced to one year of forced labor. He was taken to Changlinzi Forced Labor Camp on December 30, 2006.
When his family went to the labor camp to visit him in March 2007, he was emaciated–a six-foot-tall man who used to weigh more than 100 kg (220 lb) was less than 45 kg (100 lb). He was incontinent and had lost the ability to talk.
He had also developed a mental disorder and kept throwing his hands against the wall. His family suspected that a doctor in the labor camp had drugged him, as forced psychiatric drug injections are commonly used in the persecution of Falun Gong.
Only a month after his family's visit, he passed away on April 22, 2007, at the age of 43.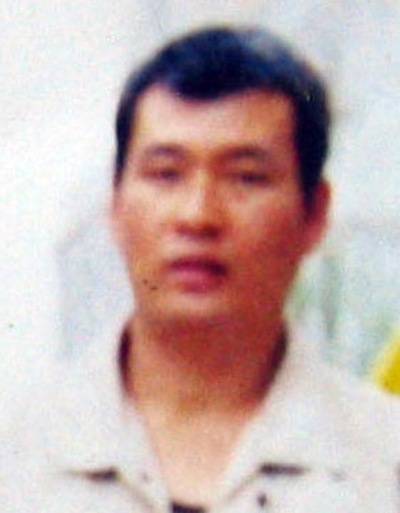 Mr. Yu Huaicai
After his death, the labor camp falsified his medical record and claimed that he died from illness. The authorities tried to force his brother, Mr. Yu Huaifu, to sign it. Mr. Yu refused and said, "My brother was healthy. You persecuted him to death!"
"We will cremate his body whether you sign or not!" the guard replied.
With assistance from 610 Office staff, the labor camp had Mr. Yu Huaicai's body cremated. [5]
Body Cremated with Forged Consent
Ms. Sun Yuhua (孙玉华) was force-fed and drugged when she held a hunger strike to protest her illegal arrest on January 14, 2004. She died 55 days later, at the age of 48. Her husband was never informed of her secret cremation, but he later discovered that someone had forged his signature on the cremation agreement for his wife. [5]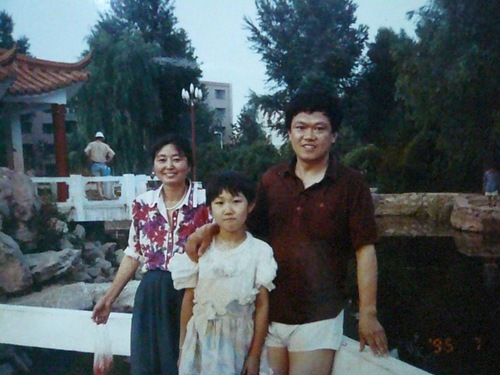 Ms. Sun Yuhua and her family
Eyewitness Murdered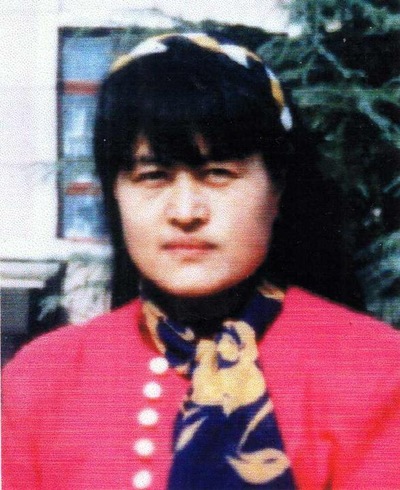 Ms. Zhang Dezhen
Ms. Zhang Dezhen (张德珍), a 38-year-old high school teacher in Mengyin County, Shandong Province was beaten to death at Mengyin County Detention Center on January 29, 2003. The perpetrators told her family that she had died from a heart attack.
Agents from the Mengyin 610 Office ordered the police to have her cremated quickly. When her brother Mr. Zhang Dewen refused to sign the paperwork, he was savagely beaten. He was ultimately forced to sign the cremation agreement. [6]
Practitioner Ms. Liu Shufen (刘淑芬) witnessed the guards beating Ms. Zhang. A few days following Ms. Zhang's death, the police said Ms. Liu needed to have an operation on her brain, claiming she had a brain disease. She died on the operating table as a result of bleeding in the brain. She was 39. [2]
After the two practitioners' deaths, police went to both practitioners' homes and seized all of their photos.
Video Clips of Practitioner's Dead Body Confiscated
Ms. Wang Xiufen (王秀芬) from Yongji, Jilin Province, was arrested on December 21, 2001, for distributing materials to inform the public about the persecution of Falun Gong.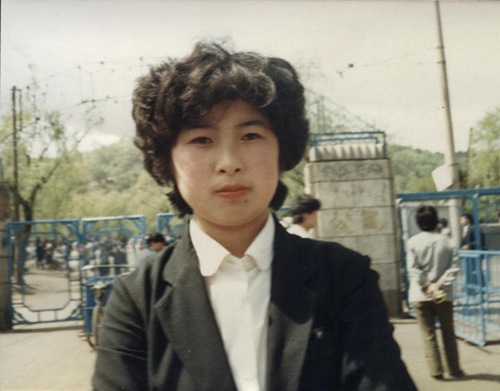 Ms. Wang Xiufen
The police didn't inform Ms. Wang's family about her arrest until 10 days later. When they went to the police department to visit her on January 1, 2002, they were told that Ms. Wang had been sent to the hospital.
They rushed to the hospital, where Ms. Wang was already in critical condition. Her body was covered with bruises. She passed away ten minutes after her family arrived.
According to an insider, Ms. Wang held a hunger strike to protest her illegal detention and was force-fed by the police.
It became obvious to her family that she had been tortured to death. They took videos of her body during the autopsy. When the police found out about it, they did not allow her family to leave and forced them to turn in the tape and the camera.
After Ms. Wang's body was forcibly cremated, the police harassed her family, threatened them, and ordered them not to disclose the news of her death. [7]
Funeral Raided to Stop News of Death from Spreading
Ms. Duan Shiqiong
Ms. Duan Shiqiong (段世琼), a Falun Gong practitioner from Chongqing, died as a result of force-feeding in Chengdu Detention Center. During her funeral on September 24, 2003, dozens of police officers arrived, destroyed her portrait, and ransacked the funeral venue. A local Falun Gong practitioner who attended the funeral was arrested. Ms. Duan's husband, Mr. Wang Zhihai, who also practices Falun Gong, was arrested later that night. Both were detained for 15 days. [2]
Information for this article was gleaned from the following, previously published articles, most available only in Chinese:
[1] http://www.minghui.org/mh/articles/2015/1/5/恶警灌食窒息害死多人-302059.html[2] http://www.minghui.org/mh/articles/2013/12/7/中共酷刑虐杀法轮功学员调查报告-1--283668.html[3] 15 Years of Brutality: A Look at 445 Confirmed Beating Deaths of Falun Gong Practitioners[4] http://www.minghui.org/mh/articles/2015/1/9/从"强行火化"看中共恶中之恶-302869.html[5] http://www.minghui.org/mh/articles/2014/8/20/哈尔滨呼兰区法轮功学员十五年被迫害纪实-296231.html[6] http://www.minghui.org/mh/articles/2014/8/21/由强迫签字、按手印看中共的险恶-296278.html[7] http://www.minghui.org/mh/articles/2003/12/17/血雨腥风难遮天-吉祥瑞地曙光明(六)-62356.html