Practitioners in Southern Taiwan Wish Falun Dafa's Master a Happy New Year
December 30, 2015 | By Minghui correspondents Sun Bo and Su Rong from Kaohsiung, Taiwan
(Minghui.org) Falun Dafa practitioners in southern Taiwan gathered at Sizihwan Bay in Kaohsiung on December 27, 2015, to wish Mr. Li Hongzhi, the founder of Falun Dafa, a Happy New Year.
A series of activities was also held, including performances by the Divine Land Marching Band and Waist Drum Team, to express gratitude toward Mr. Li for helping practitioners to become better people. For themselves, they wish that in the coming year, more people will understand the benefits of Falun Dafa and together help to end the persecution in China.
Falun Dafa practitioners in Sizihwan Bay in Kaohsiung wish Mr. Li Hongzhi, the founder of Falun Dafa, a Happy New Year.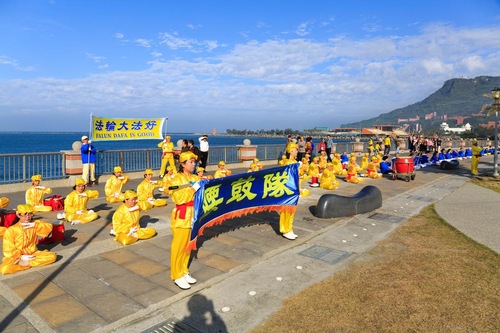 Members of Waist Drum Team demonstrate the sitting meditation exercise.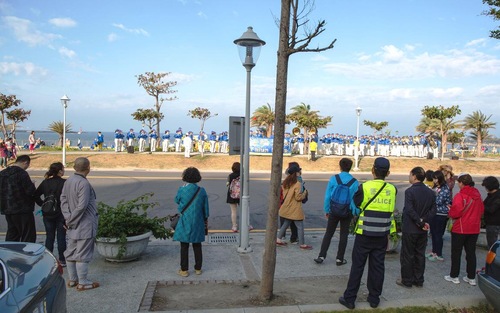 The Divine Land Marching Band performance draws the attention of tourists from China. The practitioners hope that people from China can understand the popularity of Falun Dafa overseas and learn the facts behind the persecution of the practice.
Respecting Opinions of Others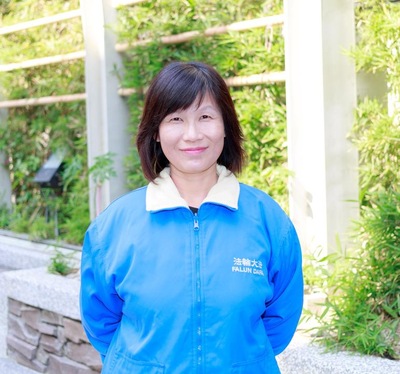 Xinmei became more mature and learned how to become a good-natured person after beginning to practice Falun Dafa.
Xinmei, a supervisor at the Maritime and Port Bureau, was introduced to Falun Dafa by a coworker. After she began practicing, her ear infection, dizziness, back pain, and gynecological problems disappeared before she even realized it. "I feel so light with so much energy," she said.
What amazed Xinmei more was, "My personality changed a lot as well." Being a supervisor, she used to be bossy, and everyone had to do things her way. She said, "I got angry easily over small things. I was stressed out with terrible interpersonal relations." After she became a practitioner, she was able to be considerate and tolerant. "I am able to listen and respect others' opinions now. I let my coworkers handle things their way as long as it works. The working environment has become harmonious, and everyone works harder," she said.
Xinmei also saw the beauty of traditional values in being a wife. She said, "At home between me and my husband, I was always the bossy one who called the shots. I would never admit that I made a mistake. Because of Falun Dafa, I learned how to communicate with my husband and respect his views. He is a great supporter of Falun Dafa now."
Chef of Busy Restaurant Thanks Teacher for His Achievements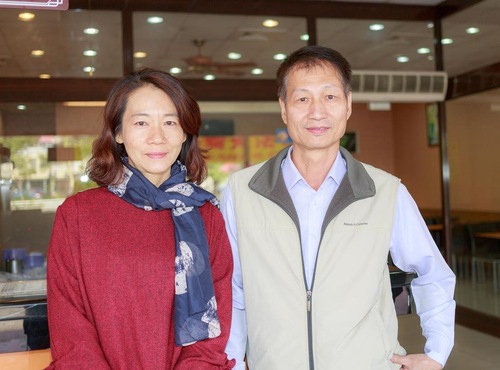 Yaohong's body and mind changed dramatically after he learned the practice.
Yaohong runs a busy Italian restaurant. When he was young, he developed many bad habits, including smoking, heavy drinking, and gambling. He painted cars, and the hazardous working conditions ruined his health. His eyesight deteriorated, and he became emaciated.
Yaohong's younger brother sent him a copy of Zhuan Falun, the main book of Falun Dafa teachings. After he read it, he realized it was what he wanted, "To be a morally upright person," said Yaohong.
Six months after he became a practitioner, he started an Italian restaurant. He followed the principles of Falun Dafa. He took things seriously when he cooked, and constantly came up with new recipes. The ingredients he used were fresh and healthy, and the price he charged was affordable. His restaurant was often packed, with a long waiting line. A friend of his son's said, "Your father runs a business with conscience because he practices Falun Dafa."
According to Yaohong, beginning Falun Dafa cultivation practice was a turning point in his life, and Teacher blessed him with physical and mental welfare. He said, "The restaurant business just gets better and better. My employers never swear, and treat each other and the customers honestly and kindly. They have stayed with me for a long time."
"I learned how to cook well in such a short time, and my financial situation improved quickly, and so has my health. I want to thank Teacher for all of his graces, and take this opportunity to wish him a Happy New Year," said Yaohong.
Sales Manager Believes Truthfulness Is Everything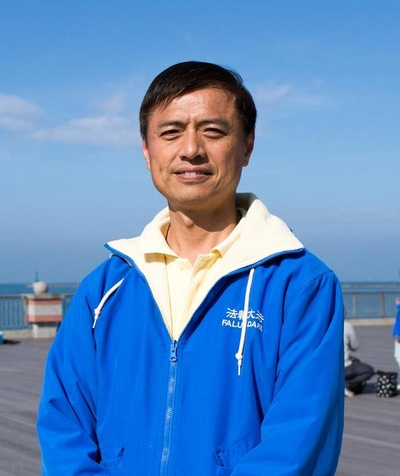 Huangrui is an insurance sales manager. He treats his friends with Truthfulness-Compassion-Forbearance.
Huangrui worked in an insurance company as a sales manager. No matter how hard things were, he always treated his clients and their claims with the principles of Falun Dafa, Truthfulness-Compassion-Forbearance. "I take care of everything seriously and honestly. Many of my friends and clients therefore believe that Falun Dafa is good, and are willing to speak up for it," he said.
One day in the past, Huangrui got lost and arrived at a place where people could learn Falun Dafa from lecture tapes for nine days. He was curious and went in to learn more about the practice. He's since become a practitioner.
Huangrui used to have chronic fatigue syndrome. He was often tired and had difficulty getting up in the morning. After he began doing the Falun Dafa exercises, he was able to wake up at five in the morning by himself, and was fueled with energy all day.
Being in insurance sales, Huangrui faced different people every day, and something always came up that he had to take care of. He used to become frustrated and had problems controlling his temper. After he learned the practice, he became more tolerant, and was able to think more rationally. He controlled his temper by asking himself, "Why did this happen? What did I do wrong, and how can I make things better?" His conclusion was, "Truthfulness is the way to go. When I deal with people or take care of things, everything will be fine if I have an honest and sincere attitude."
Huangrui's child and wife are also practitioners. His child was never sick, got along with other students, and his teachers liked him. Huangrui wants to express his highest respect and gratitude to Mr. Li for giving him all the great things in his life.