Taiwan: Chinese Tourists Enjoy Scenery and Learn about Falun Gong at Taroko National Park
December 22, 2015 | By a Falun Gong practitioner in Taiwan
(Minghui.org) Tourists like to see interesting things. Those from China who visit Taroko National Park in eastern Taiwan expect to take in the Tunnel of Nine Turns, the Eternal Spring Shrine, and other sightseeing destinations. While enjoying the unique landscapes, they very often come across something serene but unavailable in mainland China—groups of Falun Gong practitioners sitting in meditation or doing the exercises.
Falun Gong practitioners doing the exercises at Taroko National Park on December 20, 2015
Rooted in traditional Chinese culture, these gentle exercises were seen in most parks in China until Falun Gong was banned by former Communist Party leader Jiang Zemin in July 1999.
By instigating a systematic campaign of suppression and broadcasting hate propaganda nationwide, Jiang turned a large number of Chinese against Falun Gong and its teachings of Truthfulness-Compassion-Forbearance.
The voluntary efforts by Falun Gong practitioners at tourist destinations provide an opportunity for Chinese tourists to learn what Falun Gong is and how this 16-year-long persecution has affected the lives and families and work of tens of million of practitioners.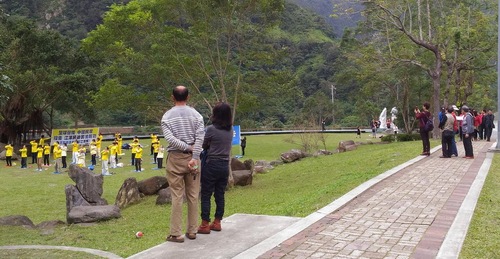 Chinese tourists observe people doing the exercises and take pictures.
After learning about the massacres the communist regime has committed during its different political campaigns and the torture of Falun Gong practitioners it continues to carry out today, some tourists quit the Communist Party and its youth organizations.
One tourist said that many people in China know about the crimes Jiang has committed. "I learned a lot about Falun Gong on this trip," he said, "and realized that what I thought I knew about it were misconceptions."
"Yes, I support you in suing Jiang," he added, referring to the movement to prosecute the former Chinese leader for launching and directing the violent campaign against Falun Gong. Since May 2015, over 200,000 criminal complaints have been filed against Jiang with China's highest court.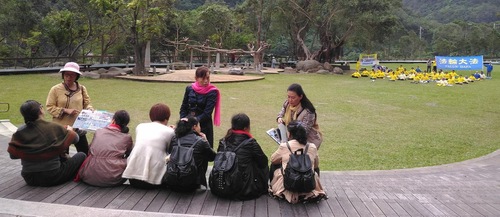 Falun Gong practitioners talk to tourists about the persecution taking place in mainland China.