Australia: Ashfield Residents Speak Out Against Persecution in China
December 22, 2015 | By Hua Qing in Sydney
(Minghui.org) Banners and a signature drive caught the attention of many Ashfield residents on November 29, 2015. Falun Gong practitioners from Sydney rallied in the town with many Chinese residents to convey the latest developments in their effort to prosecute Jiang Zemin, the former Chinese leader who ordered the violent suppression of Falun Gong in which thousands were tortured to death and many more had their vital organs forcibly taken.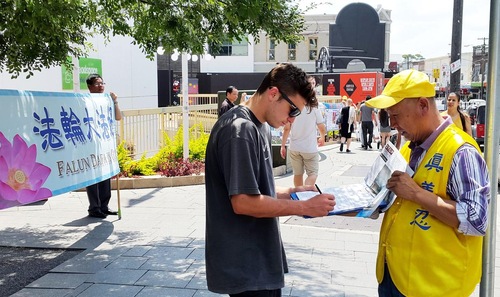 An Australian signs a petition supporting the prosecution of Jiang Zemin in China.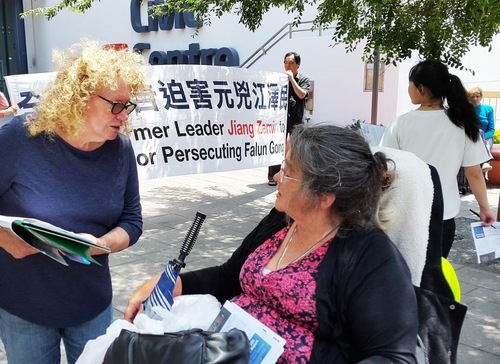 Nickie Collins says Jiang Zemin must be brought to justice.
Nickie Collins told a practitioner that she had watched a documentary on SBS TV and other reports about the Chinese regime's harvesting and trafficking of organs from living prisoners of conscience.
While discussing the current wave of lawsuits against Jiang, she said that Jiang must be brought to justice.
"But this is not enough to punish the heinous crimes. I believe there is heaven and hell. I believe Jiang and his accomplices will be sent into hell, the lowest level of hell!" said Collins.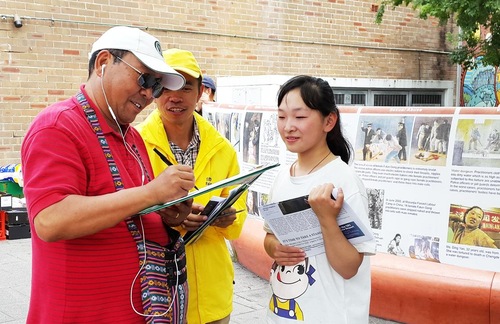 Lama, a Tibetan in Australia, condemns the Chinese regime's persecution of Falun Gong.
Mr. Lama, a Tibetan living in Australia, said, "The Communist Party destroyed the tradition and culture of 5000 years of Chinese civilization." He added, "Tibetan organizations and Falun Gong shall unite to stop the persecution and not allow it to happen again."
He also talked about a 22-year-old Tibetan woman was arrested in Lhasa for practicing Falun Gong and taken to Beijing. No one knew her whereabouts since then. Tibetans believed she had already died after the regime sold her organs to a transplantation patient.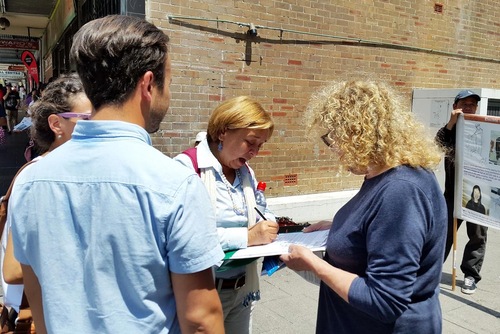 Ms. Lachalan with her son and daughter-in-law
The photos of Falun Gong practitioners tortured by the Chinese authorities moved Ms. Lachalan to tears. Her grandfather was a Russian nobleman, and her parents used to be communist officials living in Beijing. However, they were tortured and beaten during the Cultural Revolution because of their family origin.
Looking at the gruesome photos, she said her own experience told her that the communist regime is fully capable of carrying out such evil.
Isaiah Lever, a young Australian man, said, "Please give me some more fliers. I want to let my friends know and ask them to sign the petition." He added, "I wish I can do more to help stop the persecution."