"Every Singaporean Should Sign the Petition to Bring Jiang Zemin to Justice"
(Minghui.org) Echoing the recent wave of lawsuits against former Chinese dictator Jiang Zemin for his role in the persecution of Falun Gong, a signature drive was held in Singapore's Hong Lim Park on December 14. Local residents and visitors from different cultural backgrounds warmly supported the activity and called upon the Chinese regime to investigate Jiang's crimes committed over the course of the 16-year persecution.
As of December 5, less than a week before World Human Rights Day, more than one million Asians had signed a petition supporting the 200,000 lawsuits filed by Falun Gong practitioners against Jiang Zemin. According to many who signed the petition, one of the most common motivations to speak out thus has been the brutal state-sanctioned organ harvesting from living Falun Gong practitioners.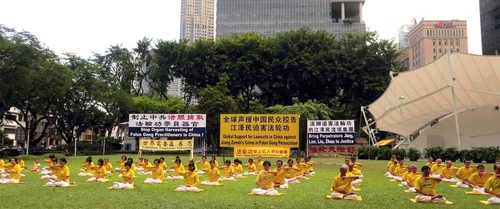 Demonstrating the Falun Gong exercises at Hong Lim Park before the signature drive.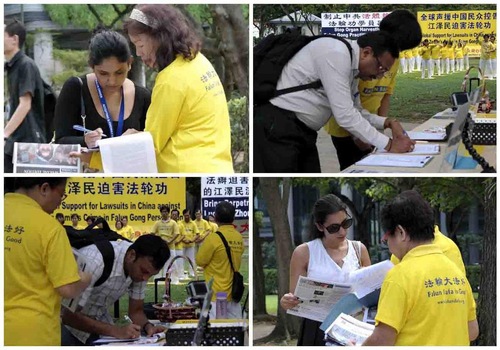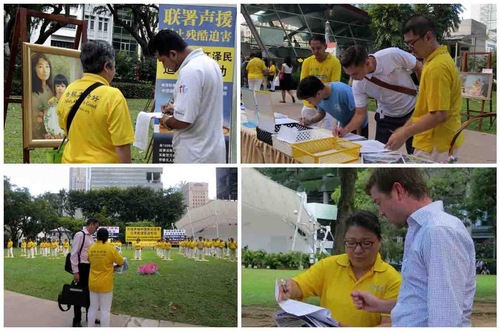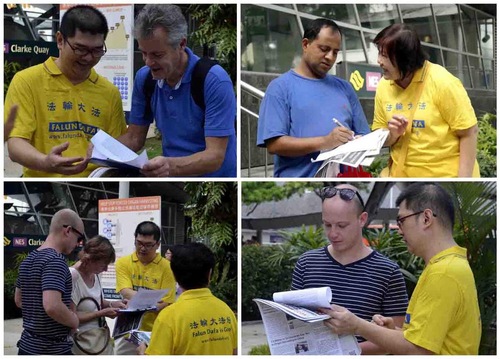 The signature drive to bring Jiang Zemin to justice receives wide support.
Many local residents expressed their support for the efforts to bring Jiang to justice. Resha Motilal, a 28-year-old financial analyzer, was horrified by the brutality of the persecution. "It is incredible," she said. "Every Singaporean should sign the petition to help bring Jiang Zemin to justice and stop the persecution."
Sukri Kadola, a 43-year-old interior designer, already knew a great deal about the persecution of Falun Gong in China. He praised Falun Gong's peaceful resistance.
"Although I don't practice Falun Gong, I completely support the signature drive and the peaceful event today," he said to a practitioner. "This kind of activity can help people understand what is happening in China, and will draw attention from the international community, which will exert pressure on China to stop the persecution."
Kadola added emphatically, "No matter how powerful a government is, it should not abuse its power and do whatever it wants. Everybody should take action to stop the persecution."
After signing the petition, Rakiv Uddin, a 32-year-old Bengali, went back to his workplace and asked his co-workers to sign as well. "The torture really saddens me," he said. "It should be stopped immediately. I don't understand why people are being persecuted for their belief in China. Everybody should have freedom of belief."
Several visitors from France, the Netherlands, and Canada told practitioners that they had seen similar events in their home countries. They all condemned Jiang's crimes against humanity and signed the petition.
Christy, a spokesman for a British human rights organization, believes that it is a shame that the persecution has been going on for so long. He said that it is the largest yet "quietest" case of violence and torture in the world.
Christy blamed much of the mainstream media, which have largely kept silent about the persecution of Falun Gong because of political or economic pressure from the Chinese government. "They are the accomplices," he said. "The media all over the world should help investigate the killing of Falun Gong practitioners."
Mr. Zheng, a Chinese student, was happy to see the Falun Gong exercise demonstration. He said, "It's very important for Chinese to learn what Falun Gong really is."
Back in China, a number of people around Zheng were arrested for practicing Falun Gong. The government propaganda caused him to fear Falun Gong, but he wanted to learn the truth. Zheng managed to break through the Internet blockade and read many Falun Gong publications, including Zhuan Falun and Nine Commentaries on the Communist Party.
What he read changed his opinion. "I was glad to learn what was really happening. Falun Gong's teaching, Truthfulness-Compassion-Forbearance, is great. It is a righteous cultivation practice," Zheng said.
Zheng was pleased to sign the petition. "Organ harvesting is too brutal," he said. "Jiang has killed so many people. He is a real terrorist!"