Canadian Officials Speak Out Against Persecution of Falun Gong
December 17, 2015 | By Minghui correspondent Ying Zi
(Minghui.org) Falun Gong practitioners from Ottawa, Toronto and Montreal gathered on Ottawa's Parliament Hill on December 9, the eve of Human Rights Day, to call for government support to help end the persecution of Falun Gong in China. They delivered 95,000 petition signatures to Prime Minister Justin Trudeau, urging the Canadian government to pressure China to end the persecution of Falun Gong and to release ten imprisoned family members of Canadian Falun Gong practitioners. Several Members of Parliament spoke at the rally to express their support.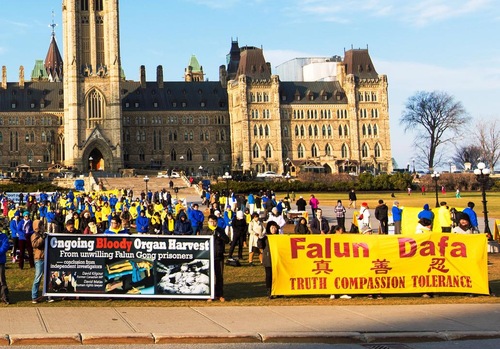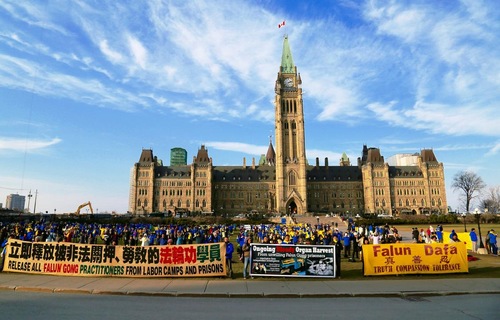 Falun Gong practitioners gather on Parliament Hill to call for Canadian government support to help end the persecution of Falun Gong in China.
MP Judy Sgro: The Persecution of Falun Dafa Was Raised by Prime Minister Trudeau to the Chinese President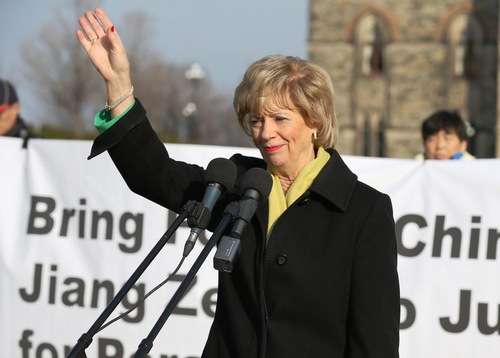 MP Judy Sgro
Liberal MP Judy Sgro brought greetings on behalf of Prime Minister Trudeau and told the crowd that the Prime Minister had taken up their concerns.
She said during her speech, "In recent meetings that Prime Minister Trudeau has had with the Chinese leaders, the issue of human rights in China, and specifically the Falun Dafa, was raised by Prime Minister Trudeau to the Chinese president."
Sgro encouraged the practitioners to keep up their efforts. "I know sometimes you get discouraged because some of the persecution continues to happen in China. But you must keep strong and keep doing what you are doing. Because that is what is making the difference. Ultimately, freedom will prevail. I believe that very strongly. But it will prevail not because of the little bit of work that I do and my colleagues do, but it is because of the work you do. To stand up, whether it is for the 1,300 people recently put in jail, or for the thousands that have already been killed, or for all of the organ harvesting that has been done. You're standing here today for all of them, making sure that those of us who have the great opportunity to have a voice in the House of Commons will continue to be your voice as we move forward, so that truly you will eventually have full freedom, not only here in our wonderful country, but throughout the world."
MP Michael Cooper: Falun Gong Principles Are Canadian and Universal Principles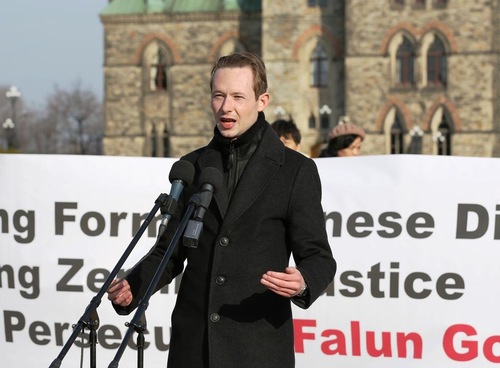 MP Michael Cooper
Conservative MP Michael Cooper said it was a privilege to stand beside people defending the principles of Truthfulness, Compassion, and Tolerance. "Those principles aren't just Falun Gong principles, they are Canadian principles, and they are universal principles," said MP Cooper.
MP Cooper recognized Falun Gong practitioners' persistent work to expose the serious human right violations taking place in China. He regards Falun Gong as the largest group under persecution in the world. Mr. Cooper assured practitioners that he and his colleagues would never stop fighting for human rights until the Chinese government stopped the imprisonment, detention, organ harvesting and murder of thousands and thousands of people who follow Truthfulness, Compassion and Tolerance. Finally, the MP encouraged Falun Gong practitioners to unite and continue fighting for human rights, "because the light of truth will conquer the darkness of totalitarianism."
MP Scott Reid: Falun Gong's Peacefulness Without Precedent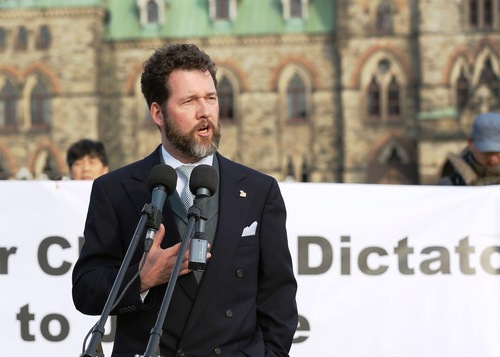 MP Scott Reid
MP Scott Reid has been a strong supporter of Falun Gong ever since the persecution was launched in 1999. He stated, "It's been 15 years since I was first elected. I take a lot of pride in the fact that the very first issue I raised in the House of Commons, my very first intervention in the House of Commons, was the condition of Falun Gong prisoners of conscience in the People's Republic of China.
"That was in February 2001. And I have to say had I stood at that point and looked forward and realized that this persecution would be ongoing and still be in place in the year 2015, I would have been astonished.
"I cannot believe that this persecution of a group that is completely peaceful, completely politically harmless, completely focused on personal self-improvement, on spiritual well-being, is persecuted in the People's Republic of China. It's just extraordinary. It is unfortunately not a persecution without precedent, but what I think is without precedent, what I am always struck by, is the fact that so many people have suffered such persecution, and reacted so truthfully to the fundamental ideals of Truthfulness, Compassion, Forbearance. There is no example of violent response, there are very few examples of even angry responses to the terrible persecution that Falun Gong practitioners have undergone.
"Those are the values that are at the heart of Chinese civilization and Chinese society...What you do is remarkable. I am honored to be able to be in your presence, and I do hope that with the new government in place, and myself now in opposition, and others who were in opposition now in government, we will collectively be able to do our little bit to help you and those who suffer in China in the future."
MP Garnett Genuis: Governments Who Restrict Religious Freedom Are Inherently Insecure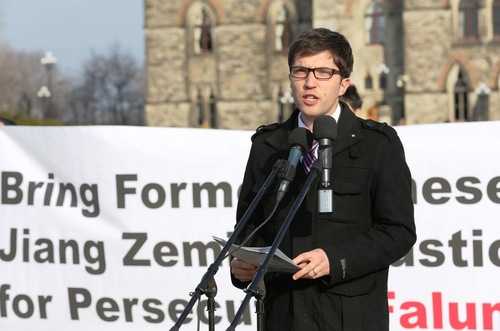 MP Garnett Genuis
Newly elected Conservative MP Garnett Genuis said in his address at the rally, "Governments who restrict religious freedom are inherently insecure. They believe that this nation of free thinking undermines social and political stability. But free, unfettered contemplation is essential to the human experience. As long as the government seeks to reduce their citizens to something less than human, they will always be insecure because men and women will look into their own minds and hearts, and recognize that they were made for something more.
"And friends, I want to add that the Chinese government has nothing to fear from Falun Gong. Those who are sincerely contemplating their place in the universe are not a danger to the society in which they live. Rather, those who are thinking seriously about who and what they are, their purpose, and where they belong, will always be good citizens because they will bring similar reflection to questions around their place in civil society. They will start with honest questions about how they fit in the universe, and continue with questions about how they can fit in and enhance civil society.
"Frankly, those who reject or seek to restrict authentic spiritual contemplation are the greatest danger to the civic order. They deny the basic human dignity from which religious freedom emanates and they act without thinking of the deeper questions of purpose, place, and values.
"As a conservative member of parliament, I, we, stand with you for your right to think, to be, to belong, to believe, and to act. You are true friends of a great nation and we stand with you."
MP Borys Wrzesnewskyj: Reintroduce Legislation to End Organ Harvesting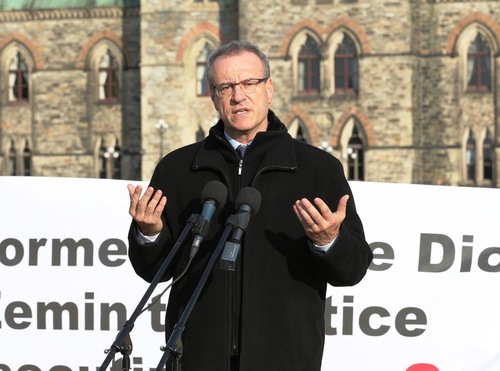 MP Borys Wrzesnewskyj
MP Borys Wrzesnewskyj said during his speech, "Its so incredibly encouraging to see this large gathering. Truthfulness, Compassion, Forbearance. What sort of government would see those qualities amongst its citizenry a threat? A government that fears the truth, a government that doesn't show compassion, and crushes dissent, and a government that doesn't believe in forbearance, listening to other voices.
"Tens of thousands of practitioners have been incarcerated and as totalitarian states in the past, have seen their rights abused, but we have seen something that we have never seen. An organized and systemic, market driven state cannibalism of its citizenry. People that believed in Truthfulness, Compassion and Forbearance were not only incarcerated, tortured, but systematically had their organs, their body parts removed and put onto the market. Let's call this for what it is, a horrific example of state cannibalism of amongst the most vulnerable.
"I introduced a piece of legislation in 2009, that would have attempted to shine a light and put a stop to this horrific practice. As a re-elected MP, I give you my pledge that the legislation will be reintroduced, and that I will do everything in our power, collectively, in a non-partisan way, with colleagues from the other parties, to make sure that this practice ends in China."
MP Peter Kent: New Parliamentarians Invited to Join Parliamentarian Friends of Falun Gong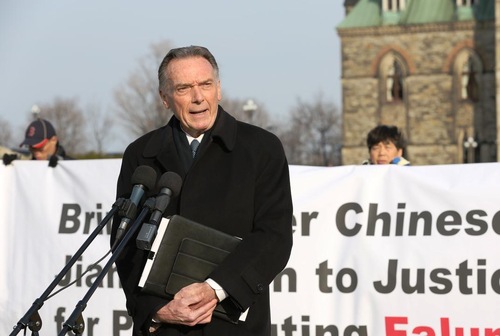 MP Peter Kent
MP Peter Kent is a former Minister of the Environment. He is also the Chair of the Parliamentary Friends of Falun Gong. Recently he issued a press release calling on the new Prime Minister to urge China to end the persecution of Falun Gong during meetings with his Chinese counterpart.
MP Kent said during his speech, "I did upon the election of the new government send a respectful letter to our new Prime Minister asking in his initial meeting with the Chinese president to continue to convey in the clearest and most forceful terms, to the Chinese government Canada's human right concerns. Particularly with the regard to the 16 year of brutal, deadly, extrajudicial persecution of Falun Gong practitioners. The greatest single group of persecuted individuals in human rights terms in China in recent years.
"I also made a point of recognizing that the current government, under President Xi Jinping, has enabled a certain number of limited reforms, which has allowed some 200,000 criminal complaints to be registered in China in recent months. The unfortunate counterpoint to that early reform has been that we know the continued persecution exists today, as it did during the darkest years at the beginning of the 16-year persecution.
"So I have asked, and I am sure in the new year when the new parliamentarians are invited to join our Parliamentary Friends of Falun Gong across all parties – it is a completely nonpartisan issue – that we will again encourage the government, both from the government benches and the opposition, to continue to push the Chinese government. One, to allow the criminal complaint process to continue to its logical end, which should say the finding of criminality, extreme criminality, on behalf of those who originated and carried out the persecution over these 16 years. And two, that the Canadian government would encourage, strongly encourage, perhaps even demand that the Chinese government end the continuing persecution, the illegal, again, extrajudicial, detention, torture and persecution of practitioners. And on behalf of certainly the 10 Canadian families, who have family members who have been held and tortured, and continued to be held in China today, we think that the Canadian government must step forward, and must continue to convey, very strongly, our human rights concerns with the government of China."
Former Minister of Justice and Attorney General Calls Treatment of Falun Gong Litmus Test of Whether China Stands on Right Side of History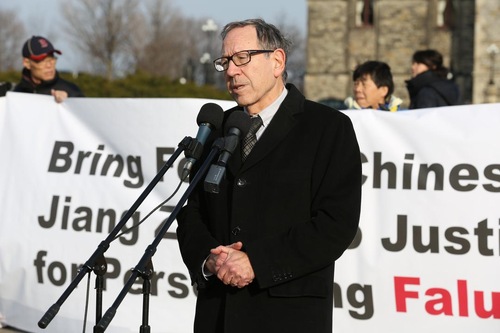 Former Minister of Justice and Attorney General Mr. Irwin Cotler
Former Minister of Justice and Attorney General of Canada, Mr. Irwin Cotler, praised Falun Gong for bringing spiritual and mental health to millions all over the world. He said, "To stand on the right side of history, and to appreciate that the treatment of the Falun Gong will be a litmus test of whether China stands with the rest of the world on the right side of history."
Former Secretary of State, Asia-Pacific: Trudeau Government Pressuring Beijing to End persecution Is a Positive Step
Former Secretary of State, Asia-Pacific, Mr. David Kilgour
Former Secretary of State, Asia-Pacific, Mr. David Kilgour said, "That's a very, very positive step, I'm sure you'd all agree. Please let the new Trudeau government pressure Beijing to end its persecution, torture and killing of Falun Gong practitioners which has been going now since 1999, especially the pillaging/ trafficking in their vital organs that has killed tens of thousands of them as prisoners of conscience."
Mr. Kilgour encouraged people to continue to expose the persecution. "You can of course Google organ harvesting in China and it will give you a mountain of material. Tell your friends what you've learned, and as I say, please share the information on Facebook and other social media. Above all, try to take the time to go and see your MPs."
MP Peter Julian's Letter of Greeting
MP Peter Julian wrote in his letter to the Falun Dafa Association of Canada, "Since its introduction to the public 23 years ago, Falun Gong practitioners and supporters have followed the principles of harmony, tolerance, truthfulness, and compassion. Your bravery and courage have proven insurmountable. And in the face of adversity, you have not wavered from your belief and of the promotion of human rights."
Falun Gong practitioners distributed flyers and collected signatures at major street crossings around Parliament Hill. Many government employees, local residents and tourists signed the petition to support Falun Gong's work to end the persecution.