Israeli Teen: Falun Dafa Teaches Me Compassion and Endurance
December 15, 2015 | By Ruo Si
(Minghui.org) "I could get angry in one second and often fought with my little sister," said Yonatan Tsuprun, recalling his quick temper before learning Falun Dafa. The 15-year-old lives with his family in Rishon LeZion, Israel.
His 7-year-old sister, mother and grandmother, began practicing Falun Dafa in 2002.
Yonatan, however, did not take to the practice right away. "I picked up the book Zhuan Falun, read a few pages, and put it away. This repeated several times and I did not really understand what cultivation practice was."
Inspired and Calmed
The turning point came about one and a half years ago. "Somehow I decided to read through Zhuan Falun." This time it was more of a light bulb experience for Yonatan. "It was a very interesting, and I finished reading the book in about two weeks."
Since then, his family and friends noticed a change in him. "When following these [Falun Dafa] principles, you know what is good for you and what you need to do—such as not drinking and not smoking. These principles have guided me in my cultivation practice."
Trying to follow the principles of Truthfulness-Compassion-Forbearance is the best and hardest challenge for him, said Yonatan. "But when you keep reading the book every day, it makes you stronger and you realize new things every day." He became more calm and peaceful.
He now gets along well with his younger sister. "Falun Dafa taught me to have compassion and endurance. My sister and I now have a very good relationship. We practice the exercises together and study the Fa together."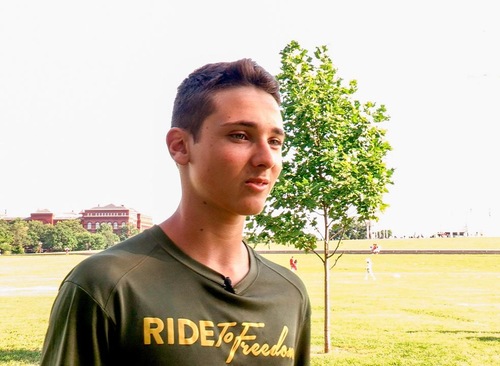 Yonatan Tsuprun represents Israel in the 2015 Ride2Freedom youth bike tour.
Ride2Freedom Bike Tour
Earlier this year, Yonatan took part in a cross-country bike ride over the summer in the United States. Starting in Los Angeles on June 1 and arriving at the US Capitol in Washington DC on July 16, more than 20 children rode over 3,000 miles to raise the awareness of the persecution of Falun Dafa in China.
Although this was the first time Yonatan visited the US, he had quite a thorough experience, traveling through the Mojave Desert and the Rocky Mountains, and many other landmarks and cities. "It's a beautiful country," he remarked.
Yonatan also appreciated the chance to build friendships with like-minded youths from around the world on the tour. "When I came here for this [Ride2Freedom] project, it was a very good environment for me because I met many teenagers like me," he said.
However, there were many difficulties along the way.
"One day the temperature was high and the road was bumpy," he recalled. "I was hungry and I wanted to sleep, but I continued riding. I once felt like I wanted to quit, but I could not. I kept riding, and then I became frustrated. It was so hard that I almost started to cry, but I could not quit."
Suddenly Yonatan's bike ran into the wheel of the bike in front of him. He lost control and fell on the road. "I fell on my leg and it was bleeding."
Looking inside for the cause, he realized, "This is a sign for me to purify my thinking, because I was so upset about nothing."
When the group camped for the night, Yonatan was responsible for setting up and taking down the tents. "Usually I set up the tents on the ground for everybody, and I packed them up early in the morning before we left." He said it was not easy in the beginning, taking about 10 minutes for each tent. "Later, we could finish one tent in five minutes, or even three minutes with help from others."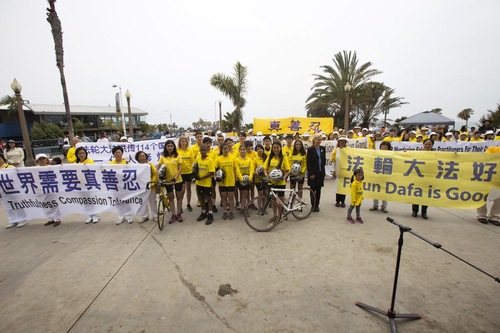 The Ride2Freedom cyclists gathered at Santa Monica Pier on May 31, 2015 before setting off on their bike tour across the US.
"When You Speak from Your Heart, People Listen"
Because English is not his native language, Yonatan found another challenge he had was talking to people and media about why he joined the trip. "When people know that I'm from Israel and I'm trying to explain in English about something very important, they became interested."
Gradually, he realized the language barrier was no longer a problem. "When you speak from your heart, people listen to you and are very supportive."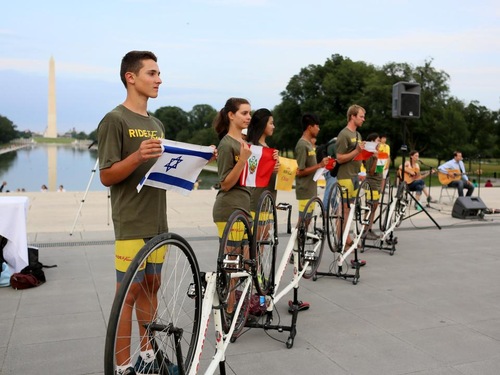 Yonatan and other cyclists in from the Lincoln Memorial on July 17, 2015.