New Canadian Prime Minister Expresses Concern for the Persecuted Falun Gong
December 11, 2015 | By Minghui correspondent Ying Zi
(Minghui.org) Justin Trudeau, Prime Minister of Canada, who assumed office on November 4, 2015, brought up the persecution of Falun Gong and other human rights issues in China as he met with Chinese leader Xi Jinping during the Asia-Pacific Economic Cooperation (APEC) summit in the Philippines last month.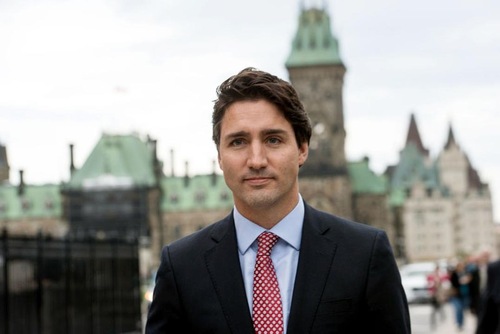 Justin Trudeau, Prime Minister of Canada, assumed office on November 4.
Judy Sgro, Member of Parliament (MP) in Canada, confirmed this at a rally in front of the Capitol on December 9. "I am pleased that, as a Liberal Member of the Parliament, I bring greetings to you on behalf of Prime Minister Trudeau. I am also sharing with you the fact that, in the recent meeting that Prime Minister Trudeau had with Chinese leaders, the issue of human rights in China, specifically, [the persecution of] Falun Dafa was raised by Prime Minister Trudeau to the Chinese president."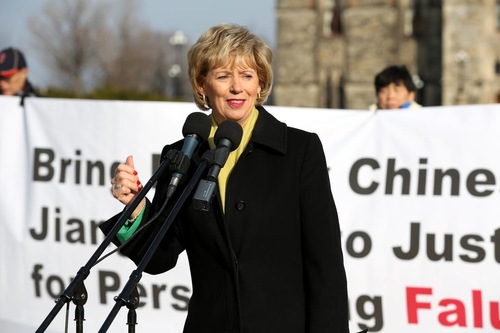 Judy Sgro, MP, relays the Prime Minister's support at a Falun Gong rally on December 9, 2015.
The rally was held the day before International Human Rights Day, which is observed on December 10 every year. Falun Gong practitioners and supporters from Toronto, Montreal, and Ottawa attended the event. Six MPs and two former MPs spoke at the gathering. More than 95,000 signatures calling for an end to the suppression in China were presented to the MPs at the event, who will pass them on to the Prime Minister.
The Canadian government was one of the first governments that spoke out against the persecution when it began on July 20, 1999, according to an article published in The Globe and Mail newspaper that same week, on July 26. Prime ministers in Canada have been supportive of Falun Gong practitioners ever since.
Jean Chretien (1993-2003): Seeking the Release of Detained Practitioners
Voice of America reported on October 20, 2001, that Canadian Prime Minister Jean Chretien asked about the human rights situation in China, including the suppression of Falun Gong, as he met with Chinese leaders during the APEC summit in Shanghai on that day.
The Canadian Parliament unanimously passed Resolution M236 on October 24, 2002, initiated by Member of Parliament Scott Reid. The motion requested Prime Minister Chretien to ask China to release all the Falun Gong practitioners persecuted in China who are relatives of Canadian permanent residents or citizens. Twelve of them were released afterward, and among them four emigrated to Canada.
Paul Martin (2003-2006): Speaking Out on the Importance of Human Rights
After former Chinese leader Hu Jintao visited Canada in September 2005, Prime Minister Paul Martin said he had a thorough discussion with him on human rights, and raised the Falun Gong issue. He believed that better governance of a country needs better understanding of human rights.
When Canadian TV Station reporter Roger Smith asked Hu Jintao during a press conference on September 9 about Falun Gong practitioners who displayed photos depicting the persecution and torture, Hu Jintao sidestepped the question. But Martin replied, "Just as I mentioned in my comments, ... I did raise the issue of Falun Gong." He also said, "We believe that both economic development and better governance requires not only openness and transparency, but an understanding of the importance of human rights."
Stephen Harper (2006-2015): Canada Will Not Be Silent on Human Rights Issues
Prime Minister Stephen Harper has been a strong supporter of Falun Gong. He established the Office of Religious Freedom within the Department of Foreign Affairs and International Trade on February 19, 2013. In his remarks at the press conference marking the official opening of the new office, Harper specified the persecution of Falun Gong in China as one of the concerns of the Canadian government.
After her daughter Chen Yinghua was imprisoned in China in March 2014 for practicing Falun Gong, Calgary resident Huang Jinling contacted Harper's office before the Prime Minister visited China. Ms. Huang later received a phone call from the Canadian Embassy in China on November 20, 2014, informing her that the Prime Minister had raised the case of her daughter when he met with Chinese officials.
According to Ms. Huang, the staff member also said the Canadian Foreign Minister had provided a list of jailed Falun Gong practitioners to Wang Yi, the Chinese Foreign Minister.
In his speech at a press conference in 2013, Harper spoke out for the many people in China who were detained for their belief, including Falun Gong practitioners. "In the face of these injustices and atrocities, Canada will not be silent."
The Canadian public has also paid close attention to the atrocities in China. During the federal election in 2005, the persecution of Falun Gong was among the three most discussed topics, according to letters received by the prime minister's office. Nearly one million signatures calling for an end the suppression in China were collected and forwarded to the office at that time.