U.S. Members of Congress Support Practitioners' Lawsuits Against Former Chinese Dictator Jiang Zemin
November 08, 2015 | By a Falun Gong practitioner in Washington DC
(Minghui.org) During recent interviews, several members of Congress expressed their support to Falun Gong practitioners' efforts to sue former Chinese dictator Jiang Zemin. They pointed out that Jiang and the Chinese Communist Party (CCP) must be held responsible for their crimes. They went on to condemn the many instances of official harassment and arrests of those who file the criminal complaints against Jiang in China.
Representative Dana Rohrabacher: United States Should Condemn Official Harassment of Falun Gong Plaintiffs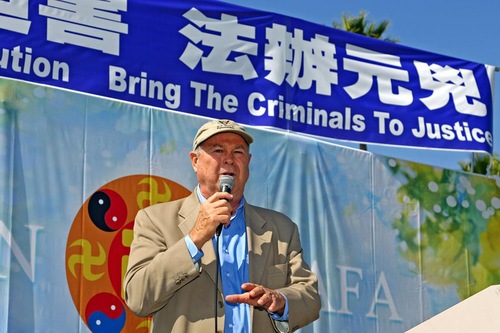 Congressman Dana Rohrabacher
Congressman Dana Rohrabacher said during interview on October 27 that he supported the practitioners' lawsuit against Jiang in China. Jiang and the CCP must be responsible for their crimes.
He pointed out that the CCP is the worst human rights violator and commits many crimes. The CCP suppresses religious freedom and persecutes Falun Gong, Christians and other people. The United States cannot accept the CCP's version of religious freedom.
He expressed his concern about the harassment and detention of practitioner plaintiffs in China, saying that it must stop, and if it doesn't, that the United States should condemn the abuses and help the victims.
Representative Robert Pittenger: Stop Harassment of Falun Gong Plaintiffs
Congressman Robert Pittenger said during his interview with the Epoch Times on November 5, 2015 that he supported the lawsuit against Jiang. He condemned the CCP's harassment of the practitioner plaintiffs. He said, "Such harassment must stop."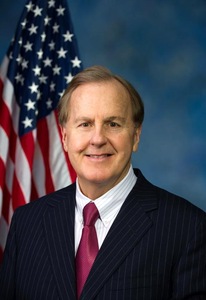 Congressman Robert Pittenger
He said that everyone should have freedom of expression and freedom of belief. Near 200,000 Falun Gong practitioners filed criminal complaints against Jiang in China. Close to 1000 plaintiffs have been harassed and arrested. He said the harassment is wrong. People's beliefs should be respected.
He said, "We must raise our voice for those seeking freedom. We cannot keep silent."
Member of United States Commission on International Religious Freedom (USCIRF): The Persecution of Falun Gong Is Unlawful
Dr. Katrina Lantos Swett, former Chair of USCIRF
Dr. Katrina Lantos Swett, member and former Chair of USCIRF was interviewed on October 27, 2015 and expressed her concern about the harassment of the Falun Gong practitioner plaintiffs.
She said, "I am very concerned about the persecution of Falun Gong. The Falun Gong group seeks the most basic human values and freedoms." She went on to say that it is deeply distressing that the Falun Gong practitioners suffer brutal persecution.
She supported the lawsuit against Jiang. She said Western countries need to speak out for the whole Falun Gong group and individual prisoners of conscience. She said she wished to receive a list of imprisoned practitioners and hoped some of them would be adopted by the Defending Freedoms Project jointly launched by Tom Lantos Commission and Amnesty International, and promoted in Congress.
She called for an end of the official harassment and persecution of practitioners. As long as the CCP tramples the citizens' constitutional rights and violates international conventions that China signs, China cannot become a great country.
Background
In 1999, Jiang Zemin, as head of the CCP, overrode other Politburo standing committee members and launched the violent suppression of Falun Gong.
Jiang abused his power in orchestrating the persecution, leading to over 3800 confirmed deaths of innocent practitioners due to police violence. Millions of practitioners suffer tortures in prisons, detention centers, and brainwashing centers. Many were even killed for their organs. Jiang Zemin is directly responsible for the inception and continuation of the brutal persecution.
Under his personal direction, the Chinese Communist Party established an extralegal security organ, the "610 Office," on June 10, 1999. The organization overrides police forces and the judicial system in carrying out Jiang's directive regarding Falun Gong: to ruin their reputations, cut off their financial resources, and destroy them physically.
Chinese law allows for citizens to be plaintiffs in criminal cases, and many practitioners are now exercising that right to file criminal complaints against the former dictator this year.
The practitioner plaintiffs are harassed or arrested in some areas in China recently. The retaliation against the plaintiffs is a part of the ongoing persecution.