Japan: People in Shizuoka Support Lawsuits Against Jiang
November 08, 2015 | By a Japanese Falun Gong practitioner
(Minghui.org) Falun Gong practitioners in Japan held activities during the Daidogei World Cup in early November 2015. They exposed the persecution of Falun Gong by the Chinese Communist Party (CCP), and collected signatures in support of more than 190,000 Chinese filing lawsuits against former CCP head Jiang Zemin. Their activities received warm feedback from the Japanese people.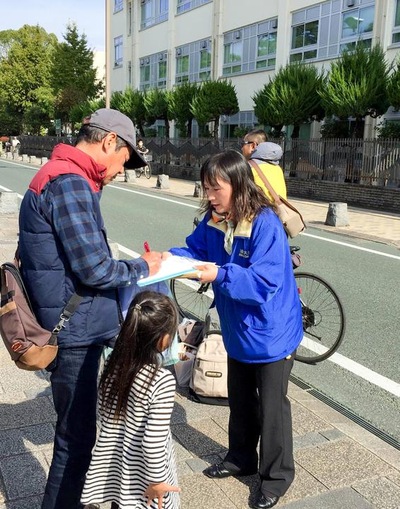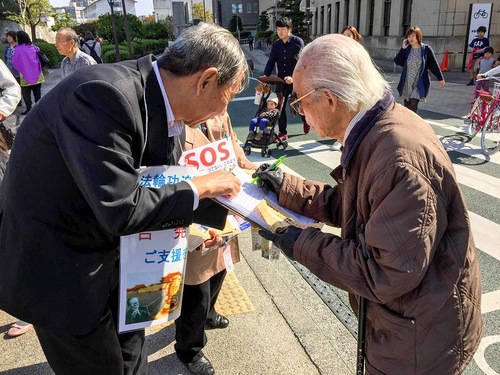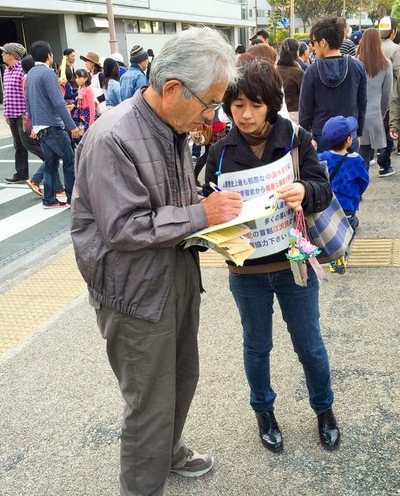 Japanese people sign petition in support of lawsuits against Jiang Zemin.
One middle-aged man strongly condemned Jiang upon hearing about the brutal persecution. Another man took initiative to sign the petition. A group of young people signed together after hearing about the persecution, and encouraged the practitioners not to give up. Many people mentioned that the CCP had ruined China, and that China would be better without the CCP.
An elderly man chatted with a Falun Gong practitioner. He sincerely hoped China would turn to a better place for the people. He said to the practitioner, "Keep up with your great work, please!"
Some families who were watching street performances took the opportunity to express their opposition to the CCP's violence. Some took introductory materials to read on the first day, and came back to sign on the second day. A father asked his two children to sign after he signed. All three of them told the practitioner, "Keep up with your great work!"
An American tourist told a practitioner that he knew Falun Gong was working to stop the CCP atrocities, and people were filing lawsuits against Jiang. He signed his name as he talked.
A Japanese college student said she was learning Chinese. She knew a lot about what was happening in China. She supported Falun Gong without hesitation. A Taiwanese college student signed her name, and encouraged Falun Gong practitioners to pursue their freedom of belief.