India: Falun Dafa Attracts Crowds at Dussera Festival
(Minghui.org) India is a land of festivals, celebrating the seasons and the elements of nature elements, colors that light up people's lives, and of course the battle between good and evil.
At the recently-concluded Dussera Festival in Mysore, a group from Bangalore demonstrated the Falun Dafa exercises at a pavilion near a temple. Festival-goers noted the practitioners' tranquility, and many wanted to learn the meditation practice. They also heard about the persecution of Falun Dafa practitioners in China by the communist government.
The Falun Dafa float moves along a busy street at the Dussera Festival in Mysore, India.
A local politician learned the exercises and bought Falun Dafa books, saying that he would introduce the practice at his office.
Colorful Float Draws Attention in Nagpur
In Nagpur, practitioners showed the exercises, distributed flyers, and offered books for sale at a large booth. The locals there still have fond memories of two performances from years prior by the Divine Land Marching Band, made up of Falun Dafa practitioners.
For the first time in India, practitioners crafted floats and demonstrated the exercises on moving vehicles, drawing large crowds and frequent applause.
After local cable networks and press covered the event, phone calls poured in from locals who wanted to learn the exercises.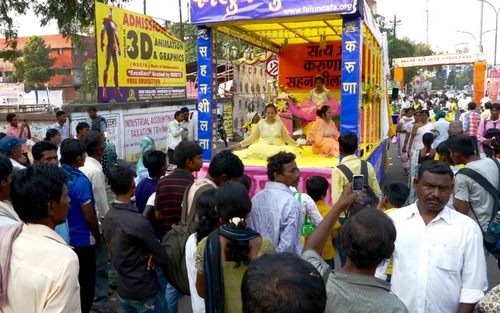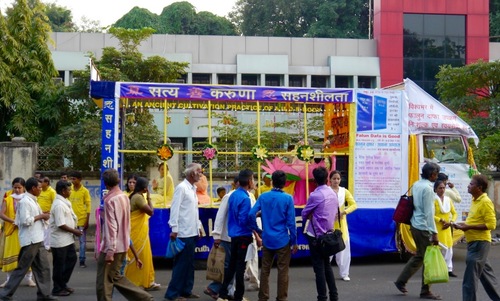 Practitioners demonstrate the exercises as their float moves through Nagpur, India.