Hungary: Collecting Petition Signatures in the Cities of Pécs, Szeged, and Budapest
November 06, 2015 | By Falun Dafa practitioners in Hungary
(Minghui.org) Falun Dafa practitioners held events across Hungary on October 6-10 to raise awareness of the persecution of Falun Dafa in China and to gather signatures as part of the international push to bring the main perpetrator behind the persecution to justice.
In July 1999, former Chinese Communist Party leader Jiang Zemin ordered the suppression of Falun Dafa in China. Under this violent campaign, more than 3,800 practitioners have been tortured to death, and many more have been sent to labor camps and prisons for their belief.
Pécs
Practitioners met many Pécs residents in the downtown district on October 6-7, and in the nearby green space known as Tettyén until the 10th.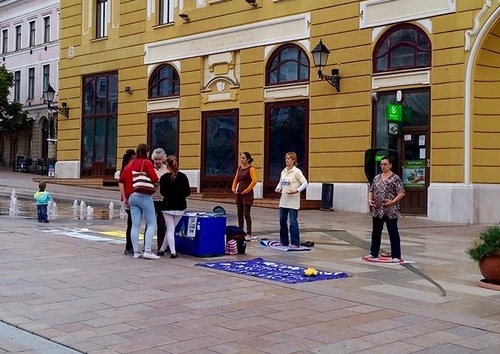 Practitioners demonstrate the Falun Dafa exercises and collect petition signatures in downtown Pécs.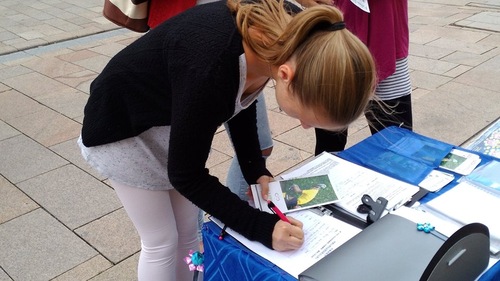 A local resident signs the petition to help stop the persecution in China by bringing former communist leader Jiang Zemin to justice.
Szeged
The people of Szeged saw the Falun Dafa information stand on the afternoon of October 9.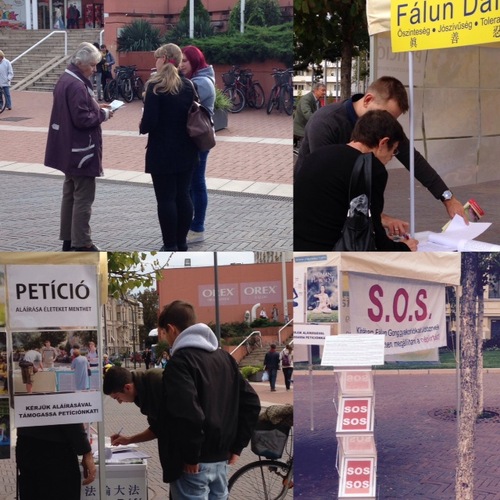 Passersby in Szeged sign petitions calling to end the harvesting of organs from living prisoners of conscience and to prosecute former Chinese leader Jiang Zemin.
Locals and students alike were drawn to an SOS sign saying, "Your signature can save lives." Some people who signed the petition said, "The reason we are humans is to help our fellow human beings."
Some passersby were shocked to learn of the state-sanctioned killing of detained practitioners to harvest and sell their organs for profit. In China, the organ donation rate is statistically insignificant, yet thousands of transplants are performed each year.
One petition was created by Doctors Against Forced Organ Harvesting and will be submitted to the United Nations High Commissioner for Human Rights. The other calls for Jiang Zemin to be prosecuted in China for his leading role in the persecution.
A married couple from Budapest met a Hungarian practitioner who participated in Ride 2 Freedom, a team of young cyclists who recently rode across the United States as part of an effort to rescue orphans of practitioners tortured to death in China. The couple had been following the cyclists' progress and were proud that a Hungarian was part of the international team. The wife said, "It is very good you are embracing this cause."
Budapest
On October 10, practitioners collected signatures at the pedestrian underpass of the Budapest Western Railway Station.
This is a very busy but not overly prestigious part of the capital city. Even though most people hurry through the underpass, many stopped to listen to the practitioners and read the information on display.
An elderly man who had previously met with practitioners and heard about the persecution said, "Each time it surprises me very much, horrifies, and saddens me. I hope it ends one day! At the same time, I am very happy there are still good people who are so devoted to helping others!"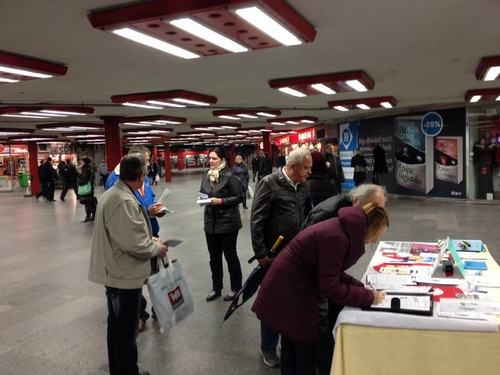 Budapest residents sign the petition to support international efforts to prosecute Jiang Zemin.