Imprisoned Woman Suffers Lumbar Compression Fracture, Family Suspects Foul Play
November 28, 2015 | By a Minghui correspondent from Heilongjiang Province, China
(Minghui.org) A woman suffered lumbar compression fractures while in police custody after being arrested for distributing materials that expose the persecution of Falun Gong.
The detention center claimed that Ms. Wan Fulan took a fall, but her family suspects torture. According to an orthopedic doctor the family consulted, a simple fall normally wouldn't lead to a collapsed first vertebra. Fractures such as Ms. Wan's are oftentimes a result of trauma applied to the vertebral body.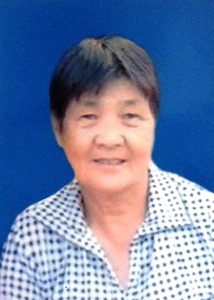 Ms. Wan Fulan
Ms. Wan's family asked to see the surveillance videos, but were turned away by the detention center. They are also not allowed to visit her in the police hospital.
When Ms. Wan's lawyer visited her recently, she pleaded with him, "Please ask my family to get me out of here!" Unable to move by herself, she was shackled all day long. Her hospital room had barb-wired windows and was guarded by the police around the clock.
Ms. Wan's family is extremely worried about her. The orthopedic doctor warned that she may suffer long-lasting complications without appropriate medical care.
According to the lawyer who visited Ms. Wan on November 5, 2015, he waited for the head of the detention center to show up for hours before he was allowed to meet with Ms. Wa. She was perfectly healthy when she was arrested two months ago.
The two-hour visitation was monitored by the head of the detention center and police. With the police present, Ms. Wan was too scared to tell the lawyer anything about what happened to her during the two-month detention.
Ms. Wan's doctor told her family that she had developed severe heart and stomach problems after she sustained the back injury, and could only take liquid food at the moment. "Her situation is critical and she may suffer from cardiogenic shock at any time," her doctor said.
Arrested for Distributing Pamphlets, Facing Likely Prosecution
Ms. Wan, 70, is from Linkou County of Mudanjiang City. She was arrested by officers from Dongjie Police Station when distributing informational materials about the persecution of Falun Gong on September 2, 2015. She was transferred to Mudanjiang Detention Center on September 17, and detained there until she was sent to the police hospital on October 19 for the fracture in her back.
Ms. Wan's lawyer went to Linkou County Court on October 30, 2015 to review her case document. Judge Zhang Weibing rejected his request and claimed that they had to submit the case to the Political and Legal Affairs Committee before the lawyer can review them.
When Ms. Wan's family contacted the Political and Legal Affairs Committee, deputy head Sun Chen insisted on moving forward with the prosecution.
Perpetrators' Contact Information:Mudanjiang Detention Center: +86-453-8107372Zhang Weibing (张伟兵), judge from Linkou County Court: +86-13704830477Yu Zailin (于再林), head of Linkou County Political and Legal Affairs Committee: +86-13903632199Sun Chen (孙臣), deputy head of Linkou County Political and Legal Affairs Committee: +86-13836330000
(More perpetrators' contact information is available in the original Chinese article.)