Calgary, Canada: Human Harvest Screened at Marda Loop Justice Film Festival
November 26, 2015 | By a Falun Gong practitioner in Calgary
(Minghui.org) Human Harvest, an investigative documentary about organ harvesting from living Falun Gong practitioners in China, was screened at Marda Loop Justice Film Festival on Nov. 21, 2015. The screening room was packed and many attendees were visibly alarmed by the brutality of the persecution of Falun Gong.
Mr. David Kilgour, Canadian human rights lawyer and former Secretary of State, Asia-Pacific, attended the screening as a special guest. Anam Kazim, Member of the Legislative Assembly (MLA) of Alberta for Calgary-Glenmore, gave an opening speech expressing deep concern over the atrocities in China.
Peabody Award winner Human Harvest (aka Davids & Goliath), produced by Leon Lee, features the investigation into China's organ harvesting by David Kilgour and David Matas. It was selected as one of the 21 films out of 900 submissions to the festival from 91 countries, and received great attention from human rights advocates, government officials and the public.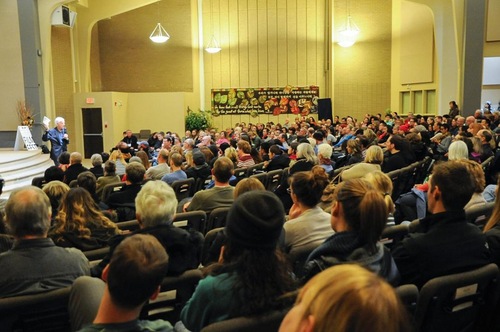 Mr. David Kilgour introduces the documentary.
Mr. Kilgour explained during the Q&A session that the documentary was aimed at exposing and ending this evil crime. Noting that Taiwan and Israel had passed legislation banning organ transplant tourism, he said he hoped more Canadians would call for similar legislation in Canada.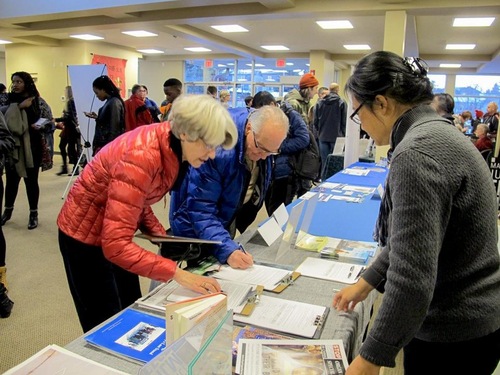 Film screening attendees sign a petition calling for an end to organ harvesting.
Film Festival Organizer: "The World Needs to Know"
Mr. Daniel Murdock, one of the organizers of the film festival, said Human Harvest had been selected from 900 films, not only for its outstanding quality, but also its depiction of an issue of deep social concern. He said the whole world needs to know about the organ harvesting atrocities and work together to stop it.
MLA: Everyone Should Extend a Helping Hand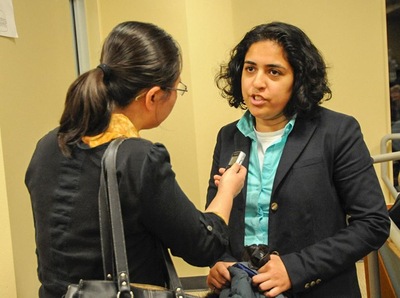 Ms. Anam Kazim, MLA of Alberta
Ms. Anam Kazim, MLA of Alberta, was saddened after watching the film. She said it was appalling that such a tragedy was still happening in China. It was completely against human rights and justice, she said, and called for everyone to extend a helping hand to stop the crime.
Former MP Moved to Tears
Mr. Rob Anders, former MP for Calgary West, has showed great concern over the persecution of Falun Gong for years. He shed tears while watching the film. Mr. Anders said it was an outstanding film. He was glad to see so many people at the screening and paying attention to this crime.
Chinese: "I Won't Be Able to Sleep Tonight"
A Chinese man said, "I don't know what to say. But I know I won't be able to sleep tonight. When I was in China, the government always told us the organ harvesting allegation was a lie. I didn't think any more about it. No words can describe my astonishment after watching the film. It dawned on me today the organ harvesting is true, and victims are Falun Gong practitioners! I would like to tell you, the Chinese government is more brutal than you think!"