British Elected Officials Paying Close Attention to Persecution of Falun Gong
November 25, 2015 | By Tang Xiuming
(Minghui.org) Ms. Gao, a Falun Gong practitioner in London, recently received a letter from Member of Parliament Kate Osamor regarding an October 16 meeting at which they'd discussed the persecution of Falun Gong in China. After the meeting, MP Osamor had contacted Hugo Swire, MP, Minister of State for the Foreign and Commonwealth Office, and received a response on November 18.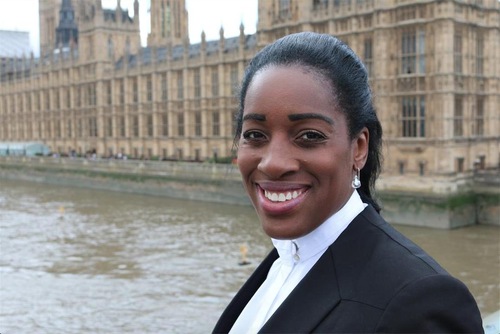 Kate Osamor, Member of Parliament for Edmonton
"I pay close attention to the human rights situation in China and we remain concerned about all restrictions placed on freedom of expression, of religion and belief," Swire wrote in his reply. "This includes the prohibition of some groups, and the legal restrictions and harassment aimed at others—not least reports of torture and mistreatment of detainees, such as Falun Gong practitioners."
Dr. Alex Chen, UK representative for Doctors Against Forced Organ Harvesting (DAFOH) also joined Ms. Gao when she met with MP Osamor in October. Among the abuses that Falun Gong practitioners have suffered in China for their belief, organ harvesting from living practitioners has been the most atrocious. Dr. Chen provided evidence of this illicit organ trade, urging Osamor to help stop the brutality.
After Ms. Osamor contacted Mr. Swire and expressed her concerns about the atrocities, Swire confirmed the commitment by ministers to raise these issues with their Chinese counterparts.
"Indeed, the Foreign Secretary did so with State Councilor Yang Jiechi during the UK-China Strategic Dialogue in Beijing in August. We have raised specific concerns over reports of organ harvesting on numerous occasions, including in my answer to a written Question on July 15. More widely, we continue to raise the range of our concerns in detail at the annual UK-China Human Rights Dialogue, which was held in Beijing in April," the MP wrote in the letter.
"While the Chinese government continues to refute allegations that organs are forcibly removed from detained Falun Gong practitioners, we are aware that organs removed from executed prisons are used for human transplantation purposes in China."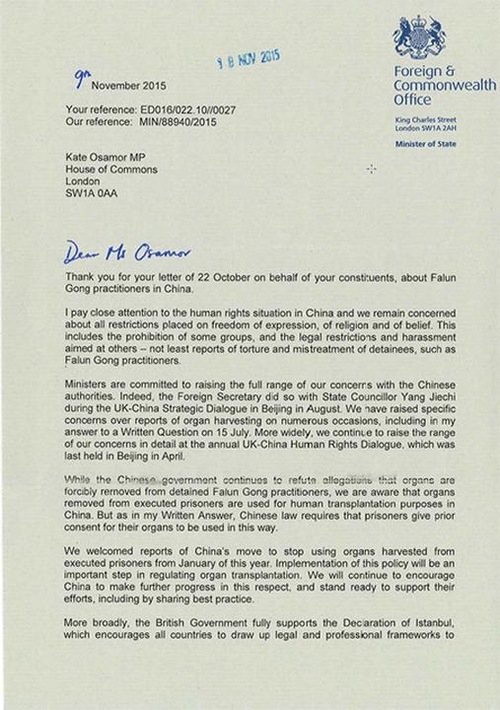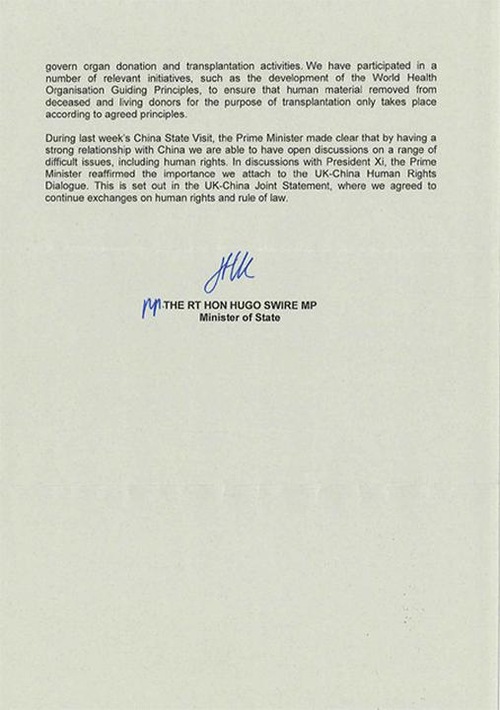 Reply from Hugo Swire, Minister of State for the Foreign and Commonwealth Office, concerning the human rights situation in China.