Sydney Citizens Condemn the Persecution, Support the Lawsuits Against Former Chinese Head
(Minghui.org) Falun Gong practitioners from Sydney, Australia, held a signature collection in downtown Burwood on November 15, calling for support for the lawsuits against the former Chinese dictator for launching the brutal persecution of the Falun Gong spiritual practice.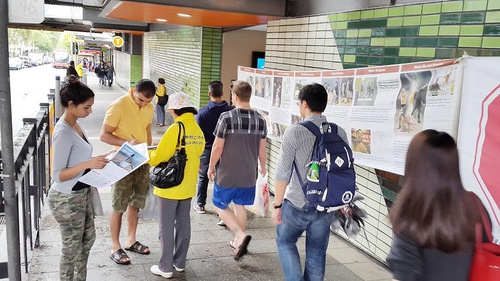 Signature collection in downtown Burwood
A passersby named Melissa stopped to read the materials about the communist regime's crime of harvesting organs from imprisoned Falun Gong practitioners. In tears, she said, "It is unbelievable that such a brutal crime is happening in modern world. It is really evil. How can a government persecute people, simply for their belief? What can I do to help?"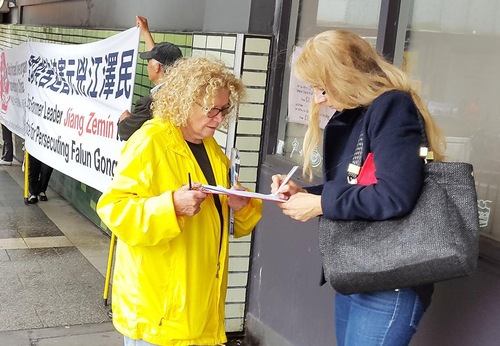 After signing the petition, Melissa (right) promised to inform her friends.
Another pedestrian, Stuart Findlay, condemned the organ harvesting as an incredibly evil crime. "This is why I'm signing the petition to support you," he said. "I will ask my friends to watch the documentary Human Harvest" on the website of SBS Dateline (an Australian TV station, which aired the documentary early this year.)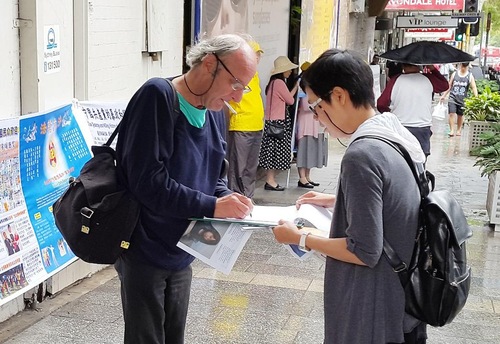 Stuart Findley has often seen practitioners' activities here, and every time he feels sad that the persecution is going on. He strongly supports the lawsuits against former Chinese dictator Jiang Zemin for his role in the persecution.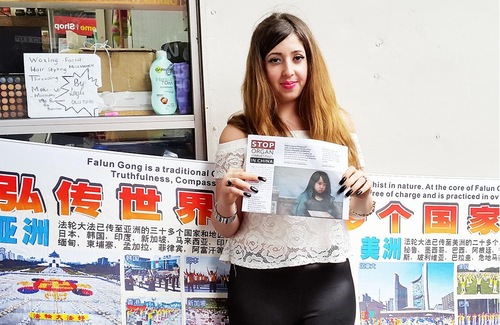 Monrad Azer, who works at a beauty salon, took flyers for her customers.
Monrad Azer, who works at a beauty salon nearby, often sees practitioners' activities to raise awareness. She took a stack of flyers for her customers. "I will let every customer know about the persecution, and will ask them to sign the petition."
During the event, more than 20 Chinese people decided to take a stance against the persecution by withdrawing their memberships in the Chinese Communist Party and its associated organizations. Twenty-year-old Mr. Zhang told a practitioner that he had quit the Party a long time ago, and even helped his family in China to do so as well.
Nearly 15,000 Sydney residents are estimated to have signed the petition to support the lawsuits against Jiang so far. The petition has been sent to the Chinese supreme court and procuratorate.