Kwinana, Australia: Member of Parliament Signs Petition Against the Persecution of Falun Gong
November 02, 2015 | By Minghui correspondent Mu Wenqing
(Minghui.org) Falun Gong practitioners participated in the annual Kwinana Festival Fair Day and Concert in the City of Kwinana, Australia on October 31, 2015. Among the many visitors to the event was the Hon. Gary Gray, Member of Federal Parliament for Brand, Western Australia.
"I am pleased to see you here," said MP Gray as he stepped forward to greet the practitioners at the Falun Gong booth. He asked about the local practice site and wanted to know if more people had joined the group practice.
The MP encouraged the practitioners to continue raising awareness about the persecution that has been ongoing in China for the past 16 years, and signed a petition against the Chinese Communists Party's (CCP) live organ harvesting of practitioners imprisoned in China. He shook hands with each practitioner before leaving.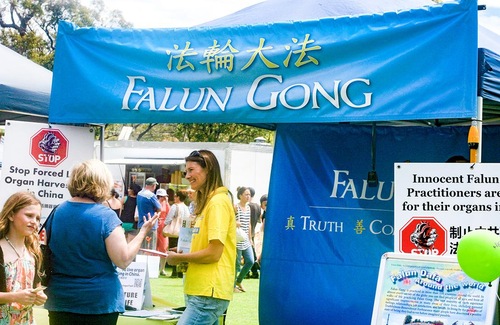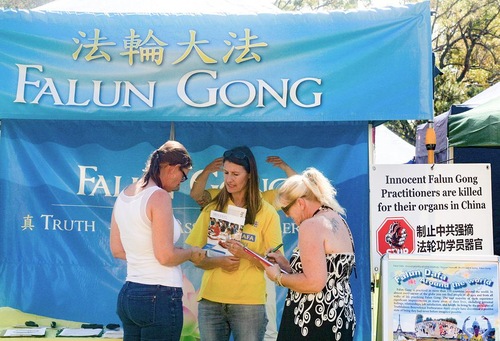 Talking about Falun Gong and the persecution to visitors at the Kwinana Festival.
Local resident Joddy Goddard came over to sign the petition. She said that she had seen the documentary film Human Harvest: China's Organ Trafficking broadcast by SBS TV. She was disturbed by the situation in China and had done some more research into Falun Gong. Now she wished to learn the practice.
Joddy took a flyer and asked for the location of the practice site. She said, "I really need to do it." Another local resident, Darren Gash also asked information about the local practice site.
Twelve-year-old Tatianna Claridge was on her way to the bounce house with her friends as they passed by the practitioners' booth. Upon seeing the poster titled "Innocent Falun Gong practitioners are killed for their organs in China," she came over and asked a practitioner about what was going on in China.
The practitioner talked to her about the CCP's live organ harvesting from Falun Gong practitioners and other prisoners of conscience. Tatianna said that she felt sad about the brutality against these innocent people.
She learned about Falun Gong and the principle of Truthfulness-Compassion-Forbearance from the practitioner. She nodded in agreement and said that her family also agrees with those values. Her mother came over while Tatianna was visiting with the practitioners. After chatting further with a practitioner, both Tatianna and her mother signed the petition against the CCP's live organ harvesting. Before leaving, they expressed their appreciation for the practitioners' efforts to raise awareness.