Sweden: "I Have to Do My Part to Help Stop the Persecution"
November 18, 2015 | By a Falun Dafa practitioner in Sweden
(Minghui.org) As a Nordic country, Sweden is often very cold. However, many residents showed warm support for Falun Dafa during outdoor events in downtown Stockholm that exposed the severe human rights violations against the peaceful spiritual practice in China.
Help with Petitions
"How could this happen?!" cried Linda as she saw a poster illustrating torture methods Falun Dafa practitioners experienced in China, including organ harvesting from living practitioners. "This is horrible!" she declared.
After one practitioner explained to her the suppression had lasted for 16 years, Linda said she must do something do help. She signed a petition in support of lawsuits against Jiang Zemin, former Chinese leader, for persecuting Falun Dafa.
As she and her family continued to read the posters and watch practitioners demonstrating the peaceful meditation, Linda told another practitioner that she had just signed a petition on behalf of her family.
Linda's husband, who was still reading the information, interrupted her, "Wait, I have to do my part to help stop the persecution." He then signed another petition condemning the persecution.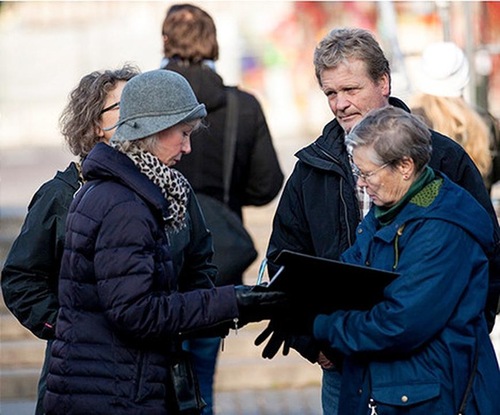 A couple signs petitions calling for an end to the persecution in China.
Worldwide Impact, Despite Persecution in Birthplace
Jiang Zemin was chosen as the top leader for the Chinese Communist Party (CCP) in 1989 for his suppression of the Tiananmen Square democracy movement earlier that year. Ten years later, he declared a ban on Falun Dafa, a meditation that had benefited tens of millions of Chinese people.
Werner Kleinert, a native Swedish who had practiced Falun Dafa since 1998, said the meditation is very powerful in improving body and mind. When he was young, he even went to India searching for a cultivation practice. Later he learned Yoga and some other system. "But to me, this [Falun Dafa] is the best," he explained.
His wife and three daughters also began to practice Falun Dafa in the same year. The youngest daughter, Indra at 10, said the principles of Truthfulness-Compassion-Forbearance helped her a lot, "I can tolerate others in school and do things carefully. I know to look inward when facing a conflict. I am glad that I am a practitioner."
Mr. Vasilios Zoupounidis, who received the "Business Pioneer of the Year" award from Swedish King Carl XVI Gustaf in 2011, said, "I owe my success to the inner peace and health obtained through practicing Falun Dafa."