Taiwan: Legislative Members Support Suing Jiang Zemin
November 12, 2015 | By Minghui correspondent Zheng Yuyan
(Minghui.org) Sixteen years into the persecution of Falun Gong in China, many people inside China as well as overseas are still stepping forward to condemn the brutality. One example is the 770,000 signatures on petitions received in Asia that support the recent lawsuits against former Chinese leader Jiang Zemin.
Jiang, the head of China between 1989 and 2002, banned Falun Gong in July 1999. He remains influential in Chinese politics even after his retirement. Numerous higher officials in his regime, such as Bo Xilai and Zhou Yongkang, who were heavily involved in the persecution, were recently taken down in the political turmoil. At least 190,000 people have filed criminal complaints against Jiang since May.
Among the petitions that support the lawsuits, about 370,000 signatures came from Taiwan. Many government officials, including legislative members, signed the petitions to show their support. Below are some examples.
Intolerable Tragedy
Chou Ni-an, member of the Legislative Yuan, Taiwan's Parliament, said the persecution, such as live organ harvesting, was "too horrible to tolerate." She said Falun Gong practitioners were just doing meditation to improve their minds and bodies. And now they have lost their families, and even their lives, because of their belief.
"We have to do something, and the world needs to do something, to stop the brutality," said Chou.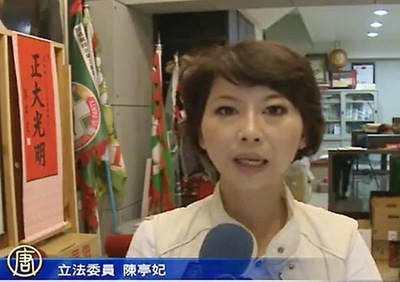 Legislative member Chen Ting-fei said people need to report atrocities so that the tragedies can be stopped.
Another legislative member, Chen Ting-fei, said she knows the Chinese Communist Party (CCP) has been suppressing Falun Gong practitioners for over ten years. "Anyone aware of these crimes, especially organ harvesting from living practitioners, needs to report these cases." She said such voices have been heard in many countries, "...but more support is needed for concrete action to take place in China."
Jiang is the Key Perpetrator
Huang Wei-che said it was painful to see so many innocent people being mistreated for their beliefs, and even losing their lives. "Someone should be held responsible, especially Jiang, who started and sustains the persecution."
Tian Chiu-chin considers the lawsuits against Jiang as a breakthrough in China's justice system. "I especially admire those who are filing lawsuits against Jiang with their real names." She although some high officials who persecuted Falun Gong were prosecuted for charges like bribery, the CCP is still in power, and any actions against Jiang are courageous.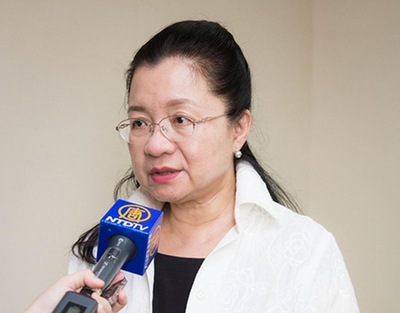 Legislative member Tian Chiu-chin considers filing lawsuits against Jiang a brave move that needs support.
Human Rights and Freedom of Belief Are Universal
Lai Cheng-chang said that after suffering so many political campaigns, Chinese people need to stand up and safeguard their own rights, "After all, this persecution is occurring in China. Chinese people have the responsibility to protect their innocent fellow citizens."
Legislative member Zheng Li-jun thinks it is, "an issue of human rights, and it involves everyone." She calls on more people to support the movement, because the persecution undermines the foundation of mankind.
Yao Wen-chi said he knows that filing lawsuits against Jiang can put one in danger. "But freedom does not come for free. I know many people are stepping forward and putting effort into this. And I will stand with you."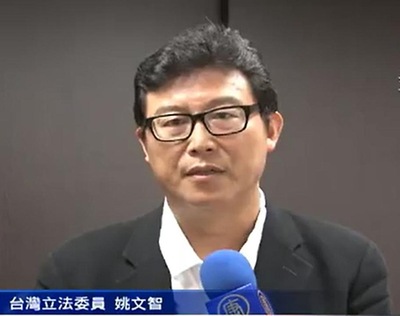 Yao Wen-chi said he supports Falun Gong practitioners.
Supporting Falun Gong Is Helping Ourselves
Taipei City Councilor Tung Chung-yan said what is happening to Falun Gong practitioners is a chance for everyone to take a stance. "This is a fundamental issue that involves basic humanity, not just Falun Gong. The more we support Falun Gong, the more we are helping ourselves."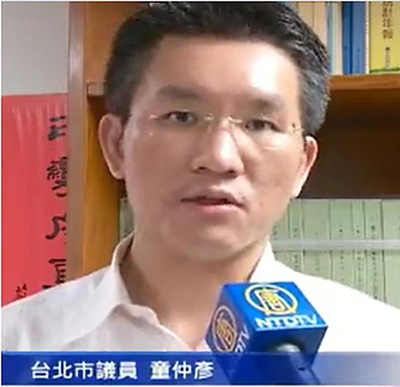 Tung Chung-yan, Taipei City Councilor, said Falun Gong practitioners are of a high caliber. and the CCP will collapse for persecuting innocent people.
Lin, Hsiu-Hui, councilor of Xinbei City, said that freedom of belief cannot be taken away from people. "Anyone attempting to control the beliefs of others will end up in failure, because the harsher you mistreat someone, the more resistance you will encounter. In the end, the entire world will know about it and stop it."
Related article in Chinese:http://www.minghui.org/mh/articles/2015/11/3/318553.html