Two Practitioners Arrested, Beaten and Detained for Suing Jiang Zemin
October 09, 2015 | By a Minghui correspondent in Heilongjiang Province
(Minghui.org) Falun Gong practitioners Mr. Li You and Mr. Yu Lianhe were arrested by the Yilan County Police on the same day. Mr. Li was detained for 10 days, and Mr. Yu for 15 days. Both men were beaten and tortured. The following are descriptions of the abuse.
Mr. Li Arrested and Beaten for Suing Jiang Zemin
Four police officers from the Dalianhe Township Police Station broke into Mr. Li's home at about 6:00 a.m. on September 1, 2015. The police confiscated three copies of Zhuan Falun, the main book of Falun Gong, and then arrested him.
One of the officers asked him if he had filed criminal complaints against Jiang Zemin, and Mr. Li said yes, because Jiang had initiated the persecution of Falun Gong in 1999.
"You disturbed the social stability of society and caused problems for the Supreme People's Procuratorate and the Supreme People's Court," said the officer.
Mr. Li was then taken to a detention center. They asked him to sign some papers, but before he could finish, the warden slapped his face, repeatedly shoved his head against the wall and then almost choked him to death. Next, the warden dragged him outside and continued to beat him. Afterwards, they tied him to an iron chair. Mr. Li was held in the detention center for 10 days.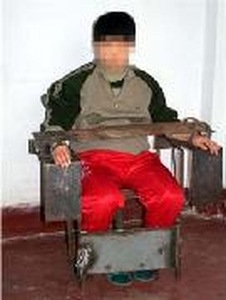 Torture illustration: sitting on an iron chair
Mr. Yu Tortured by the Iron Chair Method
About 10 officers went to Mr. Yu's home on that same September morning. They ransacked his house. When Mr. Yu tried to stop them from confiscating a picture of Mr. Li, Hongzhi, the founder of Falun Gong, they beat him. They confiscated three pictures of Mr. Li, 15 copies of Zhuan Falun, four MP3 players, and an electronic tablet.
They took Mr. Yu to the basement of the Yilan Police Department. Two officers interrogated him to find out the names of other practitioners. Mr. Yu did not yield to their demands.
They took him to a detention center. The warden told him to put on an inmate uniform, but he refused. The warden knocked him to the ground and kicked his head many times. An officer helped him up and summoned a prison doctor to treat him.
A couple of days later, the warden had Mr. Yu put in an iron chair for 24 hours for refusing to wear the prison uniform. When the time was up, Mr. Yu was still steadfast and would not wear the prison garb. The prison guards kept him on the iron chair for another 24 hours and detained him for another 11 days.