Sydney, Australia: Acclaimed Chinese Composer: "Goodness Will Always Win"
October 04, 2015 | By a Minghui correspondent in Sydney
(Minghui.org) More and more people in Australia have been impressed and moved by the peaceful and continuous efforts by Falun Gong practitioners to raise awareness of the brutal persecution of the practice in China. They recognize Falun Gong's tenets of Truthfulness-Compassion-Forbearance, appreciate the practitioners' commitment and endeavors, and believe that the righteous will prevail.
Lyle Chan, an acclaimed composer in Australia, is one of these people.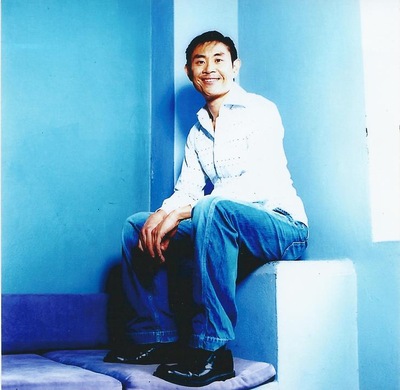 Mr. Lyle Chan, renowned Chinese composer in Sydney
"Having just watched Falun Gong practitioners at Martin Place doing their practice, I am reminded of how lucky we are in Australia," said Lyle Chan, an Australian composer who was born in Malaysia, and whose grandfather is Chinese.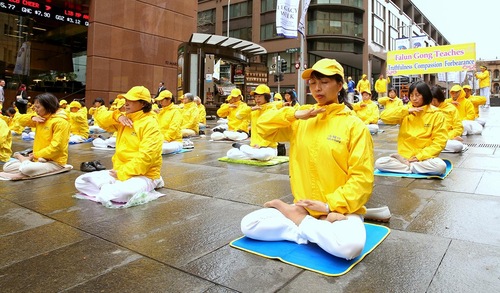 Falun Dafa practitioners meditate at Martin Place in downtown Sydney.
Mr. Chen was referring to a group practice of Falun Gong practitioners on the morning of September 4, 2015, shortly after an early spring drizzle in the Southern Hemisphere. Peaceful and gentle music playing during the exercise practice drew many passersby to stop and watch.
Mr. Chen spoke with practitioners at Martin Place, and signed a petition calling for an end to Chinese Communist Party's state-sanctioned forced organ harvesting from Falun Gong practitioners and other prisoners of conscience in China.
"I'm saddened to know about the persecution of people who simply believe in meditation, and a way of life based on what I believe are universal principles like morality and compassion," said Mr. Chen.
Mr. Chen appreciated peaceful and continuous efforts by the practitioners to raise awareness of the 16-year persecution, and was impressed that people in more than 100 countries have been benefited from Falun Gong after embracing it.
"When you disagree with something, what you must do is stand for your point of view as strongly as you can, and declare it with as much compassion as you can, and trust that your point of view is so powerful that it will be embraced. Every voice counts. Goodness will always win," he said.
Mr. Chen expressed his understanding of practitioners' commitment, "I felt your passion around Falun Dafa, and I realize you think every day about the the issues faced by the practitioners."
He believes that Falun Dafa's principles of Truthfulness-Compassion-Forbearance is universal.
"Regardless of whether people are explicit followers of Falun Dafa, the principles of truth, compassion and tolerance are universal truths. Different people simply express their beliefs in those principles in different ways. All life embraces those universal truths," said Mr. Chen.