Sweden: The Beauty of Falun Dafa Featured at Culture Night in Norrkoping
(Minghui.org) The beauty of the Chinese meditation practice Falun Dafa was showcased for a fifth consecutive year at the annual Culture Night in Norrkoping, a town in eastern Sweden, on September 26, 2015.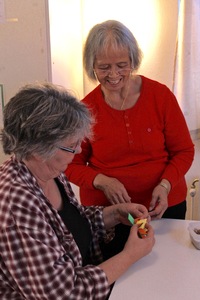 Norrkoping2.jpgFalun Dafa open house at Culture Night, Norrkoping, Sweden
Many people visited the Falun Dafa open house, attracted by the diverse program which included: an origami lotus flower workshop, a demonstration of the Falun Gong exercises, and a petition drive for human rights.
The culmination of the event was a screening of the documentary film "Transcending Fear" (2014), which tells the story of prominent Chinese human rights lawyer Gao Zhisheng. Gao, a Nobel Peace Prize nominee, has been in prison and under arrest for more than five years for defending supporters of Falun Dafa, Christians, and other victims of the Chinese communist regime.
People Eager to Learn about Falun Dafa
A couple and their daughter asked questions about Falun Dafa as they all made lotus flowers. They wanted to know why it is being persecuted in China and if it was a religion. The hosts, local practitioners, explained that Falun Dafa, also known as Falun Gong, became so popular in China that the regime feared it would become more influential than the communist party. The Chinese regime also has a tradition of banning any movement or group not in line with communist ideology, the Cultural Revolution being a prime example of state-sponsored destruction of traditional culture and values. The target this time was Falun Dafa.
Visitors to the open house also learned that Falun Dafa is a method of cultivation rooted in traditional Chinese culture. It helps to improve a person's character and health. It is free to learn, voluntary, non-religious, and non-political.
Practitioners expose the persecution to help stop even more sinister deeds from being done behind the scenes in China. If nobody talks about these atrocities, the regime will get away with doing even worse things.
Finding out about Falun Dafa and why it is persecuted in China
Another young family who came to learn more about Falun Dafa signed a petition to stop practitioners from being killed for their organs, which has been happening on a large scale in Chinese prisons and army hospitals.
A man and a woman curious about the Falun Dafa philosophy watched with interest a video presentation about it. The man took a copy of the book Nine Commentaries on the Communist Party, which details the Chinese Communist Party's history of violent campaigns. He also took a copy of the report Bloody Harvest by David Kilgour and David Matas, two Canadian experts who investigated the claims of forced organ harvesting from Falun Dafa practitioners in China.
Others expressed interest in learning the exercises.
Several local newspapers published the program for Culture Night, which included the Falun Dafa open house event. Hundreds of program books were printed and distributed throughout town by the Norrkoping municipality, which sponsors the initiative.
During the last 30 years, Culture Night in Norrkoping has gathered hundreds of artists, musicians, lifestyle enthusiasts, and art lovers from the town and the surrounding Ostergotland region.