Brisbane, Australia: Chinese Tourists Learn the Truth About Falun Gong
October 28, 2015 | By Minghui correspondent Zhao Lin
(Minghui.org) Falun Gong practitioner Annie lives in Brisbane, the third most populous city in Australia. Annie has gone to King George Square every day over the past several years.
"I have personally benefited from the practice and I would like to share it with more people," she said. More specifically, Chinese tourists have been misled by the hate propaganda in China and they are very hostile towards Falun Gong practitioners. "These people need to know the real story of Falun Gong," she said.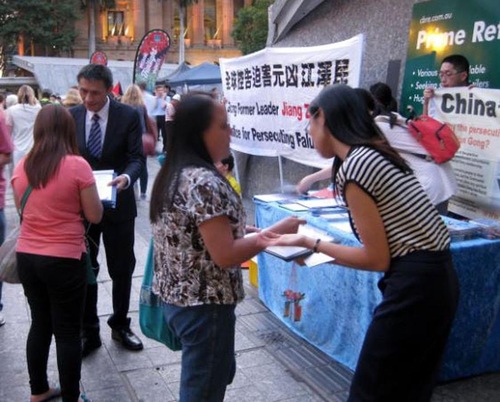 A tourist listens to a practitioner explaining facts of Falun Gong.
One example is a middle aged woman Annie met October 23. "Why are you always against China?" the woman asked, angrily. "Don't you want China to be stronger and better?"
Annie explained to her with patience, "I love China, both the long history and its traditional culture; but I do not like the totalitarian regime treating people so badly." She then briefly reviewed how peaceful Falun Gong practitioners were severely suppressed in China for their belief in Truthfulness-Compassion-Forbearance.
Upon hearing how the Chinese Communist Party (CCP) brutally persecuted practitioners, such as organ harvesting from living people, the woman changed her attitude. In the end, she thanked Annie and agreed to separate herself from the CCP.
More than 30 Chinese tourists agreed to sever ties with the CCP organizations on that day. Among them was a group of seven tourists. They took pictures and accepted information on how to access overseas websites from China by special internet tools.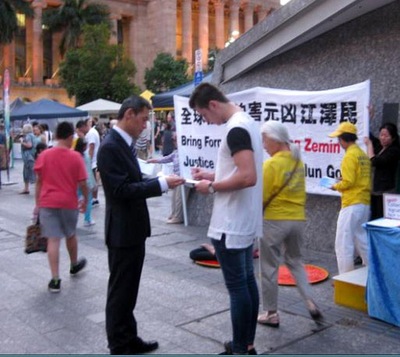 One Chinese tourist agrees to quit the CCP organization.